Honoring Our Historic Heritage, La Jolla Landmarks Week celebrates preservation efforts, March 11-18
Like a mother talking about her child, Seonaid McArthur, chair of the La Jolla Landmark Group, describes her historically designated home at 391 Via del Norte.
"(My home) is a Spanish Revival from 1930. Just after the 1915 Panama-California Exposition, the craftsmen skilled at wood-carving were still in San Diego (and they created) these beautiful doors and windows … I've never seen anything like it," she said, proudly pointing to her front door's stained glass, depicting early San Diego scenes.
McArthur will be one of the hosts of La Jolla Landmarks Week, presenting the opening event at her Herbert Mann-designed home. "Feasting on History," which doubles as a fundraiser for La Jolla Historical Society (LJHS), will take place Saturday, March 4, and will be followed by a series of workshops and celebrations of La Jolla's historical heritage.
There are approximately 165 local landmarks designated "historical" by the City of San Diego, according to LJHS director Heath Fox — 137 of them are private residences.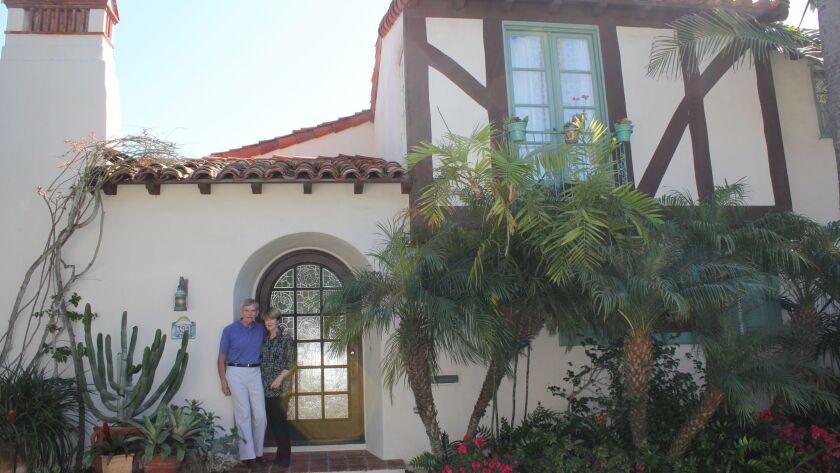 "Collectively, they give a sense of the community's history," Fox said. "The importance of preserving these old buildings is that they represent the eras from which they came. They are visible, tangible representatives from the different periods of La Jolla history."
McArthur added, "(Historic homes) are connected to their sites and the history of the town. They give the town its identity, and I think it's the reason a lot of new people come to La Jolla. Every time one of these buildings is taken away, we lose our character."
In 2016, the San Diego City Council proclaimed the third week of March "La Jolla Landmarks Week" to highlight the importance of historic preservation. The celebration week is sponsored by the La Jolla Landmark Group, which was created in 2014. McArthur, who was a LJHS board member at the time, asked the organization's leadership if they had a record of the historically designated landmarks in La Jolla.
"And they didn't!" she said. "So I got together with other board members and set about identifying the historical houses in La Jolla using the phone book, knocking on doors and asking people if they wanted to be a part of this group with other historical-home owners."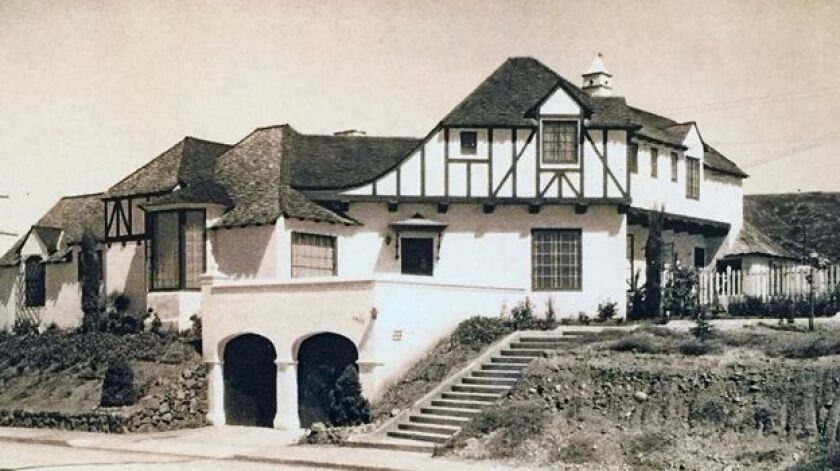 For Fox, Landmarks Week is also an opportunity to celebrate property owners who steward these historic properties. "Whether they bought a home that was designated (historical), or rehabilitated a home and pursued the designation, there's a level of personal gratification and joy of living in a residence that has a character to it from an earlier era," he said.
McArthur said the owners of historical homes have a lot in common. "We deal with the same issues. We love history. And we value the character of the houses. I thought these people would like to meet each other," she said.
La Jolla Landmarks Week events:
Feasting on History, begins 6 p.m. Saturday, March 4 with a Champagne and hors d'oeuvres reception at the Historical Society's Wisteria Cottage, 780 Prospect St. Sumptuous dinners and desserts will follow in different La Jolla historic homes, hosted by the owners. Tickets: $225 LJHS members, $250 non-members.
La Jolla Landmark Group will gather to celebrate the publication of "Jazz Age to Our Age: Architects and Developers of 1920s La Jolla," Sunday, March 12 at an Edgar Ullrich design in Lower Hermosa, where landmark-home owners will also learn more about the architect's work. The book is based on the 2016 LJHS exhibition "From Jazz Age to Our Age: Architects and Developers of 1920s La Jolla," and is dedicated to former San Diego State Senator Jim Mills, who developed the Mills Act, a property tax relief measure designed to encourage historic preservation. This event is not open to the public.
The lecture, "Architectural Styles and Landscape Design in San Diego," by architects Todd Fry and Jennifer Phelps, will be held 6:30-8 p.m. Thursday, March 16 at LJHS Balmer Annex, 7846 Eads Ave. Free.
A Historic Homes Designation workshop, 9 a.m. to noon, Saturday, March 18 at Wisteria Cottage 780 Prospect St., will provide information about the designation process. It's open to those who own homes aged 45 years or older (or who are interested in purchasing one). Specialists who prepare designation reports will be there. Admission is $15 to LJHS members, $20 to non-members, and includes a Historic Designation Project Tool Kit.
— For more information, call (858) 459-5335 or visit lajollahistory.org/events
La Jolla's Historic Landmarks Eras
Prior to 1920s: Most historic buildings are beach cottages with very basic designs and layouts. At the time there was no electricity or running water in the community, so the construction methods were very simple.
1920s to World War II: The predominant home featured a European style with a number of famous architects designing the residences. These homes are bigger in size and offered more amenities. You can learn more about this period in the book, 'Jazz Age to Our Age: Architects and Developers of 1920s La Jolla' by La Jolla Historical Society, which will be presented in the March 12 La Jolla Landmarks Week event.
Post WWII and Midcentury Modern: Most designated landmarks in La Jolla are from the earlier periods, but a renewed appreciation for the Midcentury Modern style is encouraging designation of these landmarks. Architects in this era used geometrical and simple designs, with special care given to the relationship of the inside and the outside spaces.
---
Get the La Jolla Light weekly in your inbox
News, features and sports about La Jolla, every Thursday for free
You may occasionally receive promotional content from the La Jolla Light.