La Jolla High principal has compromise for public use of track: Rental fees still required, but reduced cost offered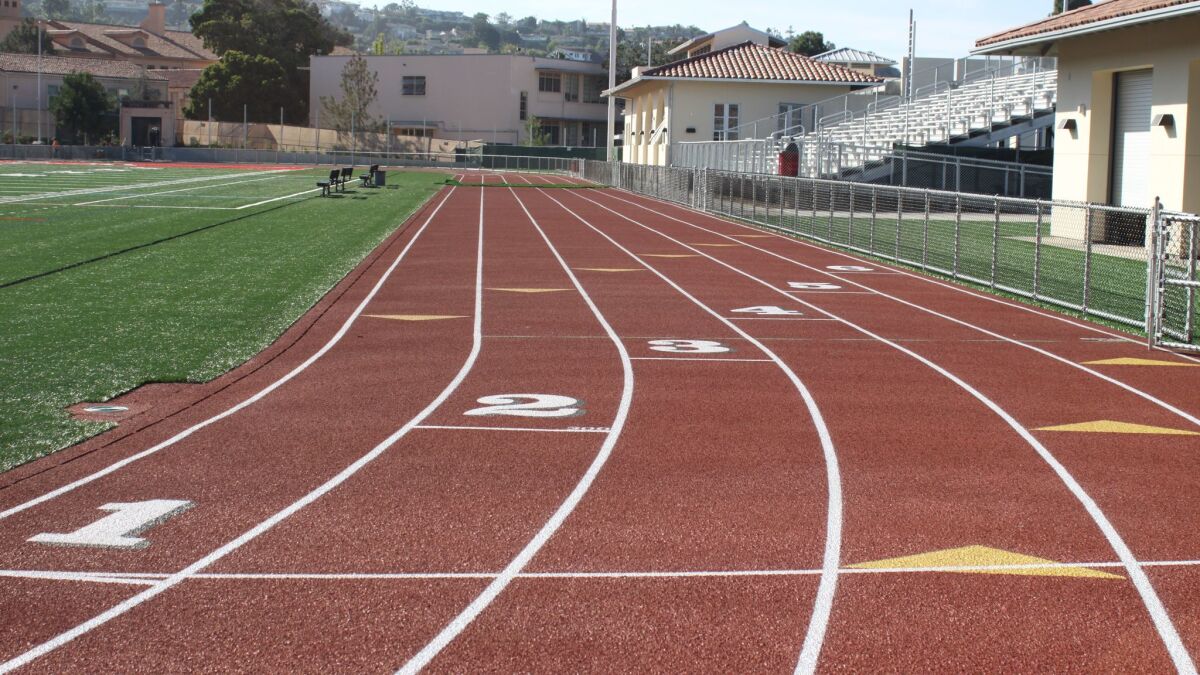 In the ongoing saga over public access to La Jolla High School's track and field, Principal Charles Podhorsky maintains that those who would like to use the field, rent the space through the San Diego Unified School District's (SDUSD) real estate assets office, but he is willing to offer a reduced cost as a compromise.
But some community members see the offer as unacceptable.
In November 2016, it came to light that the newly renovated La Jolla High School track and athletic complex would not be open — as it was in years past — to the public (unless rented). Since then, a community group hoping for free public access during non-school hours has organized with more than 30 members.
Podhorsky and representatives from this group met in February to discuss their options, but both sides are sticking to their guns: The school argues its facillites need to be monitored to ensure responsible use, and the residents believe it should be open to the public at no cost.
"We want to make sure we are an integral part of the community, but partnership is a two-way street," Podhorsky told La Jolla Light in an interview a week after the meeting. "The struggle we're having is that we have rules in place and people aren't following them.
"We have and have had people riding bikes on the track and bringing their dogs (dogs are not allowed on campus). We've had to ask our PE teachers to go out at 7 a.m. each morning and make sure there is no dog waste. Unless we have a way to protect the facilities, the track is not going to be there in good condition in a few years. We want it there for the kids who are at La Jolla Elementary School now, when they get here."
In order to ensure the track and field are being used appropriately, Podorsky said a facilities manager must be on hand, but with that comes an expense. So while those who want to use the facility (when not in use by the school) still have to rent it, they could do so at a reduced cost to just cover paying the facilities manager.
SDUSD real estate specialist Debora Beaver said fees associated with the school's track and field include: $53.50 to rent the field, $43 per hour for facilities managers and $40 per hour for a custodian. But, if the group renting the field is simply a group of residents, she said the $53.50 field charge could be waived.
"We're not interested in charging community members and non-profit groups rental charges," Beaver said, though adding there is a three-hour minimum for staffing support, and it would be up to the individual groups whether they would want the custodian on site to open and maintain the restrooms.
"If a group doesn't think it would need the bathrooms, it wouldn't need the custodian," she said. But a facilities manager is still required to make sure the rules are being followed and the track and field are being used appropriately." (A three-hour window with a facilities manager is $129, for both a manager and a custodian is $249.)
Further, Beaver said county-wide, all SDUSD campus facilities are closed to the public unless rented.
Podhorsky explained, "The decision (to limit public access) is at my discretion, but it's not like we are the only ones with closed facilities." He added with the recently announced SDUSD budget deficit of $124 million, paying for nonessential staffing is a challenge.
"With that kind of debt, we can't afford to have someone here on weekends to make sure the facilities are being used properly, and to secure or clean the facilities," he said. "We looked at, from a school perspective, hiring or paying per-hour for a facilities manager, but we just cannot afford it.
"If someone wants to come forward and do that, we could keep the facilities open during the day to make sure they're being used properly. We're open to solutions, but those solutions must account for us being good stewards of our facility."
He said if a group wanted to privately fundraise or pool money to pay the per-hour fee for a facilities manager, hypothetically, for three hours every Saturday morning, "that would be fabulous."
However, based on reported use, some find that option unfeasible.
Igor Grant, who said he used the track because it is gentler on his septuagenarian knees, explained, "There is clearly not an interest in restoring the situation that existed before for decades, so the casual user could walk the track when the school wasn't using it. But the rental agreement is not a practical solution for one person."
He offered as an alternative, communal monitoring of the track's users.
"I think it's more reasonable to get the community involved in self-policing to make sure the rules are being followed," Grant said. "If I ever went running and saw someone with a dog, I would let them know dogs aren't allowed so we all don't lose the rights to the track. It's true there were some thoughtless people … such as those who leave their dog's waste on the ground, but that's taking place even though the track facility is locked. So it seems keeping people out isn't working."
Grant also advocated for a community meeting on the topic in an open forum.
Added Devin Kostrzewski, who previously used the field for weekend soccer games, "In short, I am not OK with any paid rate because this is a public school and my tax dollars — both as a resident and a local small business operator — are going to the government, and in turn, to that school."
Kostrzewski's soccer group recently hosted a trash pick-up in the area. "I picked up so much student and construction worker trash on the school grounds and surrounding blocks," he said, "and the worst area was the big bleachers near the football field (a field we have never even played on). They were covered in food, packaging, etc. We seem to have a bad reputation with the school for no reason. We don't make a mess, we use publicly paid-for fields, and we don't bring bikes on the field or animals."
Alternative walking paths
At the nearby UC San Diego campus, there is a series of cement walking paths that are part of the Walk UCSD Program, and a track that provides a cushioned, rubberized surface. The paths range in length from one-half to four miles long. A description of each (including scenic opportunities, location and ease) can be found at: bit.ly/walkucsd
The paths are open to the public, but the UCSD track is only available to community members carrying a Recreation Card. With the card, holders have access to all UC San Diego sports facilities during informal recreation hours. Card costs range from $125 a quarter to $500 a year. Learn more at: recreation.ucsd.edu/membership
Could a cushioned walking track could be added to the La Jolla Rec Center as part of the playground redesign? La Jolla Park & Rec Inc. board chair Cindy Greatrex said it's possible, but trustees would have to study whether the size of the playground could accommodate a track.
Currently tasked with upgrading the playground facilities, the board is accepting feedback (and donations) for possible improvements. Suggestions may be e-mailed to: cindy.greatrex@diplomats.com
---
Get the La Jolla Light weekly in your inbox
News, features and sports about La Jolla, every Thursday for free
You may occasionally receive promotional content from the La Jolla Light.