La Jolla students embark on 'Senior Assassin' game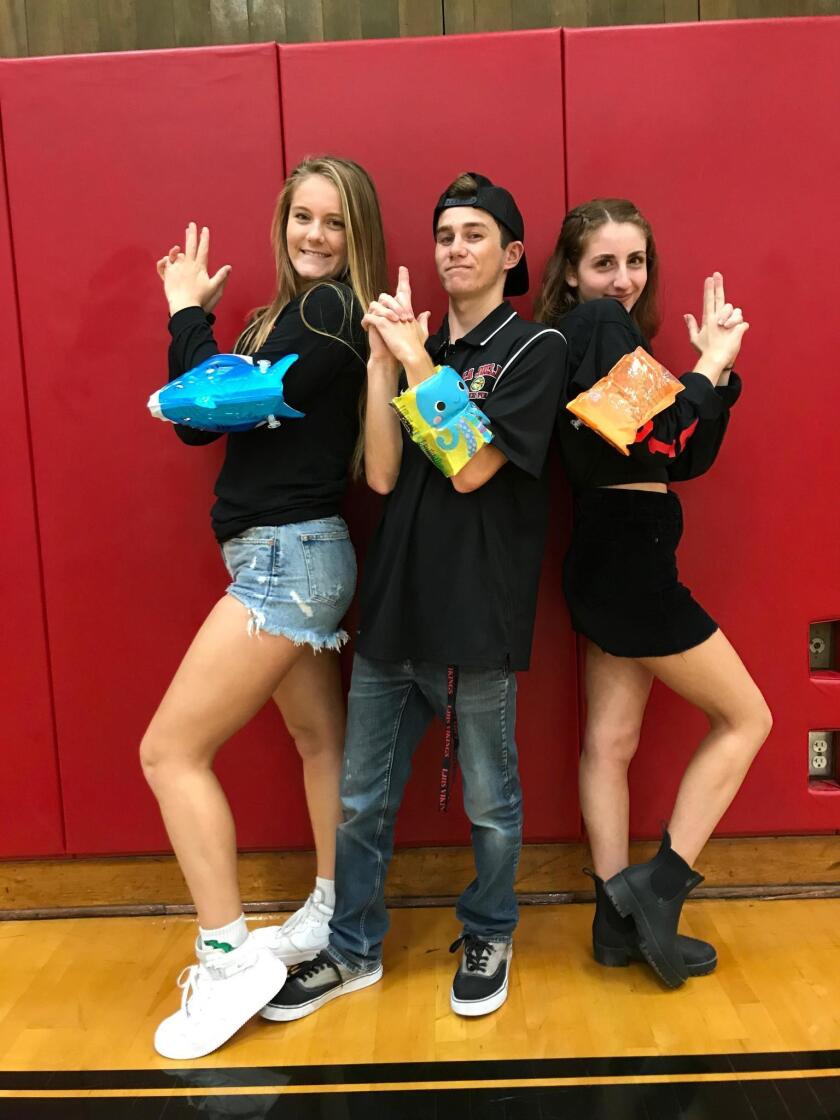 Teenagers wearing children's flotation devices around town! What gives? La Jolla High School seniors walking around town in floatation devices aren't just clinging to summer, they are participating in a class-wide game called Senior Assassin.
This is the first year in which La Jolla High School participated. Despite the name, the game is a lighthearted, non-violent, water-gun activity for the 150 La Jolla High School seniors that signed up to participate.
Orchestrated by seniors Rebecca Epner and Lily Stratton, the class-wide game started Oct. 5 and continues until the last student is standing.
The objective of the game is simply to not be squirted with a water gun. But once a student steps off campus, they are fair game unless they wear some form of floatation device as "immunity." Students are assigned secret "targets" that they must get within a certain period of time. Students cannot be hit during school events or class.
"Anyone can put on a floatation device and therefore be immune, but some people find it embarrassing and don't want to walk around town wearing it, so it discourages them. Plus, you can get your floatie taken away," Rebecca explained. "We're going, at some point, to have a 'Purge Day' in which no one can wear the floaties and a bunch of people will be eliminated."
Those who wet a fellow classmate have to video record the encounter and send it to the organizers, who will upload it to the La Jolla Senior Assassin Instagram account. There is also a Google Document with all the participant's names on it that is regularly updated to see who is still playing. As of press deadline, only 10 students had been eliminated.
"Some people take it really seriously," Rebecca said. "On Friday, a group said they were going to wait outside a friend's house to get them. People are walking around town with water guns, I saw a bunch of people with water guns at the pumpkin patch because they want to be prepared all the time."
The last Viking gets a prize to be determined.
Popular in East Coast schools in states such as Massachusetts and New Jersey, the game is played on campuses across the country. And while largely without incident, this year, a student in Turlock (south of Modesto) got arrested for aggravated assault following a Senior Assassin-related fight.
---
Get the La Jolla Light weekly in your inbox
News, features and sports about La Jolla, every Thursday.
You may occasionally receive promotional content from the La Jolla Light.