Looking Back ... and Going Forward: La Jolla High School valedictorians share insights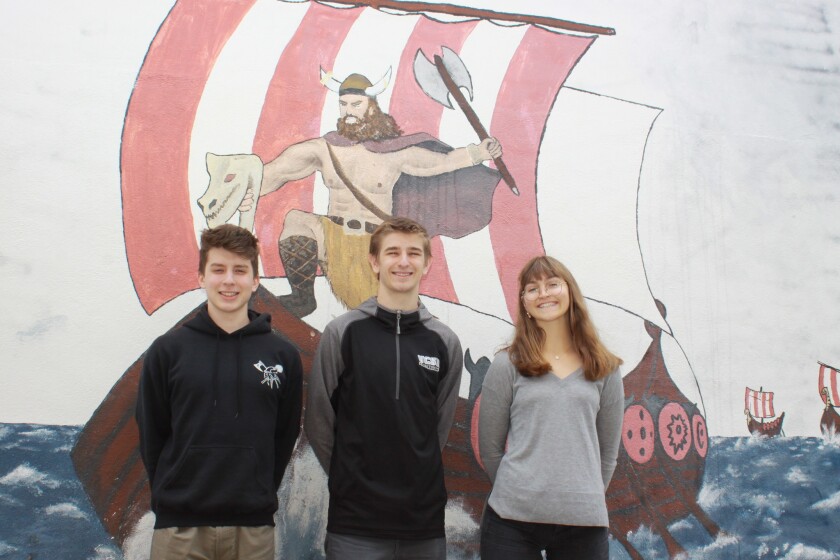 In ruminating on their time at La Jolla High School, the advice the three valedictorians in the Class of 2018 bestow on future generations includes 1) Let your interests dictate the classes you take, 2) Don't worry too much, and 3) Be yourself.
The valedictorians are Alexandra Backlund (4.87 GPA), William Dorst (4.94 GPA) and Berkeley Miesfeld (4.88 GPA). These students juggled AP and college courses, sports and extra-curricular activities and are each college-bound. How did they do it all? While sitting down with La Jolla Light, they offered their thoughts, advice for future students, and how they found balance in all their efforts.
"I had a lot of undue stress throughout freshman and sophomore year," Backlund reflected. "I was worried if I was doing enough or doing the right things, and how it would add up in the end. I wish, back then, I had more faith in my abilities and my choices. I would have probably made the same choices, but I would have had more confidence, which would have helped,"
The Cornell-bound senior said she hopes to double-major in molecular and cellular biology, and English. She was involved with the school's Model UN program, played indoor volleyball for eight years, and became "very involved" in volunteerism through National Charity League.
"When you look at it all and look at the hours in a week, I don't know how it works out, but (these activities) complemented each other really well," she said of how she found balance. "After hours of studying, to go out and do something else, works a completely different part of your brain. It lets the academic side rest."
To incoming freshmen, Backlund advised: "Let your interests dictate the classes you take. If you take classes because you think they will look good on your transcript or you think it's what other people want you to take, it's going to be harder to excel and harder to know what you want to do once you graduate. It's good to dip your toes in different things, so you can know what you like."
Similarly, Dorst loaded his academic and extra-curricular plate, but managed not to stress too much about it.
"You don't need to worry that much about things," he advised. "A lot of the test scores and your GPA are not the biggest deal. There are people that have lower GPAs (than the valedictorians) who are going to phenomenal schools. It's not the be-all-end-all of why we're here. Transitions are always jarring — from elementary school to middle school, middle school to high school and now this — and it feels like everything matters so much. Now, it doesn't seem so big, and I'm sure when I'm in college, the pressures of high school won't seem as big either."
During his time at La Jolla, Dorst played badminton for four years (as captain this year), served on the science team, and, for one year, on the mock trial team.
"Sleeping takes the biggest hit to time," he laughed. "But you find time. You can choose to dedicate your time to something practical, but I also spent plenty of time doing nothing, just listening to music, hanging out with friends. You find time for all the things you need."
Dorst plans to attend Boston University to study biochemistry and molecular biology.
Miesfeld has not declared a major for UC San Diego this fall, but sees that as a reflection of the well-rounded skills he obtained at La Jolla High. "I can confidently go into many different fields, that's why I'm waiting to declare a major and figure out what I could be," he said.
He plays volleyball and will continue to do so at UCSD, and has been a member of the volunteer-based Interact Club (which is under the Rotary Club).
"Balancing all this has taught me time-management skills, that's for sure," Miesfeld laughed. "I worked on getting homework done in between practices and made sure I didn't waste any time at home. It's difficult at first, but once you get the hang of it, it becomes routine. It's easier to know you can follow a routine and it will work out. It can be stressful at first, especially when multiple classes overload simultaneously and you have to manage that a little differently. But after your freshman year, you can figure it out and make it work for you."
Miesfeld said he considers his high school time to have been years "discovering my identity," which for him means "caring less about what others might think, just being yourself all the time. There is a lot of pressure to conform in high school, but it should really be about trying new things and discovering where you fit."
In getting ready to say goodbye to their Viking campus, the valedictorians noted particular teachers they will miss.
Backlund: "Jim Essex was my English teacher in ninth grade. I haven't had him since, but I appreciated his approach to teaching and to the English language, it was very engaging — and part of the reason I'm considering a double major."
Miesfeld: "Shauna Brammer was my AP bio teacher my sophomore and junior years, and she taught honors physiology. With her, for the first time, I felt like I was really good at science. I now feel it's my best subject. She had a lot of hands-on experience for us rather than just lectures. It was a different type of learning that I will remember."
Dorst: "Jerry Tellers was my (social studies) teacher my freshman year, but he was also coach of the badminton team and I consider him a friend."
---
Get the La Jolla Light weekly in your inbox
News, features and sports about La Jolla, every Thursday.
You may occasionally receive promotional content from the La Jolla Light.