La Jolla Concours d'Elegance 2017 sees record attendance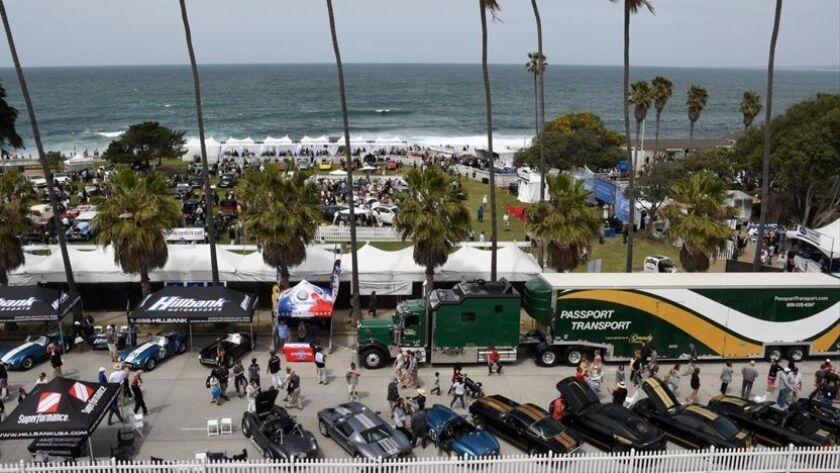 Although the number totals are still rolling in, organizers say increases in social media exposure, the quality of cars on display and the show's international reputation were factors in drawing thousands to the La Jolla Concours d'Elegance, April 7-9 with LPL Financial as the big day's title sponsor.
The 13th annual event featured a Rolls-Royce Contemporary Classic cocktail party at The LOT Friday night; a Tour of Cars with 85 vehicles Saturday morning between the Symbolic Motors showroom and La Jolla Beach & Tennis Club; a Bentley Motors VIP Reception Saturday night; the all-day ticketed car show at Scripps Park and concurrent Motorcar Classic where 90 cars lined Coast Boulevard for free public viewing on Sunday.
Organizer Michael Dorvillier said of the event, "(There were) amazing venues, weather, vehicles, sponsors and spectators. We had several vehicles that are one of one — yes only one left. These are mostly pieces of art."
In total, 124 cars filled Scripps Park for the competitions, and Dorvillier said the plethora of high-end cars made it difficult for the judges (six of whom came from Europe "on their own dime") to choose a winner. "We had cars from all over the world, and there were five or six cars that could have won 'Best in Show.' That was the caliber of competition on the field."
Ultimately, a 1921 Duesenberg with a Dual Cowl Phaeton body, owned by Ron and Sandy Hansen, took the coveted "Best."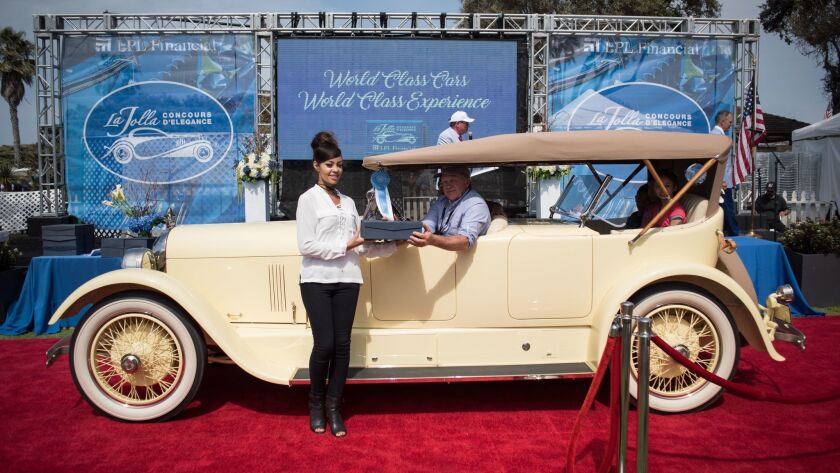 But gathering a collection of classic cars for a world-class Concours didn't happen overnight. Dorvillier said there was a time in the event's history when organizers were "begging for car clubs to participate," but now "those days are behind us."
He explained, "Our efforts over the past five years are finally paying off. Our goal was to be one of the top (car) events in the country. The car collector world put us there last year. We've been recognized as one of the best Concours in the country. Hard work and a commitment to bring a spectacular event to La Jolla in an effort to continue to put a much-needed shine on our Village has finally paid off. The La Jolla Concours d'Elegance is now internationally respected as one of the top in the nation."
In addition to the spectators and participants, community groups also benefit from the show's success.
For the second year, ticket buyers had the option of using a promo code when purchasing online. With these codes, they could received $5 off the ticket price and organizations like La Jolla Town Council, La Jolla Parks & Beaches, La Jolla Village Merchants Association and San Diego Automotive Museum received a $10 donation. The event's main beneficiary is La Jolla Historical Society (LJHS), which receives 100 percent of the proceeds.
LJHS executive director Health Fox said the event "really supports us well," so the Historical Society can continue to provide free exhibits and programs.
"It will take a while before the full perspective on the financials are known, but I expect we will net in our target range of $50,000 to $60,000," Fox said. "Proceeds from events like the Concours d'Elegance and the upcoming Secret Garden Tour (see related story on page B8) enable us year-round to present free exhibitions and educational programs, and allow the public to pull information from our archives."
Adding that he is "grateful to the planning committee, car entrants and all those who attended Concours," Fox said this year was his fifth year at the event and it was "wonderful."
---
Get the La Jolla Light weekly in your inbox
News, features and sports about La Jolla, every Thursday for free
You may occasionally receive promotional content from the La Jolla Light.