La Jolla Cluster Association learns of new state 'dashboard' for school success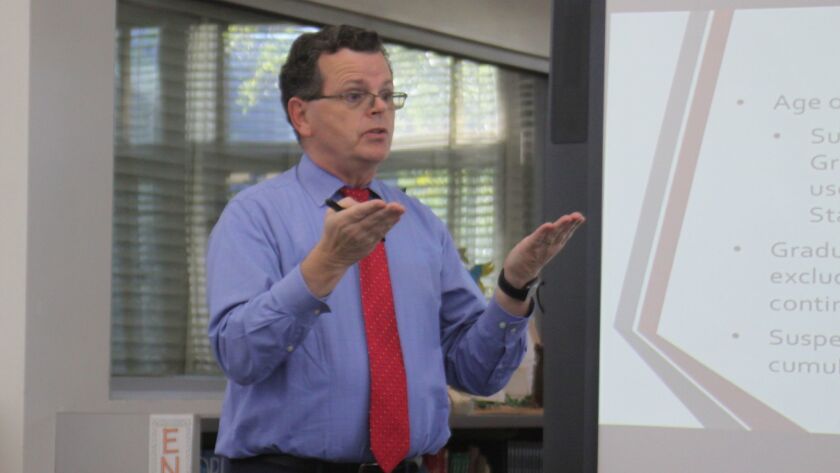 The California Department of Education launched a new digital "dashboard" to measure school performance and growth. The website is live at caschooldashboard.org, but not yet fully data populated.
At the La Jolla Cluster Association (LJCA) meeting April 20 at Muirlands Middle School, San Diego Unified School District (SDUSD) director of research and development Ron Rode explained that the dashboard will be "re-released" in the fall with updated information. The dashboard features 10 indicators of school success, six of which are based on statewide data, and four are based on district (not school) data.
The six statewide indicators are: high school graduation rate, academic performance, suspension rate, English learner progress, preparation for college/career and chronic absenteeism. The local indicators are: basic conditions (teacher qualifications, safe and clean buildings, and textbooks for all students), implementation of academic standards, school climate surveys and — for the first time — parent involvement and engagement. School and student group information is not available for local indicators, but for state indicators, one can see how an individual school measures up.
"We measure school success based on a color scheme, with blue representing the highest performance level — blue is the best you can get like a blue ribbon at the fair — then green, yellow, orange and red," Rode said.
For factors that schools would hope to be low — suspension rate and chronic absence (missing more than 10 percent of school days) — the orientation would be flipped, so red and orange symbols are positive indicators. A school can also reach a higher color level if there are desired performance increases (such as graduation rate) or decreases (such as suspension rate).
There are symbols for individual indicators and a colored graph for overall performance, including whether certain factors have increased or decreased. Rode noted there isn't enough data yet to fill all the fields.
In other Cluster news:
LGBTQIA resources: Cluster Association members were updated on resources for LGBTQIA students. Sophia Arrendondo, program manager for the District's LGBTQIA education and advocacy department, explained, "We are a small group that provides training for staff across the district. We also work with students and parents to create schools and campuses that are safe for all students (via) school site resources and support. This community of students exists everywhere, in schools K-12, and their families do as well.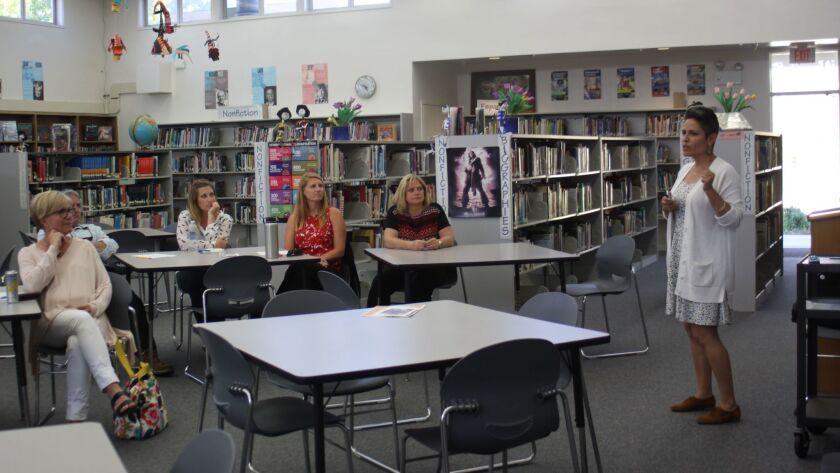 "Most people know LGBT stands for Lesbian, Gay, Bisexual and Transgender, but then they get a little lost with the QIA," she said, providing a rundown of what each letter represents:
The Q is for queer/questioning, she said. "Some people don't like the word 'queer' because it has been used pejoratively, but it's also one of those words that has been reclaimed. Some marginalized communities take language, reclaim it and take the power back."
I is for intersex, which describes someone whose sex characteristics are ambiguous. "That can be anatomical or internal, they could be intersex and not know it because their biological functions are not disrupted. It doesn't necessarily manifest as androgyny. The derogatory term we never want to use is 'hermaphrodite.' That's how they used to be referred to, but for some the identity is internal (rather than external)."
Lastly, A is for asexual, which she said is when a person does not have any physical or sexual attraction to anyone. "It's not a new identity, it's one that has been gaining a lot of visibility. A lot of folks who identify as asexual feel like there is shame (associated with it) because we live in a culture where we're told we are supposed to meet someone, fall in love, get married and so forth. But some folks don't."
She concluded that "These are all real identities, these are not 'phases.' " When it comes to training on campuses, Arrendondo said she can offer informative lectures at the Cluster level or with a school's PTA, and tailor it to the grade level and what questions people have.
"We also go over the difference between gender and sexual orientation because there is a difference. Sexual orientation comes from the heart, who you are attracted to; and gender identity comes from the brain, who we understand ourselves to be," she added. Find more information at: sandiegounified.org/overview-0
An ear in Congress: To get direct information about proposed educational legislation in Washington D.C., the LJCA is meeting with Congress member Scott Peters and his staff, reported parent member Christy Littlemore. "Based on meetings with his representatives, my feeling is that his ears are somewhat open to our input or at least open to bringing us what he is hearing," she said. "We've pulled together some questions for him and his reps, including time frames for proposed legislation and what is actually happening." Peters' field representatives have reportedly offered to come to a LJCA meeting to answer questions and get feedback.
—La Jolla Cluster Association next meets 4:15 p.m. Thursday, May 18 at Muirlands Middle School, 1056 Nautilus St. lajollacluster.com
---
Get the La Jolla Light weekly in your inbox
News, features and sports about La Jolla, every Thursday for free
You may occasionally receive promotional content from the La Jolla Light.