La Jolla surpasses Point Loma in airplane noise complaints; residents continue efforts to change flight paths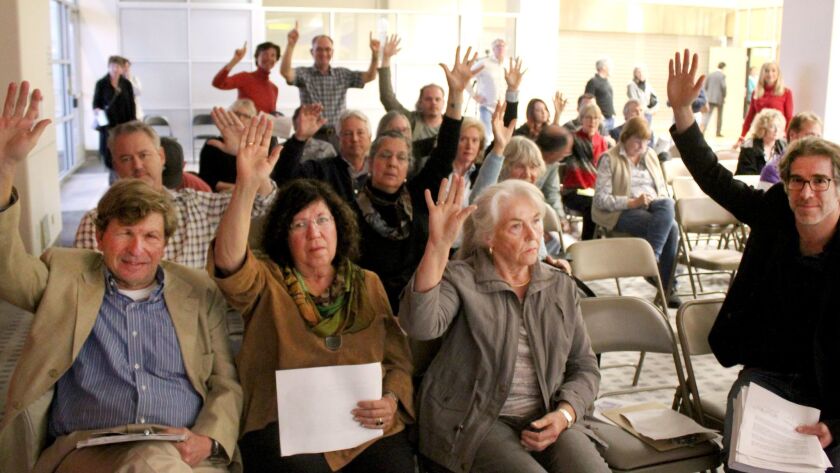 Seat opens for a La Jolla rep on the ANAC subcommittee
Caroline Becker, noise mitigation specialist for the San Diego International Airport Authority, reported at the Feb. 15 Airport Noise Advisory Committee (ANAC) meeting, "La Jolla has now more complaints lodged than Point Loma."
Becker pointed out, however, that 1,086 of the total 1,916 complaints received from La Jollans between December 2016 and January 2017 came from one household in Bird Rock.
Of the complaints registered in La Jolla, 1,566 were from Bird Rock, 193 from La Jolla, 85 from La Jolla Mesa and 72 from La Jolla Shores, she said.
This led ANAC board member Deborah Watkins to say that a seat had become available on the ANAC subcommittee, and she encouraged a La Jollan to apply for it. The application is online at san.org/Airport-Authority/Meetings-Agendas under "ANAC subcommittee."
The selected candidate will be seated at the Wednesday, March 15 ANAC subcommittee meeting.
Acknowledging the one, chief complainant, La Jollan Matthew Price said that nonetheless, "That's about 1,000 complaints from La Jolla, compared to none in 2015 (and most of 2016) from your own presentations."
To prove his point, he asked meeting attendees to raise their hands if they lived in La Jolla, and approximately 75 percent of the audience did. "I hold in my hand more than 300 petitions signed by La Jollans asking the airport authority and the FAA to determine the cause of noise and return it to previous levels," Price continued.
La Jollans have been reporting an increase in airplane noise since fall 2016. Changes in the Federal Aviation Administration (FAA) flight paths and operations over the area are expected Thursday, March 2, but the agency insists no modifications that could explain the surge of complaints in La Jolla have been implemented. However, the upcoming changes could reportedly help alleviate the situation.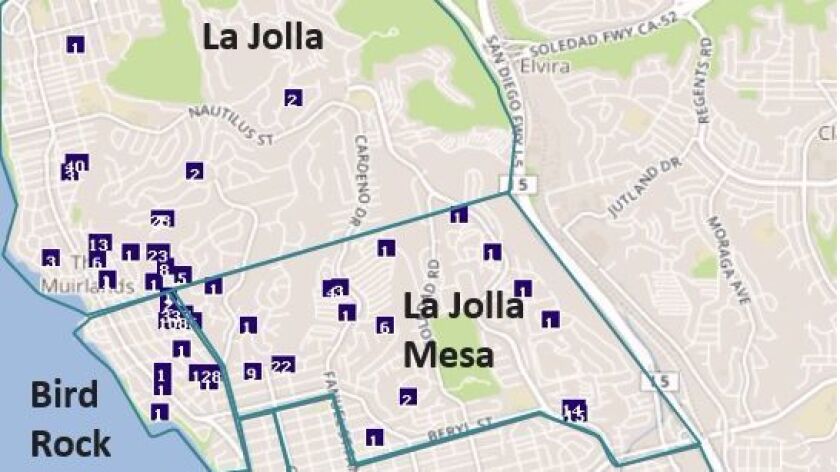 "It starts early in the morning, and we have the nighttime departures as well," said Muirlands resident Maria Jenness. "I can tell you that the planes used to go off much further over the ocean and noise was not much of a problem. But the airplanes have come closer and closer to the shoreline, and we're impacted by that."
Retired pilot and La Jolla Shores Heights resident Chris McCann said he went to Bird Rock to experience the noise firsthand and spoke to a few passersby. "I was astounded at how emphatic everyone was. They were saying that late last fall (the noise) just got bad," he reported. "I would like to find a way to join this organization to represent La Jolla."
Early takeoff turns
Early right turns during San Diego International Airport departures are on the rise, according to Airport Authority staff. "We did have an increase over the entire year, but when you look at December and January of last year, we were about the same number. And that's indicative of weather," said Sjohnna Knack, Airport Planning & Noise Mitigation program manager.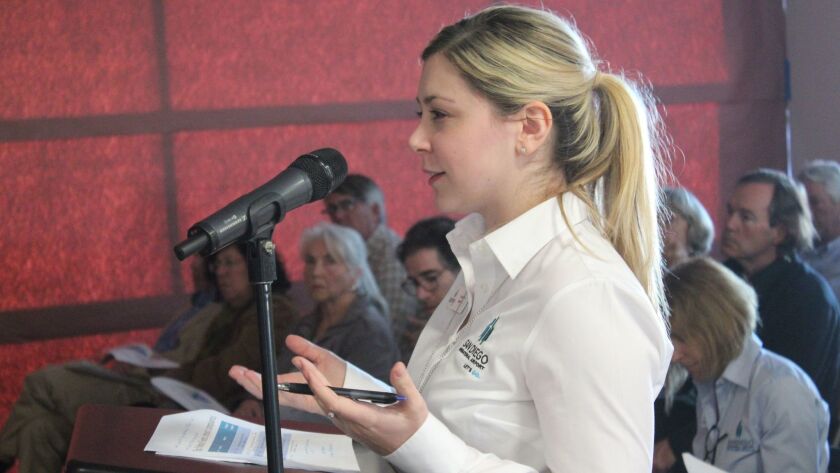 An early right turn is a violation of the FAA procedures that occurs when an outgoing aircraft turns before it can reach the designated "noise dot," a series of imaginary points based on a voluntary agreement between the Airport Authority and the FAA to keep noise at a minimum.
Brian Elliott (representing Congress member Scott Peters) asked staff if the increase in early right turns was the cause for the surge in La Jolla complainers. Knack answered, "(As for the complaints about) departure noise from La Jolla, my hope would be that when the FAA procedure is implemented and utilized by pilots, it may alleviate some of the concerns because the (airplanes) will stay inside the noise dot."
La Jolla residents had a different opinion on the matter. During public comment, Len Gross insisted that early turns aren't the reason he's complaining about noise. "(Early turns) only represent one or two events per day, we have 100 planes going by our house (every day). That's what people are reacting to, and it needs to have a global perspective, not just a look at a particular incident," he said, adding that rethinking aircraft noise and how it affects people is a necessity.
La Jolla representation
A lengthy discussion took place among ANAC board members on how La Jolla should be represented. Board member Chris Cole (representing Uptown Planners) made a motion to recommend the San Diego County Regional Airport Authority board include a La Jollan on the ANAC board.
(ANAC is an advisory committee that counsels the Airport Authority over noise issues. The ANAC subcommittee sits below the ANAC, where community members with expertise hold discussions about airport noise-related issues.)
However, Airport staff member Knack protested. "The intent of ANAC is to represent those communities and residents that are most impacted. There are many people impacted, however, the people that have the voting rights are those within the 65 decibel (contour)," she said. The communities currently represented on the board include Downtown, Uptown, Golden Hill, Mission Beach, Peninsula (Point Loma), Ocean Beach and Midway/Pacific Highway, plus a member for the community at large.
Representing the Peninsula Community Planning Board, board member Paul Webb added, "I understand the desire to include people from other communities, but we have a focus and a charge to look at the areas that are most affected, within the 65 decibel contour."
The motion to add a La Jolla representative to the ANAC board failed 2-6-1.
However, Watkins pointed out that an opportunity to apply to the ANAC subcommittee had opened when a member resigned, and staff explained that the application would be up on the website and they were already in touch with La Jollan McCann as a possible candidate. "He seems to have a very good background for it, but we have to open it up and allow anyone to apply," Knack said.
Watkins put forth a second motion to recommend the Airport Authority board add a 16th member to the ANAC subcommittee to represent La Jolla, regardless of whether a La Jollan fills the current empty seat or not. The motion passed 9-0-0.
---
Get the La Jolla Light weekly in your inbox
News, features and sports about La Jolla, every Thursday for free
You may occasionally receive promotional content from the La Jolla Light.