San Diego City Council tackles housing affordability; La Jolla leaders speak out on issue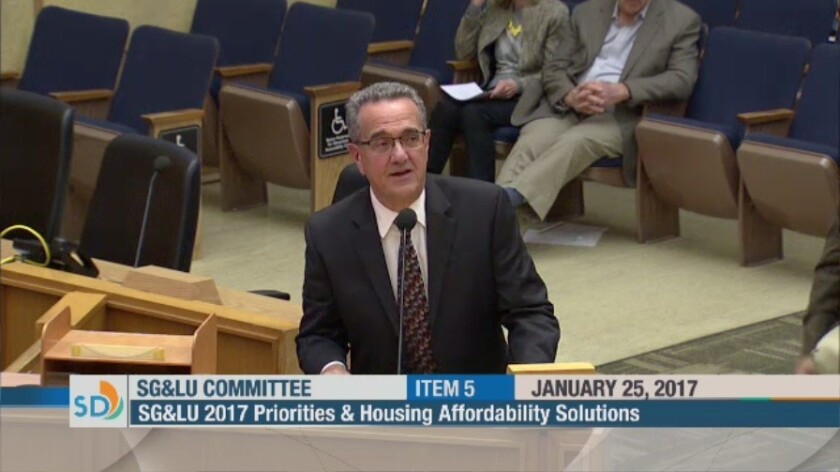 The skyrocketing cost of housing in San Diego has been an ongoing conversation in both political and non-political circles for the past 30 years. Now, the City Council's Smart Growth & Land Use (SGLU) committee has taken the lead to re-start the dialogue at the community planning groups level.
During the SGLU meeting Jan. 25, the issue was long discussed by various stakeholders, including references to proposition memos City Council members on the committee sent out. The suggestions included in these documents could have great impacts on citywide policies and affect the future of La Jolla and its decision-making processes and organizations.
Some of the most controversial came from City Council member Scott Sherman (District 7). One of his memo propositions is to reform community planning groups to "achieve higher professionalism," with policy changes that include additional training, increased diversity among members and "consolidating community planning groups into larger regional groups."
David Moty, chair of the Community Planners Committee, spoke against merging community planning groups into larger organizations. "Currently, community planning groups range in size from towns to mid-size cities, and their point is to provide local knowledge gained from direct daily experience in the neighborhoods," he explained.
Matthew Adams, vice-president of the San Diego County Building Industry Association, advocated for making the construction process "as timely as possible." He argued that development projects that conform with community and zoning plans should be moved forward, "and you would think that they would, but if there's one little variance, if there's a setback that's smaller (then projects get delayed in the community process)."
Save Our Heritage Organisation (SOHO) board member David Swarens also addressed the topic during public comment. He advocated for members of the community groups to be included in construction conversations. "There's the feeling that community groups, including community planning groups, are viewed as an obstructive impediment," Swarens said.
La Jolla Light reached out to District 1 City Council member Barbara Bry (who is not a member of the SGLU committee) for her view on these policies. She replied in a statement: "District 1 has unique communities and each planning group plays an important role. I do want to ensure that planning groups include voices from all parts of the community and encourage public participation."
The proposition to shrink community input in construction projects has roots in a bigger policy direction: Stripping away the local building regulations and fees, which according to a study from Point Loma Nazarene University — the most-cited document in the meeting — make up 47 percent of the total cost.
Housing affordability and building costs
Council members and meeting attendees agreed that there are two problems to tackle in this discussion — housing affordability (housing costs compared to medium salaries) and affordable housing (housing that's affordable to low-income families). The latter has traditionally been addressed with different forms of subsidized housing, and meeting attendees advocated for continuing in that direction.
To achieve a production of market-rate homes that will level off the costs of housing for medium-income families and solve the home-affordability problem of the region, the suggestions heard involved reducing taxes, fees, contributions and time constraints for developers.
La Jolla planning consultant Joe LaCava gave a heartfelt speech focused on the necessity of deeper changes than the ones proposed. "With all due respect, the table has been set this afternoon not to tackle the crisis, but to nibble around the edges. Making little changes that will make us feel good might make a little bit of improvement, but will any of them jumpstart us to 9,000 units a year, our natural growth demands?" he said, adding that re-writing the land development code is a necessity.
SOHO director Bruce Coons told La Jolla Light, "Most people seem to think that if we allow the development industry to build as many houses at market rate (as they want), it will balance out. The developers always move to the highest profit item; they keep claiming they'll drive housing prices down, but I don't think that's really possible anymore."
However, Adams stated that rolling back buildings costs can be positive. "Even with modest changes, you can have a significant impact in housing availability, affordability and economic activity," he said, adding that a 3 percent decrease in building regulations could sprout a $3 billion growth to the gross regional product.
One of the proposed "roll backs," included in the memos by City Council members Sherman and David Alvarez (District 8), is reducing parking requirements for residential developments, but Sherman goes further, asking for expanded self-certification programs on building projects, reducing the possibilities for California Environmental Quality Act (CEQA) appeals, the building of Accessory Dwelling Units (ADU) and taking away the historical preservation decision power of the Historical Resources Board (HRB) in favor of the City Council.
Accessory Dwelling Units
In September 2016, Gov. Jerry Brown signed Senate Bill 1069 that allows accessory dwelling units in single- or multi-family residential zones. "(ADU) provide additional rental housing stock, and these units are an essential component of housing supply in California," the bill reads.
Under the law, which took effect in January, ADU (aka "granny flats") should be easier to build. The SGLU committee intends to ease restrictions to facilitate the building of these extra units for San Diegans. According to Sherman, this would mean "supplemental income for homeowners and affordable in-fill housing for residents."
Sherman also proposes building Junior Accessory Dwelling Units (units less than 500 square feet within existing homes) that feature a kitchenette and a door to the exterior of the house and an amnesty to existing unpermitted ADU.
Historical Preservation
Sherman's memo references a handful of policy changes in historical preservation policies. It reads, "Specific reforms include: mandating Council approval on any new historic or potentially historic district, allowing an appeal of a historic designation on any grounds, bifurcating HRB hearings into two per month, separating the agendas of DSD referral and voluntary designation, increasing the designation to 75 years, amending the criteria used to designate (eliminate wildcard criteria and require two criteria be met), and capping the limit by which Mills Act tax credit recipients may receive such a credit — once the threshold of property value is met, homeowners must pay taxes on the remaining value."
However, Coons said, "This is probably barking up the wrong tree … especially because historical preservation is so small, less than 1 percent (of the existing homes in San Diego)." He argued that most of Sherman's suggestions were either pointless or come from a misunderstanding of how the HRB really works.
"If they were to enact these requirements and somehow get it through, we just go to the State and keep the City out," Coons continued, suggesting that a good way to help developers would be to run a countywide or citywide historical "map."
"What's more important for builders to know is where property that has potential constraints is, and identifying the historic resources is one of the greatest things we could do to speed things up," he said.
Bry, who ran on a platform of maintaining the unique character of neighborhoods, wrote, "La Jolla has many historic homes and buildings, and these structures are part of what makes our community so special. I will continue to support the Mills Act and historic preservation."
Want to know more? Council members Scott Sherman and David Alvarez will discuss their plans for housing affordability moderated by Joe LaCava during the Citizens Coordinate for Century 3 breakfast dialogue, 7-9 a.m. Thursday, Feb. 23 at The Loggia Room in the House of Hospitality, 1549 El Prado in Balboa Park, San Diego. $30 members, $40 non-members, continental breakfast included. c3sandiego.org/event-2458731
---
Get the La Jolla Light weekly in your inbox
News, features and sports about La Jolla, every Thursday for free
You may occasionally receive promotional content from the La Jolla Light.