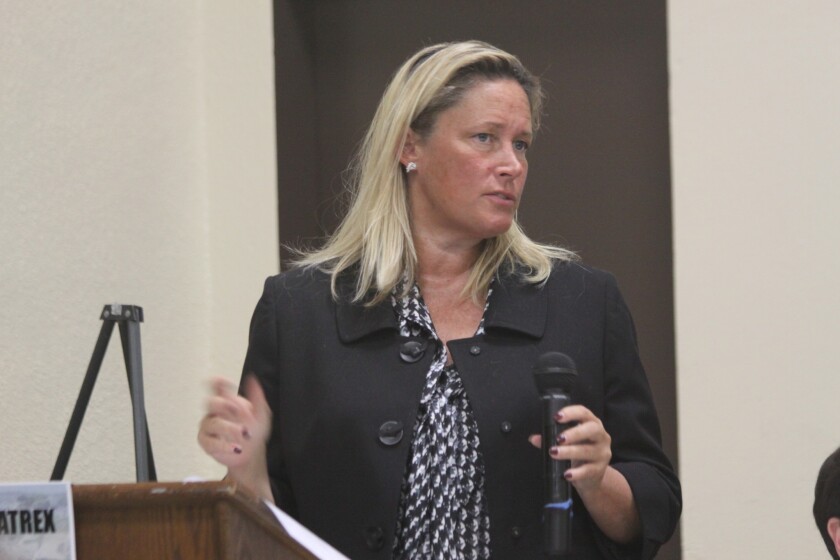 Change in representation on both sides has pushed the trial for the People vs. Cindy Greatrex to 2019. Following a hearing in San Diego Superior Court Oct. 29, a new trial date of March 12 was scheduled.
Greatrex, a La Jolla resident and civic volunteer, is accused of stealing more than $67,000 from La Jolla Recreation Center funds by making out checks from La Jolla Park & Recreation, Inc. board payable to herself — or cash — and cashing them into her personal accounts. According to court documents, the total loss was $67,935.86. Greatrex was president of the La Jolla Park & Recreation, Inc. board in 2015, but stepped down in 2017, citing conflicts with other board members. She currently serves on the La Jolla Community Planning Association.
The City of San Diego, representing the people, changed its legal representation from Chandelle Konstanzer, who has been representing the people up to this point, to San Diego County District Attorney Gina Darvas. Konstanzer has been transferred to another office, prompting the hand-off.
Greatrex's latest attorney is San Diego-based Mike Pancer, and is the fifth attorney to be retained since her preliminary hearing in November 2017. During the preliminary hearing, Paul Neuharth represented Greatrex. But a month later, at her arraignment, Greatrex was being represented by John Kirby. Six months later, Greatrex was being represented by a third attorney, Sharon Appelbaum. In August, Earll Pott was her attorney.
Konstanzer previously told the Light that postponements are common when change in representing occurs.
According to his website, Pancer is a member of the American Board of Criminal Lawyers, the National Association of Criminal Defense Lawyers and the San Diego Criminal Defense Bar Association, and "he was twice voted San Diego Trial Lawyer of the Year by the San Diego Criminal Defense Bar Association, most recently in 2006. … He has represented clients who were executives in Fortune 500 companies, politicians, accountants, and numerous attorneys."
---