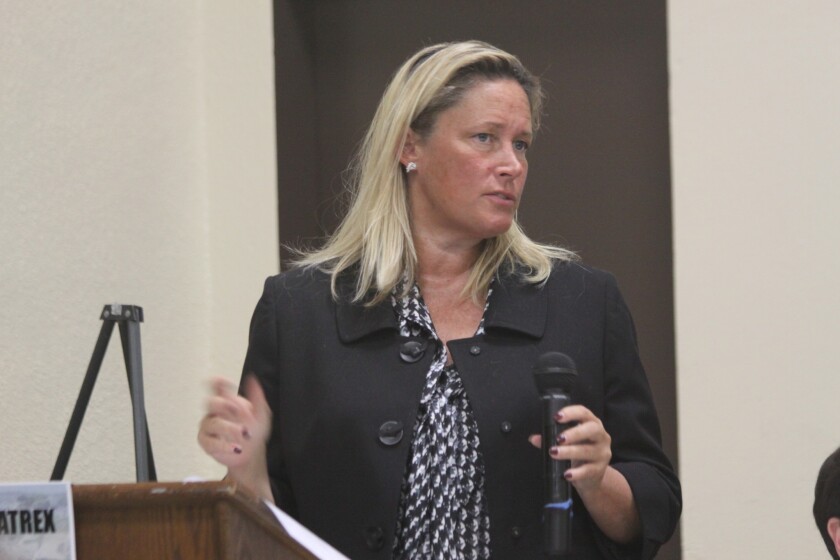 Following the retention of a new attorney, the trial date in the case of People vs. Cindy Greatrex has been postponed once again, this time to Nov. 8 in San Diego Superior Court.
"The trial continued because Ms. Greatrex retained a new attorney and he needs time to prepare," said Chandelle Konstanzer, the attorney representing the People. "Continuances can occur when defendants retain new attorneys and when witnesses are unavailable. That is common."
Greatrex, a La Jolla resident and civic volunteer, is accused of making out checks from La Jolla Park & Recreation, Inc. board payable to herself — or cash — and cashing them into her personal accounts. According to court documents, the total loss was $67,935.86.
Greatrex was president of La Jolla Park & Recreation, Inc. board in 2015, but stepped down in 2017, citing conflicts with other board members. She currently serves on the La Jolla Community Planning Association.
During the November 2017 preliminary hearing, which spanned three days, witnesses included employees and volunteers from the La Jolla Recreation Center, police investigators, postal investigators, business attorneys, and Greatrex herself. A key issue was determining the existence and legitimacy of the firm with which Greatrex said she entered into a contract — and paid — to write grants: American Field Consulting and its representative Jon Freeman.
Following the preliminary hearing, Judge Amalia Meza determined there was enough evidence to proceed to trial.
A motion to dismiss was filed in April, and San Diego Superior Court Judge Michael Groch was asked to review the transcript and evidence submitted in the preliminary hearing, and determine whether the judge was correct in calling for a trial.
Groch affirmed that a trial was merited, and a date was set for earlier this summer. However, for reasons not disclosed to the Light, the trial was postponed at least three times.
Greatrex's newest attorney is Earll Pott, and is the fourth to be retained for this case. (During the preliminary hearing in November 2017, Paul Neuharth represented Greatrex. But a month later at her arraignment, Greatrex was being represented by John Kirby. Six months later, Greatrex was being represented by a third attorney, Sharon Appelbaum.)
Representatives from Pott's firm did not respond to the Light's request for comment by deadline, but his website describes his practice as focused on "white-collar criminal defense and related matters, professional licensing litigation, professional liability defense, complex federal and state civil business litigation, and state court criminal proceedings of all kinds, including cases alleging murder, arson, extortion, vehicular manslaughter, fraud, embezzlement and sexual assault."
---