Tough Cookies: La Jolla Girl Scout tutors teach outdoor skills on camp-out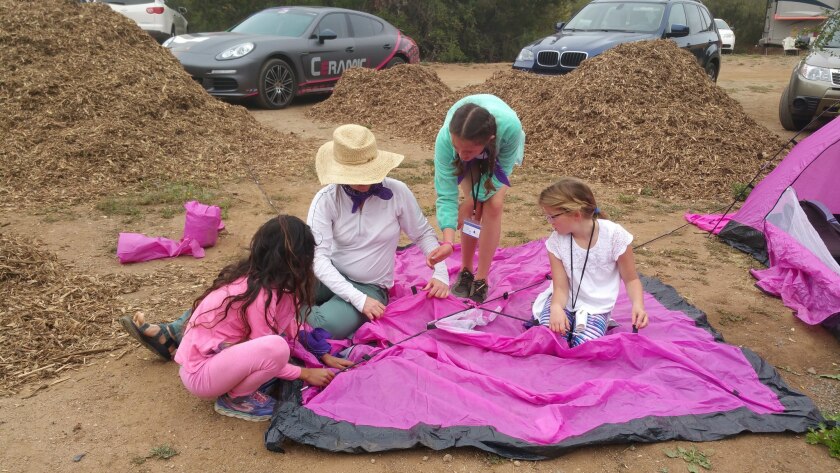 To teach the next generation of Girl Scouts the essentials needed to rough-it while camping, La Jolla Scouts in Troop 4110 (aka Awesome Central) recently took 22 Brownie Troops on a camping trip to show them the ropes.
Troop 4110 is comprised of 10 sixth-grade girls from The Bishop's School, Muirlands Middle School, The Gillipsie School and The Children's School. These Scouts, and their 6- to 8-year-old counterparts, journeyed to Oakoasis in Lakeside the weekend of May 18-20 to explore nature art, tent set-up, campfire safety, Scout songs and skits, local animals, team-building games, and hiking day-packs.
Gillispie School Scout Lexi Gallo explained that her Troop arrived in the afternoon with one of the Brownie groups to set up the tents, take a long hike and make dinner. "The next morning, we prepared breakfast together and the other Brownie Troop arrived," she said. "It had a lot more kids than the group we had, but we were prepared. As they arrived, we set up the skill stations and activities. The Brownies would go from station to station. At the end, they got a completion sticker."
Each Awesome Central girl was tasked with teaching one outdoor skill.
Muirlands Scout Kirra Fisk taught fire-making and safety — a skill she learned through Scouting when she was younger. "You have to be careful about your surroundings, make sure there are no branches above that could catch fire, or dead leaves or grass around. You have to make sure the fire can't spread," she advised.
To make the lesson more fun for younger Scouts, Fisk said she made up games, including timing them to see who could make a teepee structure out of logs the fastest. "I knew I had to do more than just stand there and talk," she said. "We thought if the younger Scouts really enjoyed learning and camping, they would go camping more often and teach other girls about it. It's important for boys and girls to learn outdoor skills."
Asha Postins of The Children's School developed the animal identification activity. "I taught the Brownies about the different kinds of animals in the area, and when we went on a hike, we played animal Bingo. They would spot an animal and mark it on the board. That way, if they were to go on another camping trip, they would know about the animals around them," she said.
Asha said she goes camping with her family but this trip was much more special because of the leadership skills she developed and time spent cooking with her fellow Scouts. "I learned that we had to stick with what we were doing, because there were times when the Brownies didn't want to do an activity ... but by the end, they enjoyed it," Asha said. "Plus, we had a chef on hand who helped us make dinner, so we learned how to chop vegetables and work together to make burritos."
Lexi was in charge of arts and crafts. She instructed the Brownies to collect leaves, twigs and other nature bits to glue to a wooden plaque. "I love teaching and hanging out with younger kids and I love doing art, so this matched up perfectly," she said.
And while enjoying herself was something she expected, the unexpected also occurred. "I knew these kids were younger than me, so I didn't expect to make friends with them, but I did," Lexi said. "When we went on the hike, everyone was talking and encouraging each other, there were no cliques. And singing songs around the campfire was so much fun!"
When asked if they would do it again, all three said: "Definitely!"
—For information about Girl Scouting opportunities in La Jolla and Pacific Beach, contact Regional Recruitment Specialist Christa Sherman at csherman@sdgirlscouts.org or (619) 610-0706, or visit sdgirlscouts.org
---
Get the La Jolla Light weekly in your inbox
News, features and sports about La Jolla, every Thursday for free
You may occasionally receive promotional content from the La Jolla Light.