La Jolla plan to landscape and add blinking crosswalk to Girard Ave. coming
A project to landscape and add a pedestrian-activated blinking crosswalk across Girard Avenue was introduced at the Feb. 8 La Jolla Village Merchants Association (LJVMA) meeting, and will soon make the rounds to La Jolla's Traffic & Transportation advisory board, La Jolla Planned District Ordinance review committee and La Jolla Community Planning Association.
LJVMA executive director Sheila Fortune presented the project as one that would "enhance the existing pedestrian crossing on Girard Avenue between Silverado and Wall streets with landscaping and adding a crossing signal," she said.
Paul Benton, of Alcorn & Benton Architects, spoke on behalf of an anonymous group that wishes to initiate and fund the project. "This is a concept found in the La Jolla Community Plan," he explained, "but this is also something that can really affect the merchants and I want to get as much feedback as possible. I don't want anyone to feel blind-sighted by a design concept you didn't know about.
"Girard is an extremely wide street and part of the problem with crossing in the crosswalk is, as soon as people step out, they are slowing down traffic and there are safety issues. So we propose the installation of a pedestrian-activated blinking signal similar to that found on La Jolla Boulevard near Westbourne and along La Jolla Boulevard in Bird Rock (to accompany the existing crosswalk lines in the street)."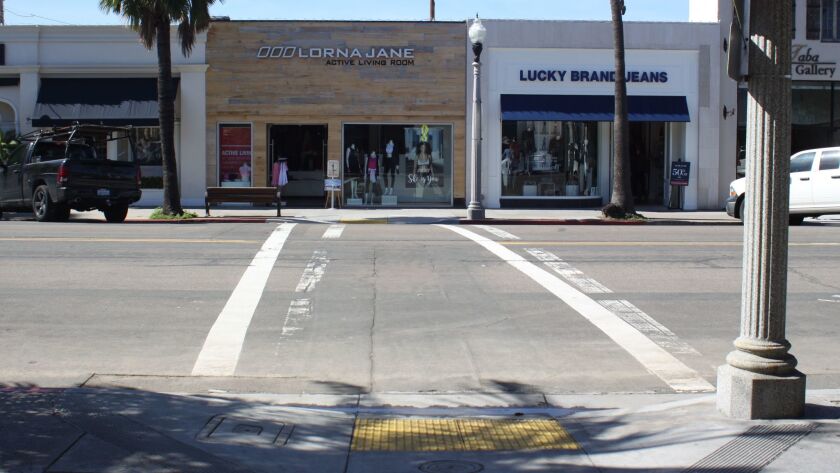 Benton added that the plans still need "to be worked out with engineering," and rather than present formal renderings, he offered sketches of how the spot would look with some greenery.
"This could also be an area of beautification … there is a little triangle area (created by the diagonal parking spaces where there is no parking) and we want to fill that with landscaping. Our goal is to not lose any parking spots."
Benton said the landscaping and irrigation would be funded by the group that wishes to install the crosswalk, "as long as they are in the community."
But if later on, it could be incorporated and managed by the La Jolla Business Improvement District, it might be something to explore.
LJVMA member Jamie Dickerson said she liked the concept and jokingly asked if Benton "could do every block like this?" Several other board members seemed to agree, because when it came to make a motion to support the concept, several were quick to be the first.
The motion passed unanimously.
Benton said he expects to return to the Merchants board when plans are more finalized, but in the meantime, would present to other groups.
---
Get the La Jolla Light weekly in your inbox
News, features and sports about La Jolla, every Thursday for free
You may occasionally receive promotional content from the La Jolla Light.