La Jolla students pack 51,840 meals for overseas need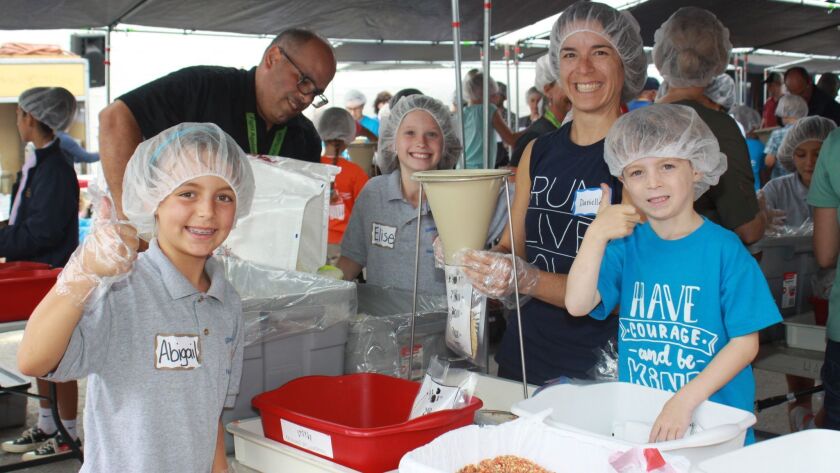 The Gillispie School parking lot at 7380 Girard Ave. was buzzing with energetic volunteers Sept. 27 during its Fight Against Hunger food packaging event, benefiting Friends and Family Community Connection. Over the course of the afternoon, volunteers assembled 51,840 meals, one-third of which will be distributed locally, and the rest sent to Haiti.
In rotating shifts, students from schools across La Jolla, parents and school employees put together bags of dehydrated meals containing one scoop of rice, one scoop of soy-based protein, a spoonful of dried vegetables and a package of seasonings. Each bag contains more than 1,300 calories worth of nutrient-dense food.
Once filled with their contents, the unsealed bags were lined up in containers and carried over by volunteers to the sealing station. Once sealed, they were stacked two-by-two until 20 are compiled, and those 20 went into a box to be sent overseas.
Those too little to join the assembly line decorated the boxes.
The food items and bags were purchased by the school from the San Diego-based Friends & Family Community Connection, and Gillipie students orchestrated fundraising to offset the costs.
Gillispie School student, Kate Watkins, 8, described the day as "a little nerve-wracking but really exciting."
She said, "It makes me feel like I'm helping everyone in Haiti, which makes me feel like I'm helping the world. It makes me feel great."
Since its inception in 1996, Friends & Family Community Connection has provided food distribution assistance to San Diego homeless people and seniors; rebuilt homes following Hurricanes Katrina, Irene and Sandy; and launched its Fight Against Hunger program. To date, 17 million meals have been packaged and distributed through this initiative. For more details, visit ffccsd.org
---