The Camino family came to La Jolla from Madrid, Spain in March taking advantage of an exchange program available at their children's school. "We came here for a change of scenery, so our three children would see different things and people, and to find inspiration," artist Nicolás Camino explained.
He said they chose La Jolla to be close to the ocean. "I thought I was going to come here to paint, but when I got here and saw the ocean, I decided to continue my fish sculpture series," he added, sharing that he divides his time between painting and sculpting. Camino's "fish series," which he named "Collective Consciousness," started back at their home base.
"There are scientists studying the behavior of animals — such as fish, butterflies or birds who move in huge, perfectly synchronized flocks — and (the scientists) don't understand how this works," he said. "They speculate there's some sort of collective consciousness where they make decisions in unison. I'm very interested in that, and from that thought, I began making these clouds of things."
The fourth sculpture in the series, which he started and finished in La Jolla, is made up of 1,250 separate stainless steel fishes. Most of the pieces were hand-made by Camino and shipped here from Spain. Then, he started welding them together in his side yard. "There was an element of showmanship, a lot of people stopped by and some neighbors followed the growth of the sculpture coming almost every week to check on it. It was almost a performance."
It took Camino three months to weld together the pieces, and the result evokes a school of fish that, as it reflects the light, nearly looks like they are moving.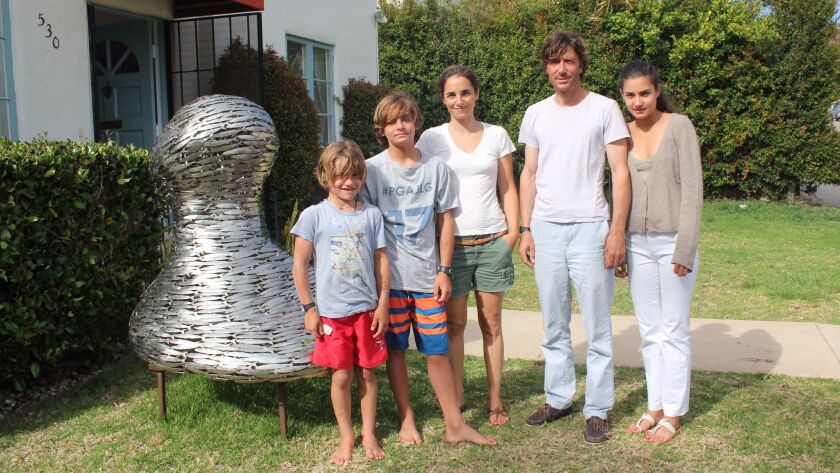 Camino is inviting members of the community to attend an open house where they can visit the sculpture, talk to the artist and his family, and share a light refreshment beginning at 3 p.m. Thursday, July 13 (through Sunday, July 16), at 530 Genter St.
"The idea is that everyone who wants to see the sculpture, who wants to know what it is and why I made it, can come and visit," he said.
From Spain to La Jolla
"I would like to thank the town of La Jolla because everyone has been so welcoming to my family," Camino told the Light. The 43-year-old artist said he would love to come back with projects and build sister sculptures in La Jollans' yards.
"I think there is interest, because in Spain, being an artist is seen as someone who doesn't do anything ... but here it seems like a real job!" he joked.
All five members of the Camino family are surfers although they live in the capital of Spain, Madrid, 350 miles away from the closest beach. "People here are so peaceful and give good vibes," he began, "you can tell even when surfing. In Spain, if you paddle a wave that didn't belong to you, people get angry. Here, the first day I made a mistake and paddled a wave that wasn't mine, and I thought 'This guy's going to kill me,' but it was no problem."
He said he was surprised at how "reserved" Southern Californians are. "In the afternoons, my children would play tennis, golf or listen to music in the front yard, and my wife and I would be sitting and having a drink, but no one else here does that."
Background
Camino said he started his career as a bank employee. "After high school, I was going to study fine art, but then I ended up in law school. I trained at a bank and ended up working there, but it didn't interest me much," he said. After trying his hand in writing, flamenco singing and dancing, music production and even managing other artists, he started creating his own art. "When you want to do big paintings you need a lot of time, so in 2007, I decided to dedicate myself solely to art."
In Spain, he works with a few galleries and has a studio in Madrid where he makes sculptures and paints. "I usually do both at the same time because I mostly paint with oils that take time to dry, and the sculpture is more physically taxing — you get cut. I have cuts everywhere."
Learn more at followtheanimallajolla.blog
---