Enhance La Jolla holds first meeting: Board asked to brainstorm Village improvement projects
The Enhance La Jolla board of directors held its inaugural meeting May 3 at La Jolla Riford Library to lay the groundwork for improved maintenance services and beautification associated with the Maintenance Assessment District (MAD) newly established in The Village.
Enhance La Jolla is the board that will administer the MAD, which was approved by voters within its boundaries in November 2016. Funding for ongoing maintenance — including landscaping, street and power-washing, trash collection and graffiti removal — will be generated by property owner assessments that will begin to be collected later this year.
Through its 501(c)(3) non-profit status, Enhance La Jolla can also receive grants and private funds to carry out capital improvement projects in public areas. The board expects to sign a City contract and establish liability insurance in June or July, at which point it can begin capital projects. Maintenance services will begin in January 2018.
At its first meeting, the board received training in the Brown Act, voted to establish a checking account for funds that come through the MAD and a separate account for grants and/or donations, and filled a vacant seat on the board.
Regarding the latter, La Jolla Community Foundation representative and La Jolla Light publisher Phyllis Pfeiffer spoke on behalf of Enhance La Jolla board member Nancy Warwick (who could not attend) to recommend Prospect Street resident Ruth Yansick fill the seat.
"In looking at the board, we look for diversity. We have commercial property owners, non-profit property owners, and two seats for residential property owners. One (resident) represents the Park Row area and we thought it was important to have someone from another part of the community so we can have eyes on all the neighborhoods." Yansick's nomination was approved and she was seated.
Yansick joins the other 12 board members: Mark Dibella, Steve Haskins, George Hauer, Kathryn Kanjo, Leon Kassel, David Marino, Andy Nelson, Pfeiffer, Bill Tribolet, Peter Wagener, Warwick and Ed Witt.
To demonstrate "what we can do together through pooled philanthropy," Pfeiffer tasked the board with generating a few suggestions for capital projects that could be carried out this calendar year. She said the La Jolla Community Foundation was instrumental in getting the MAD and Enhance La Jolla established so it could assist with capital projects. As such, La Jolla Community Foundation voted to fund continuation of Joe La Cava's consulting services to set up the MAD, as well as loaning funds for liability insurance so capital projects could be started as soon as contracts are signed.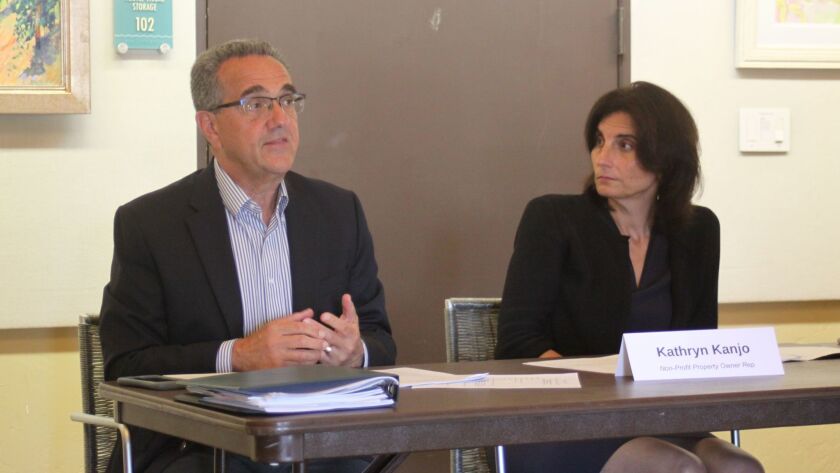 Further, she said, "The La Jolla Community Foundation has $65,000 in its non-endowment fund that can be granted out in 2017 for projects within the community. So we would like Enhance La Jolla to come up with two or three projects (we can carry out) that can be voted on by Foundation members."
Early suggestions were planting trees and setting out new Village benches and trash cans.
However, member David Marino opined that a broader look at The Village might also be beneficial. "To take a step forward, we need to take a step back and get our arms around what existing conditions are and what the plan is. We need to level-set and say 'what do we want things to look like in the future?'
"There needs to be a landscape plan and a hardscape plan to get our collective program together, so the MAD has a cohesive theme to it. We need to get rid of some stuff that's there currently, for example, there are all kinds of mismatched trees. Right now it's just a hodge-podge."
Member Mark Dibella suggested working with the La Jolla Village Merchants Association, who previously facilitated maintenance work in The Village, and its design committee.
—The next Enhance La Jolla meeting is 4 p.m. Tuesday, June 13 at La Jolla Riford Library, 7555 Draper Ave. The meeting is open to the public. For more details, visit enhancelajolla.org
---
Get the La Jolla Light weekly in your inbox
News, features and sports about La Jolla, every Thursday for free
You may occasionally receive promotional content from the La Jolla Light.