La Jolla permitters form subcommittee to study condo conversions
DPR group implies developers may be using map waivers to bend zoning laws
During the Jan. 10 meeting of the La Jolla Development Permit Review committee (DPR), board members voted unanimously to form a research subcommittee that will look into the consequences of condo conversion in the neighborhoods south of Pearl Street.
"The issue with the condo conversions in this particular neighborhood is that you've got two units on a lot and the proposals we're getting are essentially lot-splits that put an imaginary line across the lot, making two smaller lots that don't comply with what is zoned in the code for that area," said board member Diane Kane during her presentation on the topic.
In the past year, DPR members have reviewed three condo conversions of existing dwelling units, two of them in the area south of Pearl Street (7432-7436 Fay Ave. and 7435-7437 Eads Ave.) and a third in WindanSea, the second area where trustees have identified the problem (247-249 Kolmar St.). A fourth condo conversion heard by the board in the last 12 months was a map waiver for 7569-7571 Hershel Ave. (just north of Pearl), a three-apartment building under construction at the time, with which trustees had no problems.
The 7435-7437 Eads Ave. map waiver project received DPR's approval in December, but it was pulled from the La Jolla Community Planning Association's agenda and it will be heard in full review 6 p.m. Wednesday, Feb. 2 at the Rec Center, 615 Prospect St.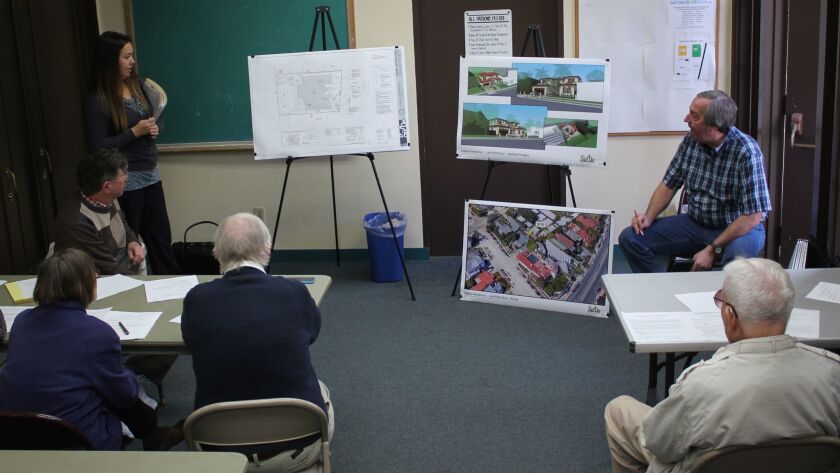 "The question I asked is why these were condo conversions and not a lot-splits," Kane continued, adding the answer is that the lots in question are 5,000 square feet, and the minimum size for a lot in the zone is 3,000 square feet, so they can't be split in two.
Kane said she has concerns about the applicability of the condo conversion map waiver in these cases. "This planning tool is totally legitimate for single buildings, multi-unit apartment buildings that are being turned into condos or for larger multi-family units where you have common area. But when you only have two units on a lot, and they are separate, and they share no property in common, it doesn't seem to meet the requirements for a condo. So, why is the City allowing the condo conversion process to be used for this particular situation?" she elaborated.
In response to La Jolla Light questions about Development Services Department policies on condo conversions and small lot subdivisions, public information officer Paul Brencick confirmed that the City clearly separates the two, and indicated that a small lot subdivision "is the subdivision of multi-family zoned land, consistent with the density of the zone, for the construction of single dwelling units."
In contrast, Brencick added, "A condominium conversion project does not subdivide or 'split' lots (although sometimes these projects will consolidate lots), they are subdividing interests in property. Yes, (the developer) will now be selling these units to individual people, where before all of the units were held by one company as apartments."
DPR trustee Angeles Liera said, "One of the big issues with condo conversion locally has been the loss of rental housing because the rentals provide more housing for lowest and moderate income."
The City has mechanisms in place to keep affordable housing within the Coastal Zone, but those can be waived by a contribution of an in-lieu fee to the San Diego Housing Trust Fund, and most developers in La Jolla pay rather than give up units for low- or medium-income families.
Eads Avenue neighbor 'Connie' Branscom said she's noticed a change in the character of her neighborhood. "All along it has been very 'neighborly,' there was even a party at the street where people were concerned with a general infilling there; it was getting too crowded. I realize that you can have two houses per lot (in the RM-1-1 zone), but it is becoming very dense, the buildings are getting bigger … the sense of neighborhood and neighborliness are beginning to disintegrate and people really enjoy that."
With the added concern of residents, DPR members agreed that something has to be done to better serve the community when reviewing condo conversion projects. Trustee Liera proposed perusing the San Diego Municipal Code for requirements "dangling around" in different sections and making a checklist for applicants, so they'd know what to bring in when they present to DPR.
The committee unanimously approved a motion to form a condo-conversion research subcommittee whose ad-hoc members are trustees Kane, Liera and Brian Will. The issue will be discussed further in upcoming DPR meetings.
Caplan Residence
Architect Tim Golba's presentation about a demolition and construction of a 4,302-square-foot, two-story single-family residence at 1418 Park Row received unanimous approval from DPR. After a preliminary review on Dec. 20, the applicant granted some of the committee's requests, such as replacing the rooftop stucco band for a rail, lowering the front fence to three feet tall, redoing the driveway and adding glass to the garage door.
— DPR next meets 4 p.m. Tuesday, Feb. 14 at the La Jolla Rec Center, 615 Prospect St.
---
Get the La Jolla Light weekly in your inbox
News, features and sports about La Jolla, every Thursday for free
You may occasionally receive promotional content from the La Jolla Light.