Idea for new La Jolla 'Community Parade' revived, denied at traffic meeting; established Christmas Parade approved for 2017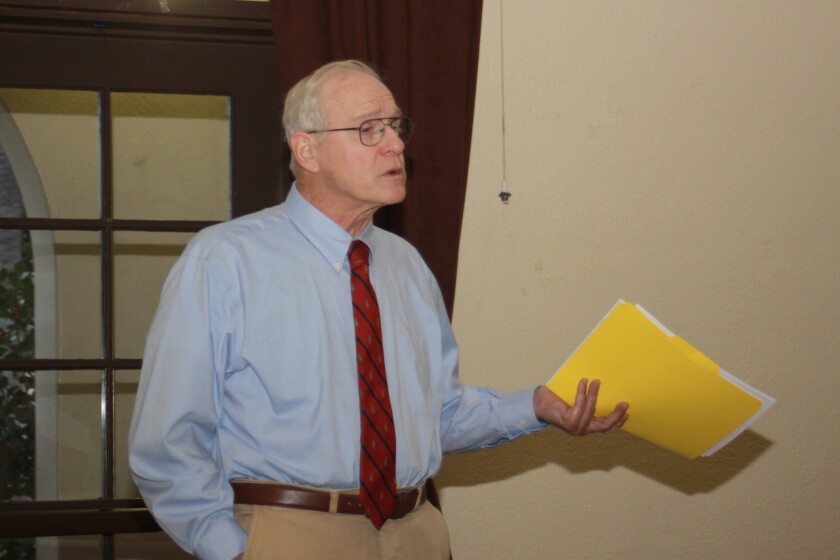 Discussion about a second December parade in La Jolla resurfaced last week, when La Jolla's Traffic & Transportation advisory group (LJT&T) heard a request for street closures for a proposed La Jolla Community & Holiday Parade — an independent event intended to be more faith-neutral than the established La Jolla Christmas Parade & Holiday Festival.
This time, representatives from both the La Jolla Community & Holiday Parade and the La Jolla Christmas Parade & Holiday Festival were on hand, both requesting the necessary permits to hold their parades on the same day: Sunday, Dec. 3, 2017.
Favoring the La Jolla Christmas Parade & Holiday Festival (now in its 60th year), the board at its Jan. 18 meeting at the Rec Center, denied applicant Howard Singer approval for street closures for the proposed La Jolla Community & Holiday Parade. Singer was accompanied by supporter Nancylee Friedlander.
After years of failed attempts to change the name of the parade to something that does not reference any particular religion, Singer began a quest to host his own parade in mid-2015. The proposal made the rounds to La Jolla's various advisory groups and was discussed by the La Jolla Village Merchants Association that year, but it never garnered approval nor took place. The event also did not take place the next year, in 2016.
When questions about the name and whether it could be changed were raised at the recent LJT&T meeting, they were dismissed as "out of order" and "not relevant to the item at hand." Additionally, La Jolla Christmas Parade & Holiday Festival organizer Ann Kerr Bache (who is also president of the La Jolla Town Council) argued it was out of LJT&T's purview to address the theme, name or content of an event when considering traffic-related aspects.
Singer countered that on Dec. 8, 2015, he and his associates — the San Diego Diversity and Inclusiveness Group — filed an application with the City of San Diego to hold an event on Dec. 3, 2017. Hanging laurels on the argument that his group was the first to request that date, Singer said, "It was one full year ahead of any other organization," referencing Kerr Bache and the La Jolla Christmas Parade and Holiday Festival Foundation.
As to why she requested the Dec. 3, 2017 date, Kerr Bache told the board, "The parade is always 10 days after Thanksgiving to accommodate families with children home from school for the holidays."
In addition to the date conflict, the board took issue with the Singer application that was submitted, but not approved. LJT&T member Nancy Warwick noted that one of the board's roles is to "prevent doubling up of events (especially) when one event has historicity …"
Singer interrupted, "That's not how the City feels."
Warwick replied, "But that's how this board feels."
Acting chair Tom Brady noted that when representatives from two events request the same venue at the same time, the City considers both the date of approved application and the "traditional event date," and he pointed out that La Jolla Christmas Parade has used the "venue" of La Jolla streets on the same date (10 days after Thanksgiving) for 60 years.
"You also do not have the management or expertise to run a parade, nor do you have a complete application," Brady told Singer.
Although Singer argued the relevancy of a completed application, he acknowledged "there are many blank fields" on the document. "You might think it's an incomplete application, but the City won't," he said.
A motion passed unanimously not to support the Request for Temporary Road Closure and No Parking areas for the La Jolla Community & Holiday Parade on Dec. 3, 2017.
Singer later told La Jolla Light he presumed his request would not granted by LJT&T. "We knew what would take place at the meeting. Our predictions were 100 percent correct."
Friedlander added that she was surprised by the "vehement reaction" from the board. "This was my first public meeting regarding the La Jolla Christmas/Holiday Parade issue, so I was looking through a newcomer's eyes at the interactions. ... I was surprised and disappointed at the lack of openness to (the Community Parade). I expected a fair and impartial board to run the meeting and that is not what I perceived."
From here, Singer said, "Our San Diego County Diversity and Inclusiveness Group has a conference call scheduled with members at 4 p.m. Friday, Jan. 27," and that he would update La Jolla Light about the outcome soon after.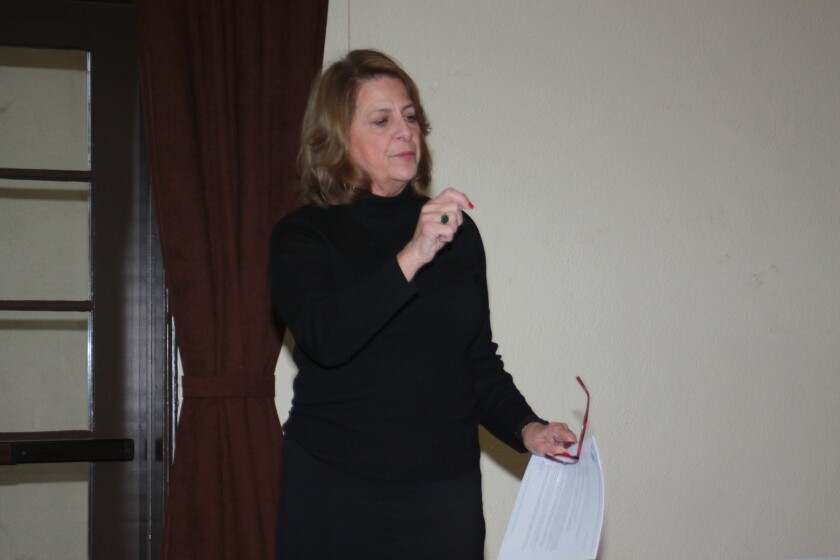 Christmas Parade gets green light
When it came to discussing the La Jolla Christmas Parade & Holiday Festival, Kerr Bache presented a history of the event, the permits secured and the vendors committed, during her request for street closures for the event. "The map of street closures from last year is unchanged. Last year's event had 2,800 participants, 127 entries and thousands of people at the Rec Center for the holiday festival," she said.
She also provided a list of vendor commitments for services such as safety equipment, police presence, party rentals, clean-up, medical aid and more, and said the La Jolla Rec Center permit is secured, the City's special event permit is secured, there were no changes to tow procedures and road closures, liability insurance had been obtained along with assembly areas.
Warwick called Kerr Bache's presentation "impressive" and moved that "In compliance with the San Diego event plan, LJT&T recommends and supports the request of the Christmas Parade for the Temporary Street Closure and No Parking areas for the Dec. 3, 2017 parade."
Brady added that the Christmas Parade has "the expertise, organization and management needed to do a wonderful parade" and the event was "a knockout" last year. The motion passed unanimously.
In other T&T news
Concours d'Elegance: A request for Temporary Street Closures and No Parking areas related to the 13th annual La Jolla Concours d'Elegance, April 7-9 at Scripps Park, was unanimously approved.
Applicant Laurel McFarland said there were no changes to last year's route and street closures. "The City has traffic controllers at key points, which used to be (facilitated by private) security, but we think it's better to have qualified traffic controllers," she said. "No Parking street signs go up 72 hours in advance, and notices will go up at 6 a.m. that towing will start at 8 a.m. to accommodate early morning swimmers or Cove viewers."
The classic car show takes up much of the park, but some is left open to the public. "We want to keep the event's existing footprint and not expand it," McFarland added, stating the La Jolla Concours is considered one of the top in the country, but with a "friendlier vibe" than many of the more upscale or "fancy" events.
— Pending items to review, La Jolla Traffic & Transportation next meets 4 p.m. Wednesday, Feb. 18 at La Jolla Rec Center, 615 Prospect St.
---
Get the La Jolla Light weekly in your inbox
News, features and sports about La Jolla, every Thursday for free
You may occasionally receive promotional content from the La Jolla Light.