Behind the Construction Curtain: Coast Walk 'high-rise' in La Jolla draws ire over permit process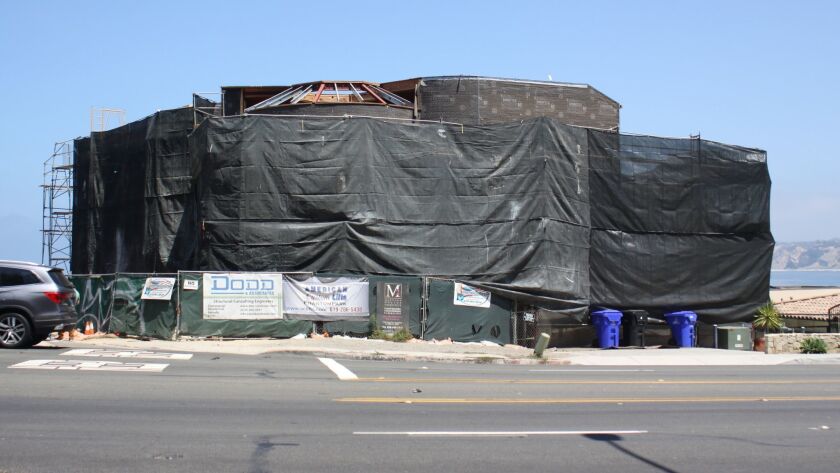 When the towering residential development at 1590 Coast Walk started to climb into view along Torrey Pines Road, La Jollans took note. Protest letters flooded the La Jolla Light and concerned neighbors took the issue to La Jolla Community Planning Association (LJCPA) meetings.
Residents are lamenting the size of the project, especially because it blocks what was once a narrow view of the ocean, and questioned how a building of such magnitude was permitted?
The project was originally approved locally more than 10 years ago and has undergone City-approved changes ever since, before getting the green light to proceed with current construction plans. Dodd and Associates Engineering and Marengo Morton Architects are the developers. Representatives from these firms did not respond to the Light's request for information.
The background
In August 2007, meeting minutes show, the Coastal Development Permit Review Committee (which became the Development Permit Review committee [DPR] in April 2009) determined findings could be made to demolish an existing split-level single family residence and construct a new 9,251-square-foot two-story over-basement single-family residence on a 21,780-square-foot site at 1590 Coast Walk. The plan was ratified by the La Jolla Community Planning Association the following month.
Regarding the City approval history, Development Services Department (DSD) spokesperson Scott Robinson said the project received land-use approvals in March 2008, underwent "minor modifications," and was approved under a Substantial Conformance Review (SCR) in April 2009. The project received an extension-of-time permit soon after.
Robinson added that site preparation occurred throughout 2015 and the building permit for construction of the new home was issued in April 2016, with "a minor construction plan change." Two additional construction plan changes were submitted and are currently under staff review.
Notes on the City's project development platform, Open DSD, lists the construction change scope as: complete reconfiguration of all floors, revise deck configuration and railing, revise sub-basement stairs to L-shape run, revise floor to ceiling heights, revise doors and windows, reduce and add square footage, add small deck, add gas insert to deck for fireplace, relocate plumbing fixtures, relocate kitchen, and remove outdoor open storage on deck.
Since its initial application, the project has had multiple owners. It is currently being advertised as the "Lasco Residence Project" on the Dodd and Associates website, which states that upon completion, it will be a "three-story single-family residence" with "a subterranean garage and storage area below the three stories and an adequate living space to enjoy the view."
However, Robinson said City DSD staff have reviewed the property and found it to be "a two-story building with a height limit of 30 feet."
Substantial Conformance Review
According to the City's "Minimum Standards for Substantial Conformance Review" document: "The goal of SCR is to determine if the proposed project is consistent and in conformance with a previously approved permit. … Staff will recommend approval of the modified project if the change falls within the parameters of the prior approval. A SCR decision is either at staff-level (Process 1) or is a decision by staff that requires input from the Community Planning Group and is appeal-able to the Planning Commission (Process 2)."
City staff determines whether a project comes back to the local advisory groups for community review. A point that has troubled LJCPA members before.
At the July LJCPA meeting, trustee Dave Gordon said in addition to this project's size, there is a broader problem. "I'm really concerned because we, as the LJCPA and its subcommittees, approve a project on one design and then it completely changes … and it's as if our voice doesn't matter," he said.
Trustee Diane Kane noted other projects that "change scope and don't come back here for another look-see," and described one on Sea Ridge that came to her attention: "There is a dedicated view corridor there that leads to the ocean that is now blocked by a pop-out."
Other similar projects have been noted in La Jolla Shores. However, the problem may be more systemic.
The City process
Local architect Tim Golba, a former chair of both the LJCPA and San Diego Planning Commission, told the Light that the role of community planning groups is to review the discretionary permit that entails the "rights" to create a design or building, and that's the start of a lengthy process that could yield modifications from what the local advisory group first saw.
When a project comes before a local review board, Golba said: "The drawings associated with any discretionary approval, such as a Coastal Development Permit (CDP), are always going to be conceptual in nature, and when any owner or applicant receives that discretionary approval, then they move on to the timeline and expense of detailed construction plans that will be submitted for a Building Permit down the road — typically months after obtaining a discretionary approval."
Further, the local review is just one of many steps between design and construction.
"A typical CDP could have eight to 20 different divisions and entities that may have to provide an approval … and the community planning group is only one of those. Once a planning group completes its review and advisory recommendation, it is sent to the Project Manager downtown. But if any of those other (up to 20) different reviews result in a change or modification, the community planning group may not be aware of it or even be required to re-review it, unless the Project Manager feels the changes are substantial in nature, which they rarely would be."
And the types of project changes, he said, are "vast" and could include ADA accessibility, earthquake resistance, water quality issues, landscape or public improvements — or even a refinement of the design itself.
"There is no true specified limit to the changes; some may arise from technical issues or challenges, and some may arise due to aesthetic changes or evolution, as well," Golba said. Focusing on aesthetic changes, he added that these might be frowned upon in some cases, but might not change whether the project substantially conforms.
Here's an example, he said: "If a project was approved in the Discretionary Permit process for a cake with chocolate icing, but that very same cake then goes into final drawings and remains the same cake, but now with vanilla icing, this is a change that might get frowned upon by some neighbors, but would seem to certainly fit within the parameters of the City's Substantial Conformance guidelines."
Moving forward
Where the contentious Coast Walk project under construction now stands in the scheme of things, La Jolla real estate agent Peggy Davis addressed at the July and August LJCPA meetings. She called on Marengo Morton Architects principal Claude-Anthony Marengo to return to the community boards and explain the project.
"It is not compatible with other developments, it blocks the views, and the current builder is still making changes as of May 2018. We would like the LJCPA committee to look at this again and to pursue the problem we have with our permit process," she said.
LJCPA trustee Kane added that she would like an investigation into "how this and other projects metastasize beyond their approved scope."
---
Get the La Jolla Light weekly in your inbox
News, features and sports about La Jolla, every Thursday.
You may occasionally receive promotional content from the La Jolla Light.