La Jolla's Coast Walk Bridge will be repainted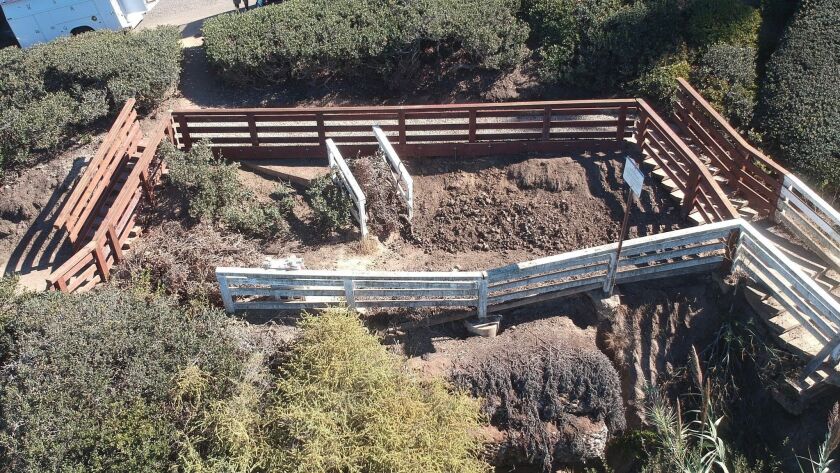 Work on the Coast Walk Trail bridge bypass is moving steadily ahead, as new handrails and fixtures were installed in late 2018. In the coming weeks, the new rails (and the rest of the bridge) will be repainted, thanks to nearby residents and members of Friends of Coast Walk Trail.
The bridge at Coast Walk Trail was closed in February 2017 due to erosion near one of the footings. The bridge itself is structurally sound, but the unstable footing prompted the closure.
Soon after, signs were posted on both sides of the bridge prohibiting access, and additionally, caution tape and A-frame barricades were put in place to indicate particular problem areas. However, hikers either moved the signs or moved around them to use the bridge despite the warnings.
City crews started work on the bypass in summer 2018, to re-route the trail that leads to the bridge by constructing stairs up the slope to the new trail alignment, beginning at the north end of the existing bridge. The former pathway is now blocked off with new handrails.
Construction also includes new wood stairs connecting the east end of the trail to Coast Walk.
Some of the lemonade berry plant and non-native ornamental vegetation above the existing and unsupported pedestrian bridge will be removed to accommodate the bypass.
The bridge is part of the third-mile-long Coast Walk Trail, with ingress/egress points on Coast Walk at Torrey Pines Road and Coast Boulevard near The Cove.
Soon, workers will power-wash the bridge, repaint the existing portions and paint the newly constructed handrails. Friends of Coast Walk Trail have donated supplies, including paint, to the project.
---
Get the La Jolla Light weekly in your inbox
News, features and sports about La Jolla, every Thursday for free
You may occasionally receive promotional content from the La Jolla Light.