La Jolla widow to stage African nation's first musical
In the living room of her WindanSea house, Tamlyn Shusterman rifles through a box of costumes sent by her sister-in-law, who made them for a production of "The Wizard of Oz" at her daughter's school in North Carolina. Shusterman will use them to stage the first musical ever in the West African country of Liberia.
Opening three weeks after Shusterman arrives on Aug. 28, in a generator-powered church, "The Wiz" will feature a local cast of 40 chosen (via video submission), choreographed and co-directed by Shusterman. Helping her mount the 1970s African-American stage adaptation of "The Wizard of Oz" will be an all-volunteer collective of producers, directors and crew members she met during a successful Broadway career that included dancing in "42nd Street" and as one of the Radio City Rockettes in the early 2000s.But the most important thing about the project to Shusterman is something else entirely.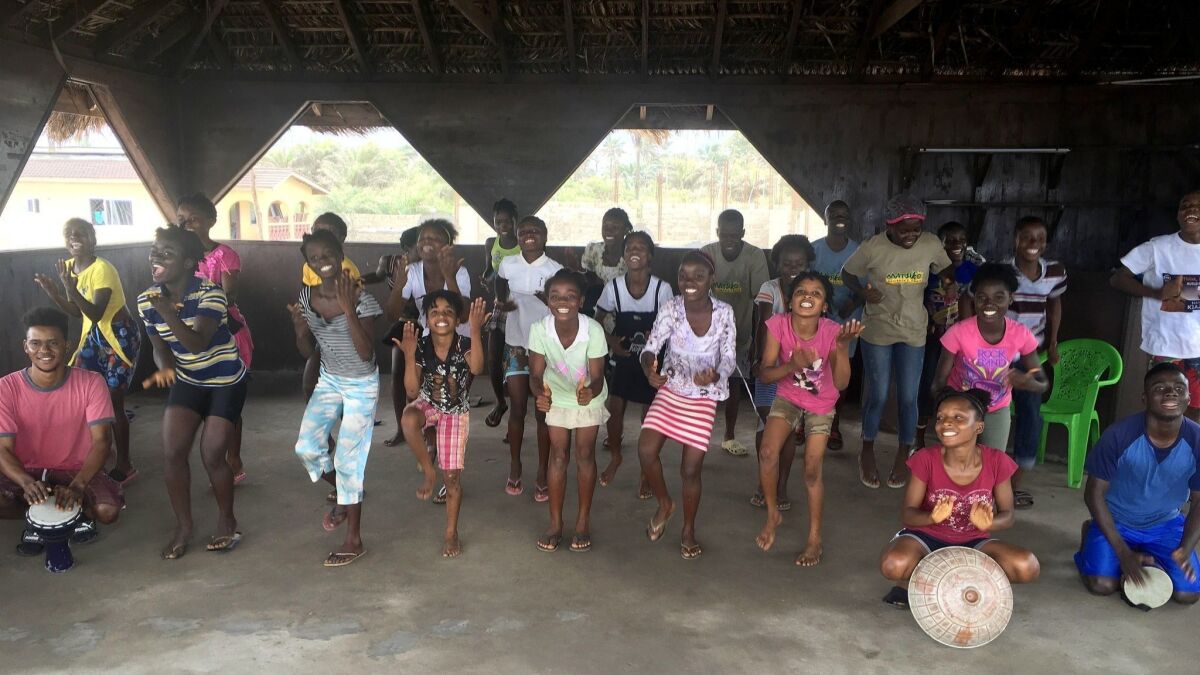 In April 2016, only a week after she relocated to La Jolla from New Jersey with her husband, financial manager Joe Orlando, a car turned right into the Urban Outfitters at 4516 Mission Blvd. in Pacific Beach. Surfboards blocked the view out its passenger window, where Orlando was riding his bicycle. He clenched the brakes so hard, he avoided hitting the car but sent himself sailing over his handlebars. A year-and-a-half later, Orlando died of complications from his head injury at 55 years old. (He was wearing a helmet.)
"I've finally past that year mark where I don't cry every single time I talk about him," Shusterman says.
"The Wiz" will be the biggest project Shusterman tackles since the death of her husband, who retired at age 40 to dedicate his life to helping young people.
"My whole life was all about me — my audition, get the show, compete," the 45-year-old Philadelphia native says. "Joe changed my life. He worked with these youths in extreme poverty that you can't even believe exists in the United States."
On Dec. 2, 2017, Shusterman was walking through the La Jolla Open Aire Farmers' Market when she was inspired by the African music of the Matsiko World Orphan Choir, a troupe of talented children the International Children's Network brought with them around the U.S. to sing and dance in hopes of soliciting monetary sponsors.
"I was in a space at the time when I didn't know what the purpose of my life was," Shusterman says. "I don't have children, I lost the love of my life, I'm in a new community. And I just kept thinking that Joe would say, 'Go out and help others.' But I didn't know how to make that happen. And then this lands in my lap."
If the details ring a little familiar, this was the very same public performance that convinced La Jolla dentist Kristine Tran to travel to Liberia and perform the very first Western dental work ever offered there. (The Light published that story on June 20.)
"One day, I heard that auditions had to be interrupted because the kids were getting dental work done," Shusterman says. "I had no idea it was by my neighbor in La Jolla!" (The two have yet to meet, but Shusterman says she reached out on Facebook.)
Shusterman and her friends are lugging over their own sound and lighting boards, microphones, costumes and makeup for the show. A GoFundMe campaign, "Broadway to Africa to Fight Poverty," is paying for the trip. (So far, it's raised $8,700 of its $15,000 goal.)
"This project gave my life purpose," Shusterman says. "It's not just a lack of money that plagues the lives of these impoverished kids, it's a lack of hope. And for them to be able to sing and dance in the first musical in their country is to give them that hope.
"I know this opportunity is a gift that Joe sent me," she says.
---
Get the La Jolla Light weekly in your inbox
News, features and sports about La Jolla, every Thursday for free
You may occasionally receive promotional content from the La Jolla Light.