And You Thought Traffic Was Bad NOW? Wait Until You See What's Next, La Jolla!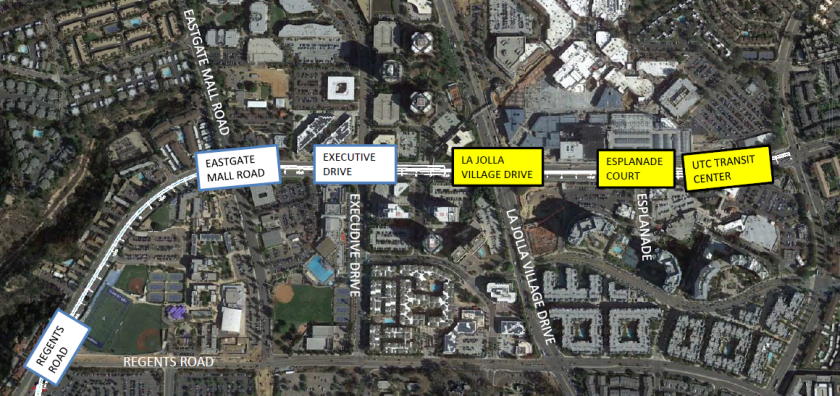 In what SANDAG promises will be the final La Jolla phase of Mid-Coast Trolley construction, Genessee Avenue will close weeknights from Regents Road northward to the UTC Transit Center. Traffic will be detoured with the help of I-5 and surface-street message boards.The closures will last for six- and eight-day stretches from Aug. 17 through Oct. 12 — although all dates are still tentative.
During construction in daylight hours, one northbound and one southbound Genessee Avenue lane will remain open. On weekends, however, only one northbound Genesee Avenue lane will remain open, nothing southbound.
"Once we're done with that … there won't be any more weekend closures," Dave Smith, a construction manager for SANDAG's Mid-Coast Trolley Project, told the La Jolla Traffic & Transportation (T&T) board at its July 18 meeting.
Construction is tentatively scheduled for Regents Road from Aug. 17-22, Eastgate Mall from Sept. 7-12, Executive Drive from Sept. 14-19 and, in one fell swoop, La Jolla Village Drive, Esplanade Court and UTC Transit Center from Oct. 5-12. (For updates, check www.sandag.or/midcoast)
"Thanks for working at night and keeping the lane closures to a minimum," acting T&T chair Brian Earley told Smith following his presentation. "It has to be done, so…"
Smith estimated a completion date for the entire trolley at sometime between July and December of 2021.
More traffic news to snarl at

During the meeting's public-comment section, Phil Coller, owner of Everett Stunz, reminded the board that work on Phase II of the Torrey Pines Road Corridor Project — which was supposed to be completed by now but took the summer off — will be back in horrifying splendor after Labor Day.
"My business dropped 40 percent during construction," Coller said. "We knew it was bad, but it was the comments from the customers that actually raised my awareness. They told me they would never come to La Jolla again — for anything! Ever again!"
The work — which also includes the Torrey Pines Slope Restoration Project, located on the south side of Torrey Pines Road between Roseland Drive and Little Street — involves the mile between Prospect Place and La Jolla Shores Drive.

Back in January, a City spokesperson told the Light that traffic impact would be "minimal." However, as La Jollans discovered from March through Memorial Weekend, it frequently added an hour to Torrey Pines drive time, northbound and south, from Girard Avenue up to the La Jolla Parkway and occasionally beyond.

"That traffic was so bad, people told me they wouldn't even come and visit their family during the week," Coller said. "And now it's going to start up again and there are no plans to do anything different."
Earley began a board discussion, floating the question: "Why isn't all the work being done at night?"
T&T board member Alisha Hawrylyszyn Frank quickly replied that this idea "was already brought to (Council member) Barbara Bry's attention and it was shot down quite quickly."
At this point, other board members began loudly wondering why, guessing that nearby residents didn't want construction noise and lights affecting them at night.
"There might be some things we don't realize that went into that decision," Earley said, adding: "I'm pretty sure they're pretty set in their schedule, but we can certainly pose the question to District 1 and the City."
Earley said he would affix an agenda item to the August meeting to draft appropriate letters.
Community activist Melinda Merryweather appeared before T&T to ask for a vote to eliminate red curbs, and allow four-hour parking, along the east side of La Jolla Farms Road — which is currently red-striped along with the west side.
"It's very difficult for surfers to get access to the beach there," she said, "and there's a wonderful trail there with literally no parking for it.
"Everybody's always asking, 'Why is it all red parking up there?'" Merryweather continued. "And nobody ever did anything about it, so it's up to me."Merryweather said that she has the backing of the Surfrider Foundation.
T&T declined to vote as scheduled, however, because neighbors weren't sufficiently noticed. It was also brought to Merryweather's attention that the street was originally red-curbed because students from nearby UC San Diego were parking there and walking the five blocks to class.
"The worst-case scenario is that the stripes come off, it fills up with university students and still, no surfers get any access," said board member Patrick Ryan.
Merryweather grew angry, snapping: "If you didn't like students parking next to you, maybe you shouldn't have bought property in La Jolla Farms!" (Several board members groaned at her comment.)
"We know we've got Surfrider on board, we know you've got the WindanSea Surf Club," T&T board member Patrick Ryan told Merryweather. "You probably should see that we have the residents on board. If you can bring a document back that says, here are all the signatures — "
Board member Tom Brady cut Ryan off.
"Getting a consensus from the homeowners is going to be impossible," he said, "because they have a vested interest in stopping people from parking there. You can regulate the students by time limits, but to get the City's attention, we need to get a petition that would notice all the property owners."
At this point, audience member Diane Kane had an insight: If the City can't provide any documentation that they were responsible for the red striping, it could be illegal.
"This could be co-compliance issue," Kane said.
Earley motioned to write a letter to the City inquiring how the curbs became red both sides. The motion passed unanimously.

— Traffic & Transportation next meets 4 p.m. Wednesday, Aug. 15 at the La Jolla Rec Center, 615 Prospect St.
---
Get the La Jolla Light weekly in your inbox
News, features and sports about La Jolla, every Thursday.
You may occasionally receive promotional content from the La Jolla Light.