Town councils reveal vacation-rental recommendations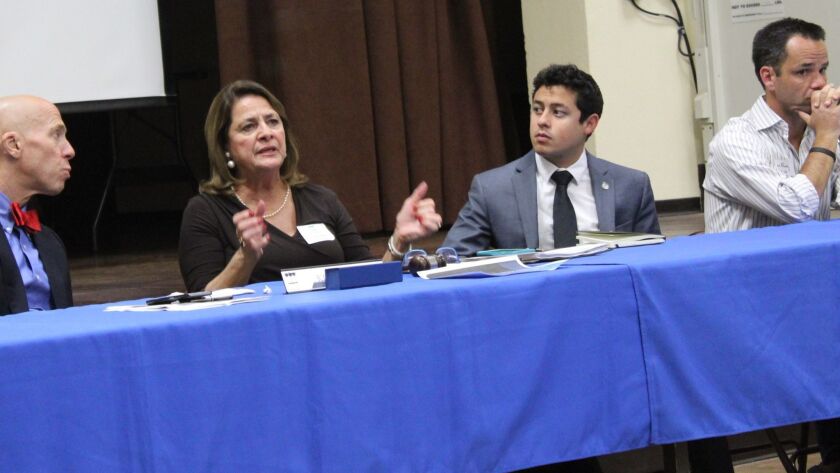 During its March 8 meeting at the Rec Center, La Jolla Town Council presented the recommendations for regulations formulated by the STVR (Short-Term Vacation Rental) Working Group, a coalition of town council and community leaders from across San Diego, assembled and headed by La Jolla Town Council president Ann Kerr Bache.
The recommendations include: 1) establishing a permitting process; 2) imposing limits on the number of STVRs in a community and their proximity to each other; 3) establishing a certified violation process with effective penalties — $500 for the first violation, $2,500 for the second, and permit revocation for the third; and 4) establishing a fund dedicated to administration and enforcement into which all fees and fines are deposited.
"These are only recommendations for ordinances," Kerr Bache explained, "not specific proposals."
San Diego Mayor Kevin Faulconer pledged to have a specific proposal ready for a City Council vote as early as April. However, reaction to that news at the meeting was guarded. Most attendees interviewed by the Light wondered whether the Mayor would make the deadline and, even if he did, what could possibly have changed since Dec. 12, 2017. That's when the majority of City Council members couldn't agree on who could and could not rent out entire homes on a short-term basis.
"We've been working at this for three years and we've really gotten nowhere," said community activist Joe LaCava during public comment.
All members of the STVR Working Group — represented on the panel by community activist Tom Coat, former lifeguard chief Chris Brewster, Mission Beach Town Council president Gary Wonacott, Pacific Beach Town Council vice president Brian White and Clairemont Town Council member Lynn Haims, along with representatives of Council members Barbara Bry and Lorie Zapf — said they support home-sharing.
The issue, they said, isn't residents who want to rent out a room in their house fulltime, or even their whole house during Comic-Con to make a few bucks while staying at their in-laws' house. What they oppose are year-round, whole-house rentals.
Wonacott told attendees that "close to 50 percent" of the total number of Mission Beach residences are advertised as vacation rentals. "I think when these permits are put in place — and we know that people have converted garages into bedrooms and stuff like that — we'll start to weed out the illegal vacation rentals. We'll probably be down to 30 or 35 percent, and that's a start," he said.
The meeting lacked the fire of previous Town Council sessions on the topic, which was replaced by the acceptance that a compromise beats nothing.
"We are in a process here, in which we can be as pure as we want, but we have to be a little bit realistic, because in the end, democracy is impure," said Brewster, reminding attendees that only two of the City's five Council members represent beach communities "and we have to figure out a way to convince three other Council members to agree with us."
Another city's tough stance
Hotel lobbyist and San Francisco community activist Dale Carlson said the STVR Working Group's suggestions resemble an ordinance San Francisco passed that required a business license, a permit, and collecting and remitting the city's hotel tax, and which forbid any resident from renting out a unit that is not their primary residence or that was developed with public funds as affordable housing.
But that ordinance didn't work, Carlson said, because there was no incentive to register. Of 8,500 Airbnb hosts in San Francisco, according to Carlson, only 1,500 registered. Carlson said the road ahead for San Diego to control STVRs will be tough and possibly need to end, as San Francisco's did, in a restrictive amendment to the ordinance and a legal showdown with Airbnb.
"If you can get this done, great," Carlson said, "but I think you'll find the same thing that other cities have found, which is that Airbnb doesn't care. They will rent anything — if it's permitted or not, if it's legal or not."
The June 2016 amendment to San Francisco's ordinance, Carlson said, forbid Airbnb from collecting any booking fees on unregistered units.
"Airbnb took us to federal court over that and they lost, badly," Carlson said. "And there was a settlement agreement that came out of that, which required Airbnb to take down any unregistered listings the city had identified within 72 hours of being identified. And if they didn't do that, they were subject to fines of $1,000 a day per violation."
When the amended ordinance first went into effect, according to Carlson, Airbnb was looking at fines in excess of a million dollars per day. And this, Carlson said, "absolutely gutted Airbnb's business in San Francisco."
Now that the amended ordinance is fully in effect, Carlson said, the number of Airbnb listings has dropped from 8,500 to 4,100, with 60 percent of those being long-term rentals not subject to the ordinance.
"So all that nonsense you hear from Airbnb about '75 percent of our hosts are renting their primary residence and they're only doing it a few nights a year' — it's all bunk," Carlson said.
No representative of Airbnb was on hand to present its side of the story. Kerr Bache explained later that the meeting was not a public forum but a brief on the Working Group. "There was no reason to have Airbnb (there)," she wrote in an email. "We weren't debating the issue. We know their position."

In other Town Council news:
Street closures for the 14th annual La Jolla Concours d'Elegance, April 6-8, and the La Jolla Community Planning Association consent agenda were both unanimously approved and a new Town Council member was introduced: Cody Petterson, director of Sequoia Foundation. Kerr Bache also said that dockless bike-share bicycles, a source of major community contention, would be addressed at a future Town Council meeting.
— La Jolla Town Council next meets 5:30 p.m. Thursday, April 12 at the Rec Center, 615 Prospect St. lajollatowncouncil.org
---
Get the La Jolla Light weekly in your inbox
News, features and sports about La Jolla, every Thursday.
You may occasionally receive promotional content from the La Jolla Light.