Frustrated La Jollans pack Town Council forum on short-term rentals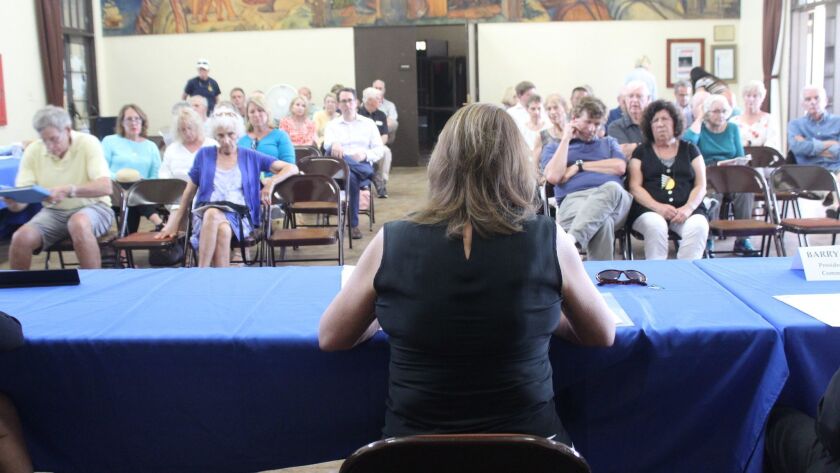 July 12's La Jolla Town Council meeting at the Rec Center was a public forum on short-term vacation rentals (STVR) held just four days before the City Council voted against Mayor Kevin Faulconer's proposal and for a stricter compromise introduced by Council members Barbara Bry and Lorie Zapf. Attended by about 50 residents whose viewpoints ranged from disappointed to irate, it was mostly a recap of complaints about STVRs' negative impact on schools, affordable housing and the community.
"We're focused on the problems we've all been dealing with," said Ann Kerr Bache, head of both La Jolla Town Council and the STVR Working Group advocacy coalition, which hosted the forum. "Nobody's paying attention to good-neighbor policies, nobody's being penalized and if there's a problem, and you have no idea where to call."
Kerr Bache called the Mayor's proposal, which at the time was expected to pass, "a giveaway to Airbnb and HomeAway."
Pacific Beach resident Tom Coats — who resigned as president of the Save San Diego Neighborhoods advocacy group last year because, he said, he realized how futile this fight was — called the Mayor's proposal "not one-plus-one, but one-plus-everyone."

Karl Rand, chair of the development subcommittee for the Pacific Beach Planning Group, explained that the proposal's definition of a resident was vague enough to allow a company to randomly assign any employee into the role.
"It's not even one-plus-everyone," Rand said. "It's just everyone." To oppose enforceable limitations, Rand said, "you need to get to the owner level."

How to proceed
How to continue the fight if the Mayor's proposal became law was the forum's overriding theme.
Voting against Mayor Faulconer's proposal to expand the Convention Center was floated twice. "If we don't prevail on this, we will be sure to make our voices heard on this in the elections," Kerr Bache said.
La Jolla resident Gordon Dunfee earned the evening's first round of applause when he suggested a class-action lawsuit against the City, seeking damages for "what they've done to our lives and our neighborhoods" by "taking our property without due process of law."
"I think that complaining and lobbying, I'm sorry, very rarely does much of any good," Dunfee said. "You have to fight."

Dunfee said his house in the Barber Tract, in which he raised six children over the course of more than 25 years, is now surrounded by vacation rentals.
"It didn't used to be," Dunfee said. "The house to the east was a family of four, super nice. The house next to us was an older couple, very nice. The house across the street was also a smaller family. Now we have vacation rentals. Every two or three days, it's different people. We never know who they are or if they're going to be confrontational.

"We've had verbal attacks," Dunfee continued. "I've been physically attacked, and I can't tell you the number of times I've been up at one in the morning, pleading with people that please, we have to work in the morning."
Replying to the idea of a class-action suit, Kerr Bache said: "we'll see what happens" after Monday's vote. Several people in the audience started murmuring the words "writ of mandamus," referring to a lawsuit brought against government officials for not performing the jobs for which they were elected.
"In other words, our City officials were elected to enforce the laws, among which are zoning laws," explained Town Council secretary Gail Forbes. "So if you were to sue and say, 'It's currently illegal to have a single-family residence invaded by a commercial enterprise such as a short-term vacation rental,' and you succeed in proving that the City was not fulfilling its obligations, then you would succeed in outlawing short-term vacation rentals.
"And," Forbes added, "I hope you all have 3 million dollars."
If at first you don't secede
The evening's biggest applause was stoked by the decades-old rallying cry of secession.

"It seems to me that the only way we're going to get out of this is to do what Coronado did and get rid of San Diego," said Kerr Bache, a past president of Independent La Jolla. "But it's a checkbook problem. We have to get signatures, so anyone who wants to take that on?"
No one in the audience or on the panel volunteered.
The forum was preceded by a 10-minute Town Council meeting at which street closures for Taste at the Cove (to be held Aug. 29 at Scripps Park) were unanimously recommended.

— La Jolla Town Council next meets 5:30 p.m. Thursday, Aug. 5 at the La Jolla Rec Center, 615 Prospect St. lajollatowncouncil.org
---
Get the La Jolla Light weekly in your inbox
News, features and sports about La Jolla, every Thursday.
You may occasionally receive promotional content from the La Jolla Light.