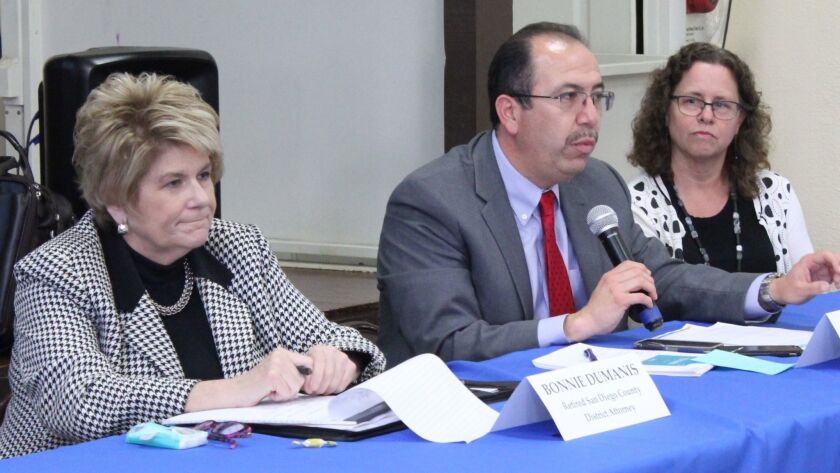 As long as they don't commit a crime, next to nothing can be done to get mentally ill people off La Jolla's streets. That was the unfortunate, yet hardly surprising, take-away from the latest La Jolla Town Council forum on homelessness. Held during the community group's May 10 meeting at the Rec Center, the forum focused exclusively on mental health.Mentally ill people are still people, and people have rights — including the right to be homeless. So any hope of improving their situation requires getting to know them as people and trying to reason with them.This is easier said than done, of course. As David Estrella of San Diego Health & Human Services explained: "Trauma impacts how people access services or whether they accept them."
Dumanis, Estrella and three other experts — San Diego Regional Task Force on the Homeless CEO Gordon Walker, County Health and & Human Services' Betsy Knight and construction and land-use attorney Omar Passions — did their best to address the thorny topic during individual presentations followed by a Q&A with concerned community members.
"I know it makes you feel uncomfortable when you see people on the street who are screaming," Walker told the audience. "I just ask that you realize that there may be more there. There needs to be a more collaborative solution, not just round them up and put them away. There's a level of humanity that we need."
The closest thing to a consensus reached, however, was that San Diego's housing crisis needs to be addressed before mental health can be.
"Homelessness needs housing first," Dumanis said. "We have a housing crisis that we have to address. With all the dollars we have, we're not putting them in the same place under a coordinated effort."
Dumanis brought two new ideas to the forum, although she admitted they were "not original, just pieces of other ideas taken from elsewhere." One was a 40-hour crisis-intervention training program for patrol officers, which she said is successful in Florida, "so they are educated on different kinds of mental-health problems and they know how to approach and de-escalate a situation." The other was an urgent care facility just for mentally ill people, where police can drop them off and let mental health professionals determine their needs.
At times, the panel veered into more of a political debate between Dumanis and Passons, both of whom are running for County Supervisor in the June 9 primary election. Passons' presentation included a slideshow showing himself as a toddler with his mentally ill mother, and then in foster care. And Dumanis gave out her email to a member of the public as "bonnieforsupervisor.com."
"The politicians love the microphone, I noticed that," Walker joked at one point.
Also at Town Council
A temporary street closure on Draper Avenue, between Kline and Prospect streets, was recommended for the fifth annual La Jolla Presbyterian Church Fall Festival on Sunday, Nov. 4. Temporary street closures and no-parking areas, on portions of Prospect Street and La Jolla Boulevard, were also recommended for the 19th annual End of Summer Run/Walk 4 Mile on Sunday, Aug. 26.
Three new board members were sworn in: San Diego firefighter Aaron Brennan, environmental activist Cody Petterson and Sharman Dye.
Finally, La Jolla Shores Association board member Susan Tschirn stopped by to announce that her group did not sign the La Jolla community resolution calling for regulations for dockless bikes and scooters because it "emphatically" does not want to allow them anywhere near La Jolla Shores.
— La Jolla Town Council next meets Thursday, June 14 at 5:30 p.m. in the La Jolla Rec Center, 615 Prospect St.; www.lajollatowncouncil.org
---