Sean Penn chooses La Jolla for first-ever book reading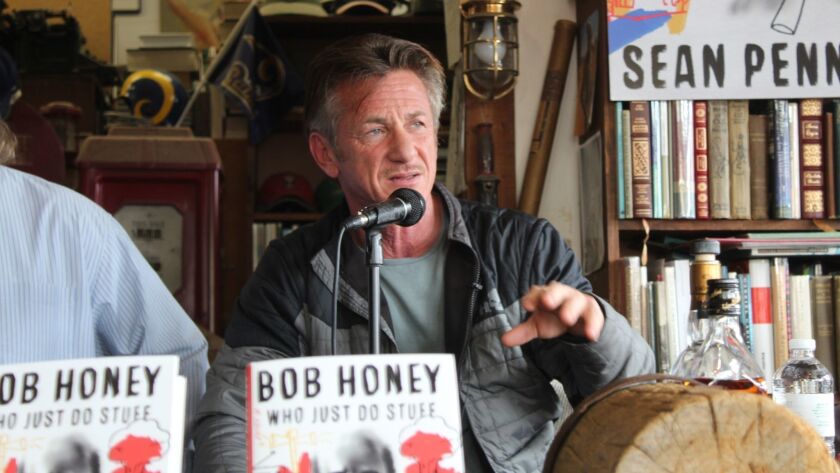 Sean Penn read from his first novel on Saturday, April 7, at D.G. Wills Books. Approximately 100 white folding chairs were filled inside the tiny bookstore at 7461 Girard Ave., in the driveway and on the sidewalk. About 100 more passersby watched and listened, through a P.A. system, while standing outside.
At 2 p.m., right on time, the Oscar-winning star of Mystic River and Milk sauntered up to the bookstore's front entrance. Onlookers cheered as he entered and approached a microphone behind the checkout counter.
"I like trains, so instead of chapters, there are stations," he said. "This is Station One."
Bob Honey Who Just Do Stuff, about a hired killer who hates the American political system, is a "dense" read — and this according to the author himself.
"I'm brand new to this and I know that this kind of writing takes a reader having a certain patience and also having a sense of being able to catch onto the rhythm of it," Penn admitted during a Q&A session later.
The event was a rarity not only for La Jolla but for Penn. Although the actor has been staging Q&As across the country to promote the book — a mini-tour that also included a ticketed stop for Warwick's on Sunday at the University of San Diego's Kroc Institute for Peace and Justice Theatre — this was Penn's first-ever book reading.

"I think that just happened," D.G. Wills owner Dennis Wills told the Light. "When his publicist asked what our normal procedure is, I said someone would normally read from the book and then take questions. It's what Christopher Hitchens did, and Sean was a close friend of his."

Penn made the decision to come to La Jolla based on a recommendation from another close friend, Bob Kerstetter, a writer and former Marin County neighbor of his who currently rents an office across Girard Avenue from D.G. Wills.
"I thanked Bob for bringing Sean Penn and he thanked me," Wills said. "He said, 'I get to sit in my office and look out my window at a bookstore.'"
Wills reported selling 200 books and said he was "delighted" at the turnout.

Scathing reviews

The book reviews have been a disaster, there's no sugar-coating it. The New York Times declared Bob Honey Who Just Do Stuff to be "conspicuously un-fun." A Huffington Post headline proclaimed: "Sean Penn the Novelist Must Be Stopped." And they get less kind from there.
"I had read the reviews," said Michelle Granda, a scientist from La Jolla who bought a book after the event. "But after hearing him, I for sure want to read it. I loved what I heard today. I feel like he has some interesting points."
Indeed, the audience seemed to appreciate hearing an author's guide to the material.
"It was nice to hear him explain it, like a Cliff's Notes," said La Jolla chiropractor Rob Beushel, who said he purchased a copy of the book the previous week. "When you read it yourself, it's a different read."
Penn addressed the bad reviews himself, recalling what writer Jane Smiley told him at a recent promotional event in L.A.: "that about 25 percent of the people who read this book would love it and about 75 percent would loathe it." Penn said he was fine with that, since "that was a much better ratio than I had in my personal relationships."
That comment drew the biggest laugh of Penn's hour at the microphone, but it was followed by the biggest gasp when Penn's train of thought crashed into an awful Nazi analogy: "I'm sure I've had more criticism in my own time than Hitler ever experienced in his — there's just more criticism to be offered."
Penn chain-smoked throughout the event, which is illegal in the State of California, using an ash tray lent to Wills by the Pannikin coffee shop next door.
"If I let Hitchens smoke here, I wasn't going to stop Sean Penn," said Wills, who also placed a bottle of Johnnie Walker Black on the counter in front of Penn. (It went unused.)
Not a real Q&A

Although the event was well-received, it wasn't as open or interactive as some fans would have liked. All books sold that day at Wills were pre-signed, no doubt so Penn could avoid personally signing them for fans afterward. And audience members weren't allowed to address Penn directly during the Q&A. If they had a question, they needed to write it on 3" x 5" index card beforehand. The questions were pre-screened by Kerstetter, who then chose which to ask Penn. (Wills explained that rule was decided upon, by himself and Penn's publicist, so as "not to give any boors in the audience the opportunity to give a lecture.")
Kerstetter flitted through about 20 cards, asking Penn about a Rolling Stone interview he conducted with drug lord Joaquin "El Chapo" Guzman, about his charity organization in Haiti, and about other subjects few in the audience seemed to want to know about.
Awkwardly, the appropriate questions ran out before the clock did. Kerstetter said all that were left were things "I'd rather not ask," such as joke questions about Mr. Hand, the teacher infamously picked on by Penn's character in the 1982 movie Fast Times at Ridgemont High.

So Wills, who had been watching from a corner by a window, shouted out for Penn to read Wills' favorite passage from the book: a letter written by Bob Honey to a certain U.S. president elected by, according to the letter, "many wonderful American people in pain and rage" and "many Russians, too.

"It's entirely fictional," Penn said, looking at the audience sarcastically before beginning.
"You are not simply a president in need of impeachment," Penn arrived at the end of his 10-minute screed, "you are a man in need of an intervention. We are not simply a people in need of an intervention, we are a nation in need of an assassin."
The crowd roared its approval. Then Penn retreated into a rear office and disappeared.
Penn's secret return!

Until the next day, Wills reported, when Penn came back to the bookstore on a secret mission two hours before his Warwick's-sponsored appearance. Wills reported that Penn scoured the bookshelves for 20 minutes.
"We left him alone," Wills said. "He was very cool, very down to earth."
Eventually, Penn settled on a copy of William S. Burroughs' Naked Lunch and titles by Charles Bukowski and Paul Theroux.
"I can't remember which ones," Wills said. "I wanted to just give him the books, but he said, 'Nah, you have to charge me."
PENN TO PAPER
Stuff Sean said at D.G. Wills
On his motivation to write a novel:
"I had been procrastinating, as I think many people do, on writing a novel for at least 50 of my 57 years, and didn't know if I'd actually procrastinate my way into a permanent state of not having written one. And then, in 2015, let's say when the campaign got hot, I needed something other than dread to feel. And I also had been considering that we were less and less having a political problem in the country than we were having a mental-health crisis. And any of us who might have considered ourselves a little bit sane would certainly lose that sanity if one paid full-time attention to the insanity. And so I needed to go make myself laugh."
On writing advice he has received:
"I've had these great authors who've I've never met before call me out of the blue and love it. I've known authors, but we've never really, in any depth, talked about their process with them until this. And now, it's more that the experience of the authors I'm talking to is such that they're able to articulate to me my own process in doing this, and give me an articulation of it because they've been there, they've done that."
On what he finds funny:
"I used to watch the Surgery Channel a lot. And I would find some of that stuff pretty funny. And people would accuse me of having a nervous laughter about it, but actually, I just thought it was funny to see how flesh and bone jar with the human body. I wasn't thrilled with watching surgery on children, genitals or eyes. But the rest of it was pretty interesting. The ones that really got me cackling though were the voluntary cosmetic surgeries, because they're so fantastically violent – the way that they manipulate the flesh over the bone. Here's this person wanting to be prettier or handsomer getting tugged in all of these directions. And so this kind of articulated to me my own sense of humor. Boy, this should be big promotion for this book — now you really want to read it!"
---
Get the La Jolla Light weekly in your inbox
News, features and sports about La Jolla, every Thursday.
You may occasionally receive promotional content from the La Jolla Light.