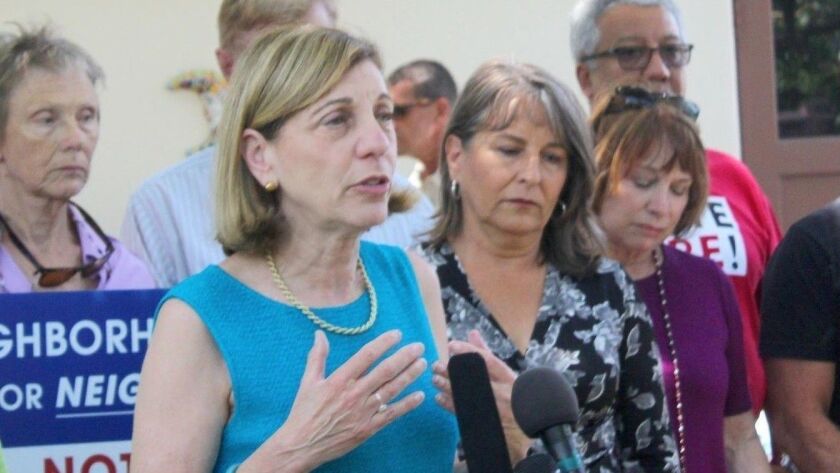 When the San Diego City Council voted on Oct. 22 to rescind the ordinance it passed on July 16 that limited short-term vacation rentals (STVR), many were surprised to find only one Council member (District 2's Lorie Zapf) opposing the measure instead of two.
Zapf and District 1 Council member Barbara Bry had originally drafted and campaigned tirelessly for a compromise bill of STVR regulations — which limited STVRs to primary residences only, for short-term stays while the owner was absent for up to six months per year. (Property owners would have been required to apply for a permit and pay an annual fee of $949.)
Bry and Zapf sought to stop the proliferation of investors snapping up houses just to rent them out short-term — a trend that has turned huge swaths of Ocean Beach and Pacific Beach into de-facto hotel corridors. Opponents of their bill — rallied by Airbnb, a vacation-rental company worth a reported $31 billion — argued that property owners have the right to do whatever they want with their own property.
The Light asked both Zapf and Bry why they seemed to vote in opposition to each other after working hand-in-hand on the issue for so long. Their answers suggest their different political styles.
Zapf explained that representatives of Airbnb visited her office at the end of September to impart the message that they would spend "whatever it took" to defeat STVR regulations on a ballot measure. (A spokesperson for Airbnb said she couldn't comment on any alleged meeting.)
Zapf said she refuses to ever be bullied into a position on an issue.
"If you don't stand up to the schoolyard bully, they just become emboldened," Zapf said. "I wasn't afraid of anything. I was not ready to throw out years of work because a corporation came in and threatened me. Everything we had in that ordinance for getting permits and fines and fees — all the regulatory stuff that would have helped pay for the regulations — that's all gone now."
Bry, on the other hand, said she sensed her cause was out-financed and opted to live to fight another day.
"Long-term," Bry told the Light. "I want the best outcome for my City. If this were to go on the ballot, then Airbnb would spend millions of dollars in 2020."
Rescinding the ordinance, Bry said, also returned San Diego to its existing municipal code immediately. (San Diego, like all other California coastal cities, employs a "permissive zoning scheme," meaning that if a use is not listed, it is not permitted.)
"So I've asked (Mayor Faulconer) to follow the lead of Santa Barbara, Carmel, Hermosa Beach, Manhattan Beach, Huntington Beach, Long Beach and more then 40 other California cities and enforce the law," Bry said. (Mayor Faulconer's office has refused to declare STVRs illegal, preferring instead for regulations to be enacted.)
Furthermore, Bry explained, waiting until 2020 would mean "we wouldn't be able to do anything for two years." Instead, Bry said talks have already been scheduled with the working groups "to discuss what a new ordinance would look like."
"We are allowed to pass something that is considered to be legally substantially different right away," Bry said. "A year after rescission, we'll be allowed to pass the same thing."
Supporting Bry's vote to rescind were most of the organizations who fought alongside her and Zapf to pass the regulations in July: the San Diego Community STVR Working Group, Save San Diego Neighborhoods, NeighborsforNeighborhoods, University City Community Associations, the Pacific Beach Planning Group and the Clairemont and Ocean Beach town councils.
"If we had to wait until a 2020 ballot initiative," said Ann Kerr Bache, president of the San Diego Community STVR Working Group, "by that time, the out-of-town investors would have bought up our whole town."
Airbnb issued a joint statement following the vote with fellow STVR companies Share San Diego and HomeAway.
"This rescission passed because voters want regulations that protect private property rights, encourage tourism, weed-out bad actors and create an enforceable regulatory structure," the statement read. "We believe there is a better way to regulate short-term rentals in San Diego and look forward to working with the City and all stakeholders to find a solution that works."
Zapf said another compromise may never be feasible, however.
"Even if we come up with something, who's to say they won't referend that as well?" Zapf asked. "At the end of the day, what Airbnb wants is no restrictions, the ability to rent as many homes as possible."
Zapf said she doesn't view her strategic split with Bry as a significant one.
"We're each our person and do our own thing," Zapf said.
---