FLOATSAM AND JETSAM: San Diego boater fights losing battle against ocean garbage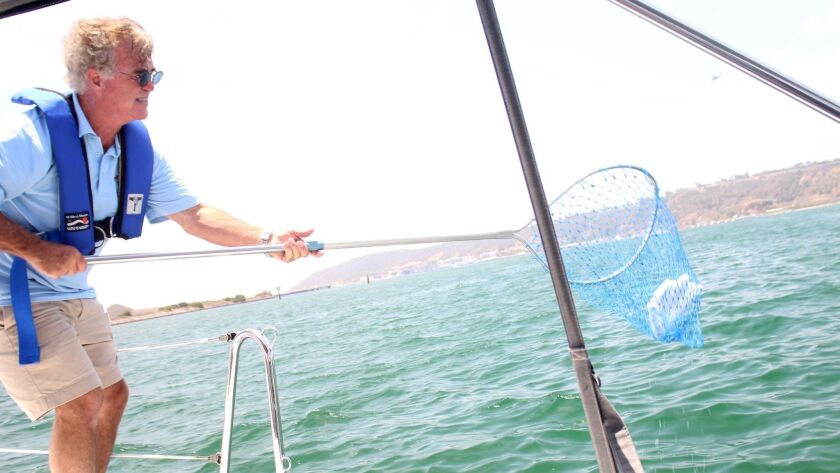 Lee Pearce has his quarry in his sights. He cuts the motor, slowing his speed from 5 knots to 0 just off shore from the Point Loma Navy Fuel Pier. He gently grabs his fishing net and teeters starboard along the edge of the Tenacious, his 37-foot sailing yacht, toward its bow.
A quick swoop is followed by a check of the net and a scream.
"Yep!" Pearce announces. "It's more Styrofoam!"
Pearce, owner of Learn to Sail San Diego, is fishing for garbage, not dinner. His school is one of six in San Diego that have answered the American Sailing Association's call to clean up the ocean as part of its Operation Plastic Pollution Purge initiative. Pearce even has his students pick up marine debris as an exercise.
"Instead of man overboard, we do trash overboard," said Pearce, who hails from Richmond, Virginia but has called Point Loma home for 30 years. "It's more fun and it saves someone from having to get wet."

Pearce estimates he collects about 30 pieces of floating garbage in two or three outings per week. He has for years, and says he plans to continue long after the initiative expires this summer.

"It's just the right thing to do," he said.
Plastic pollution is a problem plaguing every ocean on Earth. More than 18 billion pounds of it enters the water each year via littering or accidental dumping, threatening all manner of wildlife and their ecosystems. And most of it won't decompose for at least 1,000 years — meaning that all plastic ever manufactured still exists, and will for a long time. In fact, five floating "plastic islands" currently circle the globe, the biggest of which — the Great Pacific Garbage Patch located between California and Hawaii — is twice the size of Texas and growing.

"The problem is getting worse because our plastic consumption has exponentially increased in the past 50 years, but our waste management has barely gotten better since the 1980s," says Jenni Brandon, a Birch Aquarium postdoc who specializes in marine debris.
Of all plastics, Styrofoam is by far the worst. In fact, the night before this outing, the San Diego City Council approved a proposal to ban the sale and distribution of all products made from it — including takeout containers, egg cartons, coolers and beach toys.
"Styrofoam breaks down relatively quickly compared to other plastics," Brandon explains. "When you look at a piece, you can see the little circles."
The second of two Styrofoam pieces Pearce retrieved on this outing is a corner that broke off the lid to someone's beer cooler, which probably blew off a recreational boat in a wind gust. Ironically, it's the piece inscribed with the "recycle" symbol.
"Styrofoam is incredibly hard to recycle," Brandon says. "It's only been in the past five years that people have started figuring out ways to start recycling it. But the company that collects and recycles it in San Diego is actually losing money."
Had Pearce not picked up this piece, according to Brandon, it would have been broken down into smaller pieces by boat propellers, waves and UV rays, "but it would not have disintegrated back into the carbon cycle."
Most likely, it would have gotten swallowed by marine life mistaking it for food.
"Some animals eat (plastic) and it passes right through," Brandon says. "But we've also seen liver toxicity, brain damage and tumors. It can also block the intestine. A lot of turtles that get washed up on shore have plastic garbage bags in their gut that have caused their mortality."
The parts of this piece that weren't eaten might have served as colonies for barnacles or other organisms, causing the pieces to sink and damage the ocean floor. About 40 percent of the ocean's plastic is already down there."Very few cleanup efforts are focused on the bottom," Brandon says, "because it so much harder and more expensive to get to."
Pearce's garbage bounty today is nine items — about average for three hours' work. It includes a sliver of a Styrofoam coffee cup and a motor-oil bottle from the ocean off Ralph's surf break, an A&W bottle from in front of the Point Loma Naval base and a plastic salt bag from the harbor by Dennis Conner's America's Cup Experience.
Pearce said he's surprised we didn't see any Mylar balloons. He usually sees at least one.
"I hate those things," he said. "People let them go at parties and think they go to heaven or something, but they don't, they go in the ocean."

Brandon says the agency taking most of the ownership for cleaning the oceans is the Office of Marine Debris at the National Oceanic and Atmospheric Administration. But it needs help — quite desperately.
Helping is "everyone's job," Pearce said while dumping today's bounty into a recycle bin at the Cabrillo Isle Marina.
Pearce said that knowing he's made a difference is a satisfying feeling.
"But I know it's not enough," he added.
---
Get the La Jolla Light weekly in your inbox
News, features and sports about La Jolla, every Thursday.
You may occasionally receive promotional content from the La Jolla Light.