The Dreams Bursting in Air: Thousands flock to La Jolla unaware July 4th fireworks were canceled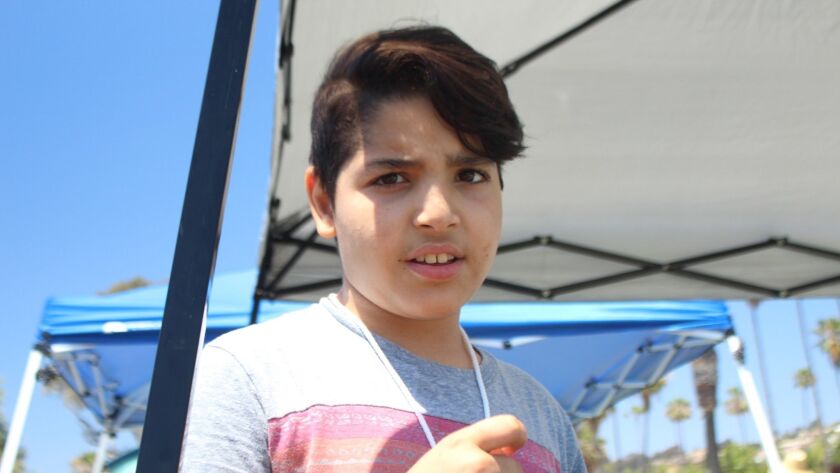 "There's not going to be fireworks?" asks 12-year-old Amirlai Gholmi of Poway. "Seriously?"
The lack of La Jolla residents in the 200 tents cramming the grass at Kellogg Park on July 4 suggested that word about the cancellation of this year's fireworks display spread well locally. The Scripps Park show was a La Jolla tradition for 32 years.
Most tourists onsite, however, didn't get the message until arriving with their tents early in the morning or the night before. And about a third of the 50 groups who agreed to be interviewed, such as Gholmi's family, only learned of the cancellation when approached by the Light.
"Is that a joke or something?" Gholmi continued, staring at his father nearby, who shook his head. It was 2 p.m. and Gholmi had arrived with his parents three hours earlier. (To land the prime fireworks-watching spot, another member of the Gholmi family pitched the tent at 3 a.m.)
Some revelers said they learned of the cancellation when park rangers combed the crowd to inform people, but that effort was apparently neither thorough nor ongoing. Two police officers interviewed both said they were answering the question from tourists all morning, and there was no signage, anywhere, indicating the fireworks cancellation. (Some tourism websites even listed the La Jolla Cove fireworks as still happening.)
Not with a bang but a whimper
"That's too bad," said Jennifer Jensen, another tourist who had no idea the fireworks were canceled. She said she drove from Valley Center at 9 a.m. with her husband, Eric, and their five-year-old daughter, Peyton, to celebrate her mother's 75th birthday with a loud bang. (The birthday girl herself arrived at 6 a.m. to reserve the spot.)
Fortunately, Peyton took the news in stride.
"I've seen fireworks a lot and I'm really just here to see Baby Jax," she said, referring, her mother explained, to her new cousin.
Back in February, a press release from the fireworks organizers (Marengo Morton Architects co-owner Deborah Marengo, former La Jolla Town Council president Darcy Ashley and La Jolla Merchants Association executive director Sheila Fortune) announced their cancellation because "many of the donors have moved on to other concerns and will not be making contributions to the fireworks this year."
Marengo told the Light in the hours leading up to July 4: "It's unfortunate that the community couldn't come together ... "Hughes Marino and a few others could no longer support the show and I just didn't have the resources."
The annual fireworks were launched in 1985 by restaurateur George Hauer, owner of George's at the Cove, who financed it himself for more than 20 years to the tune of (as costs rose) $20,000 to $40,000.
But, after the 2008 recession, Marengo said, Hauer could no longer afford to foot the bill. (Hauer did not return a voicemail left by the Light on his cell phone or a message left at George's at the Cove.) A 2010 environmental lawsuit further raised the stakes and sapped much of the fun from organizing the event. (Encinitas attorney Marco Gonzalez demanded that the City study the fireworks' effects on the ocean before issuing permits each year. In 2014, a settlement was reached requiring such reviews.)
Marengo spearheaded a grassroots group, the La Jolla Community Fireworks Foundation, which took over the show in 2010, turning to the public for donations and getting dozens of La Jollans to contribute up to $5,000 each. Marengo stayed involved when the La Jolla Village Merchants Association grabbed the baton in 2015. As the show's cost skyrocketed, however — this year's would have run $65,000, Marengo said — donation offers simultaneously dwindled.
"Five years ago, I got hard commitments for five years from hotels and restaurants and residents who thought (the fireworks show) was important," Marengo said. "Unfortunately, some of the people couldn't do it anymore. They'd been doing it so long."
In February, Marengo decided not to sign this year's contracts.
"I can't just go out and buy the pyrotechnics myself," she said. "I had to make the decision that it was just going to be too difficult to raise the money. I went out to the hotels and restaurants to see if they would up their commitment, and they were actually looking to reduce it.
"At that point, I threw my hands up and yelled uncle."
Jesse Angel of Linda Vista told the Light he erected his tent at Kellogg Park at 11:30 p.m. on July 3. He said he learned of the cancellation from someone in a neighboring tent around 7 a.m. and was not OK with it.
"I'm really disappointed," he said, angrily waving his finger in the air. "Besides my grandma's birthday, this is the biggest event of the year for my family. Our favorite thing to do is watch the fireworks here as everyone is chanting 'U.S.A.!'"
Angel — who said he attended the event every year for the last 30 — said he felt like turning around and heading home when he found out, "but the kids wanted to swim in the ocean, and we were already here, so — . "
Angel's 22-year-old cousin, Christina Godinez of Beaumont, arrived during Angel's Light interview and asked what it was about. Angel told her about the fireworks and she replied, "You're kidding, right? That's why everybody's here!"
When it was explained that a press release went out to the media, Angel replied: "We're from San Diego and we watch the news and we didn't hear anything about it."
Marengo admitted how frustrating it was trying to get the word out to non-La Jollans. In addition to the press release, she said she listed the fireworks cancellation on Facebook.
"I don't know how I reach the entire population of the City of San Diego to tell them," she said. "I'm doing the best I can to put the word out there." She added: "Before you called, ABC News just called me."
Marengo said she realizes how emotional people get about the fireworks but, she explained: "I don't think people understand what goes into it."
While it may be too soon to call it a permanent day for July 4 fireworks at the Cove, Marengo strongly hinted that someone else would need to take up the mantle if it ever is to resume.
"You know what?" she said. "It might be time for someone else to pick it up."
---
Get the La Jolla Light weekly in your inbox
News, features and sports about La Jolla, every Thursday.
You may occasionally receive promotional content from the La Jolla Light.