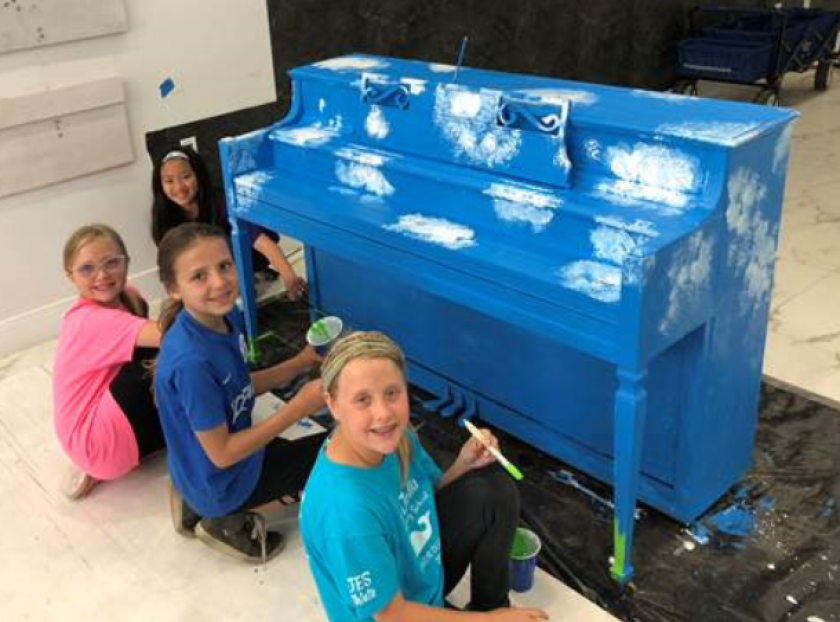 'Instrumental' street art coming soon
Community pianos were painted recently by students from La Jolla Elementary, Bird Rock Elementary and Preuss School UCSD.
The pianos will pop up on the streets of La Jolla between July 4 and the La Jolla Art & Wine Festival, Oct. 6-7. On them, surprise street performances will be staged by professional musicians during La Jolla Music Society's SummerFest in August. (Passersby are encouraged to ivory-tinkle as well.)
The upcoming Music Society season also includes the organization's 50th winter season in October and the opening of the Conrad Prebys Performing Arts Center in April.
Whisknladle food man 'Chef of the Year'
The San Diego chapter of the California Restaurant Association named Ryan Johnston, corporate chef and partner of Whisknladle and Catania, as its Chef of the Year at a ceremony downtown on May 21.
"I am extremely humbled and honored to be recognized by my peers," Johnston said, indicating that he shares the award with his partners and staff. A driving force since Whisknladle's 2008 inception, Johnston also founded the Prepkitchen franchise, with his partner Arturo Kassel, which they sold last year.
UC San Diego School of Medicine, partnering with other institutions, has launched North America's first bacteriophage therapy center to use viruses as a novel weapon against multi-drug-resistant bacteria.
The Center for Innovative Phage Applications and Therapeutics (IPATH) will be co-directed by Steffanie Strathdee, associate dean of global health sciences; Harold Simon, professor department of medicine and Robert Schooley, infectious-disease expert.
"IPATH builds upon what we've learned and will apply rigorous principles that span from bench to bedside to better understand the potential role for phage therapeutics in the treatment of patients with infections that cannot successfully be treated with currently available antibiotics," said Strathdee.
It was Strathdee who collaborated with Schooley and others to experimentally, and successfully, treat her husband with phages in 2015, after he fell gravely ill during an Egyptian vacation and all standard antibiotic treatments failed.
La Jolla Playhouse musical to be based on Princess Diana
"Diana," a new musical about the late Princess of Wales, premieres at the La Jolla Playhouse next Feb. 19 through March 31. Auditions are reportedly underway to cast the lead.
The production is set in 1981, the year the former Lady Diana Spencer married Prince Charles at age 20. The synopsis on the Playhouse's website reads: "Following her fairy-tale union, Princess Diana faces a distant husband, an unmovable monarchy and overwhelming media scrutiny."
Reportedly, the musical will touch on Prince Charles' affair with Camilla Parker-Bowles.
Director Christopher Ashley and Joe DiPietro and David Bryan, the writers behind the Tony Award-winning musical, "Memphis," are in charge. (You might also recognize Bryan's name from his day job as keyboard player for Bon Jovi.)
Tickets go on sale in July.
Artists sought for Art & Wine Festival
Calling all artists! The La Jolla Art & Wine Festival, a benefit for La Jolla public schools, is booking its booths for the 10th annual La Jolla Art & Wine Festival, Saturday, Oct. 6 and Sunday, Oct. 7 down Girard Avenue.
Organizers promise spectacular art, fine wine, San Diego's best craft beers, live entertainment and family-friendly activities. This curated festival will feature some 150 artists from across the United States and Mexico. Profits raised benefit underfunded programs such as art, music, science, physical education, technology and on-site medical care at La Jolla public elementary and middle schools.
To be considered for the 2018 festival, you must have a profile account on Zapplication.org, which is free and easy to obtain. The LJAWF application fee is $25. Want more information? Visit ljawf.com for dates, deadlines and FAQs. Or send an e-mail to art director Brenda Chand at artists@lajollaartandwinefestival.com
Yoga vs. the Volcano at Scripps Park
Yoga instructors Martyn Castens and his wife, Astrid, invite La Jollans to a donation-based yoga class 9 a.m. Saturday, June 30 in Scripps Park to benefit the 1.7 million people impacted by the recent eruption of Guatemala's Volcan de Fuego volcano. "This tragedy needs all the help it can get," Martyn said, "and with Astrid being born and raised in Guatemala, we would like to do anything we can to help out the amazing people who live there."
The class is a power vinyasa flow, and the suggested donation is $10-$15 — 100 percent of which will go to volcano victims. To reserve a spot, e-mail doyogawithus@gmail.com
Local short film hits Le Petit Cannes
The short film "Priscilla and Her Sisters," written, produced and directed by San Diego filmmaker Omar Lopex, was selected as a finalist at the Le Petit Cannes, the short film segment of the famous French film festival.
The film, which placed in the Top 55 of 550 entries, was commissioned by the La Jolla Historical Society for its recent exhibition "In Plain Sight: Mexicano/Chicano Stories in San Diego." It tells the story of Priscilla Yanez, a Mexican-American woman who served during World War II as a telephone spy for U.S. intelligence services in San Diego, monitoring cross-border communications.
Filing period open for property tax bill appeals
San Diego County residents and businesses who disagree with their property tax assessments for the 2018-2019 year may file an application to appeal them between July 2 and Nov. 30, said David Hall, Clerk of the County Assessment Appeals Boards.
Applications and information booklets are available on the County's website. Residents may also pick them up and speak with staff at the Clerk of the Board's office in the County Administration Center, 1600 Pacific Highway, Room 402, San Diego, CA 92101.
To file an application, taxpayers should know their parcel or tax bill number, have their property address, and must state their opinion of the property's market value on the application. Applications must be received by the Clerk of the Board of Supervisors Office no later than 5 p.m. on Nov. 30 or be US Postal Service postmarked by midnight of Nov. 30.
Applications and forms can be mailed to: Clerk of the Board of Supervisors, Assessment Appeals, 1600 Pacific Highway, Room 402, San Diego, CA 92101.
An informational video is available online that explains the assessment appeals process and provides tips.
---