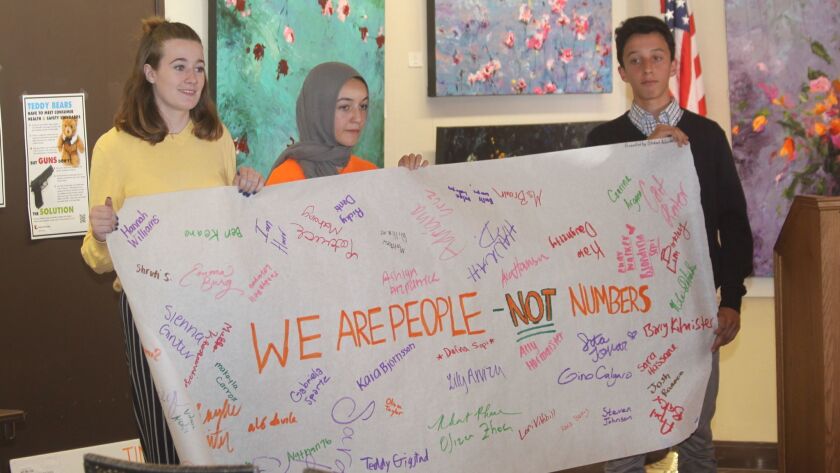 Gun violence, Islamophobia forum held at La Jolla Library
Some of the students behind the San Diego March for Our Lives demonstration spoke at the La Jolla Library on May 9 about gun violence and possible solutions. It was part of a broader presentation that incorporated stopping Islamophobia and introducing those in attendance to a program known as Restorative Justice.
San Diego area students Hannah Williams, Sara Hassane and Emin Al-Delaimy spoke for six minutes, a deliberate choice because that was about how long it took a teenage shooter to kill 17 people in Parkland, Florida in February. Following the presentation, the students read letters they sent to local government officials.
The three called upon these representatives to find solutions to all forms of gun violence, not just in schools. Specifically, gun-related violence toward people of color, by law enforcement, through gang activity, accidents or mismanagement of a firearm due to improper training or education, and more.
Moving onto the second topic, presenters shared statistics that show increases and decreases in prejudices (and how they manifest) against Islamic students across the San Diego Unified School District, and introduced a list of books that familiarize children with Islam.
The afternoon workshop concluded with a brief discussion on Restorative Justice, a program under the National Conflict Resolution Center that focuses on mentorship, accountability and communication for those that commit certain crimes. It is open to schools within the San Diego Unified School District. Learn more: ncrconline.com
MTS to roll out electric buses in San Diego
The Metropolitan Transit System (MTS) Board of Directors unanimously approved the purchase of six 40-foot electric buses from New Flyer. The total cost is estimated at $6 million and the buses are expected to arrive in the summer of 2019.
"This is a major milestone for MTS," said MTS board chair Georgette Gómez. "These buses will serve as the benchmark of MTS' zero-emissions bus pilot program and continue moving the agency toward operating the cleanest possible bus fleet."
Equipped with 480 KW of stored energy — rechargeable via depot chargers at MTS' operating facility — the new buses will have a maximum range of 150-200 miles. Their modern amenities include onboard video surveillance systems, enhanced wheelchair-restraint systems with forward-facing safety barriers, and improved safety, electric air-conditioning and engine-cooling systems.

When asked if any would end up on The 30, an MTS spokesperson said "it's a possibility," although the route's hills and longer round-trip time bode against it.

Light reporter wins journalism awards

The 2017 California Journalism Awards Luncheon was held recently in Sonoma and among the journalists to receive recognition for their work was La Jolla Light reporter Corey Levitan.
Levitan won three awards. He was a finalist in land-use reporting for his story "Roadblock to abandoned La Jolla cottages' restoration could be cleared next year," and he won third-place awards for his profile "Homeless for the Holidays: How one human being ended up on the streets of La Jolla" and his feature "Ghost-Flustered: We tried sleeping in a haunted Grande Colonial hotel room in La Jolla."



The UC San Diego Library invites you to attend, and submit to, Short Tales from the Mothership, a written/spoken word event inspired by the sci-fi aesthetics of the iconic Geisel Library building.
Writers should send fantasy or science fiction pieces of no more than 250 words to spaulson@ucsd.edu by Friday, May 25. At the event, participants will have the opportunity to read their entries or have them read aloud for them.
Free and open to the public, Short Tales from the Mothership lands at 6:30 p.m. Thursday, May 31 in the Seuss Room at the Geisel Library, 9500 Gilman Drive. For more information, contact Scott Paulson at (858) 822-5758.
La Jolla robotics team No. 1 at World Championships
FIRST LEGO League robotics team Water Works, based in La Jolla, competed at the FIRST World Championships in Houston, Texas against 108 teams chosen from over 35,000 teams from 90 countries. They came home with two awards: First place in the objectively scored Robot Performance, scoring the highest amount of points possible with 525; as well as runner-up for the coveted Champion's Award, which seeks to recognize the top three teams across all subjectively judged categories in the competition.
Team Water Works is made up of eight middle-schoolers from three local La Jolla schools: Annie Peppers, Richard Yoon, and Jax Espinosa, Ava Tasende, Jordin Morrow and Trey Guccini from Muirland Middle School; Sarah Kaplan from The Bishops School; and Roland Breise from The Children's School.
Supermarket's Von-ishing hours
Sometime in April, the Village's only supermarket shortened its hours by four. Previously open 24 hours a day, Vons now closes at 1 a.m. and opens at 5 a.m. Vons did not return e-mails or phone calls inquiring about the change by Light's deadline.
Vikings football alumni needed for game
Retired Vikings players from all years are sought to play in the second 2018 Spring Game Family Day fundraiser, barbecue and alumni flag football game. The event, which is free and open to the public, happens 9 a.m. to noon on Saturday, June 2 at Gene Edwards Stadium on the campus at 750 Nautilus St.
The current Vikings will also play their own separate flag game.
For more information, e-mail lajollavikingsfootball@gmail.com.
Salk's Joanne Chory wins prestigious award
Salk Institute plant biologist Joanne Chory, who is leading efforts to combat global warming with plant-based solutions, has been awarded a 2018 Gruber Genetics Prize by the Gruber Foundation for her "groundbreaking work in identifying the basic regulatory and biochemical mechanisms underlying the development of plants." She shares the $500,000 award with Elliot Meyerowitz of the California Institute of Technology.
Chory, a Howard Hughes Medical Institute investigator and director of the Plant Molecular and Cellular Biology Laboratory at the Salk Institute for Biological Studies, is also a recipient of the 2018 Breakthrough Prize in Life Sciences.
"Joanne is a trailblazer in every sense of the word," said Salk President Rusty Gage. "She has been making pioneering discoveries in the field of plant biology for more than two decades, and her deep concern for humanity is the driving force behind Salk's Harnessing Plants Initiative to address the urgent threat of climate change."
To mark chef Percy Oani's fifth anniversary there, The Shores Restaurant in La Jolla is offering a prix fixe dinner menu, Chef Percy's Taste of the Season, focusing on his trademark European dishes with a Pacific-inspired flare. Menu items will change monthly and currently include Ginger Chicken Potstickers, Shores Caesar, Sesame Salmon served with Zucchini Noodles and Macadamia Crème Brûlée. Chef Percy's Taste of the Season is available nightly at $38 per person. theshoresrestaurant.com
Author Belinda Jones and her canine, Bodie, will appear at Muttropolis, 7755 Girard Ave., to sign copies of their latest book, "Bodie on the Road: Travels with a Rescue Pup in the Dogged Pursuit of Happiness," 1-3 p.m. Sunday, June 24.
---