La Jolla's Gillispie School expanding into retail space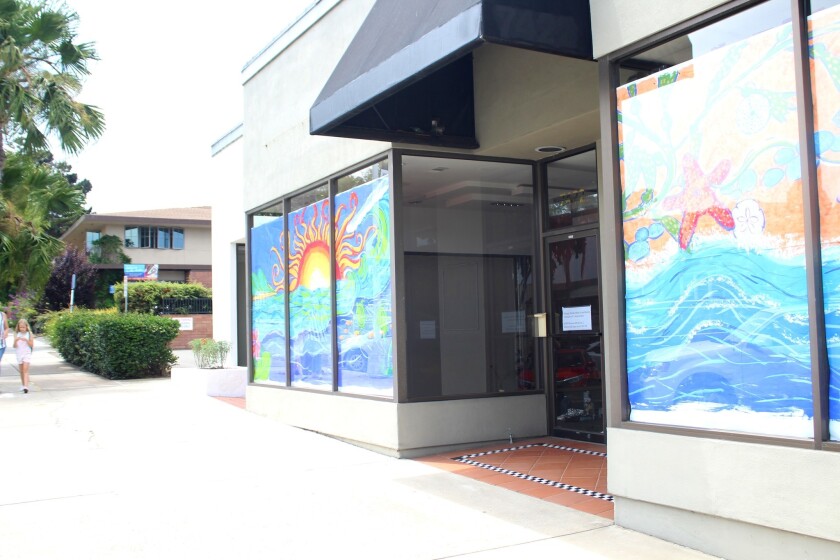 La Jolla's Gillispie School is doing well enough to have purchased four adjacent million-dollar parcels since 2012.
"As we have seen with our increased demand for enrollment, there is a great need for an education that allows for hands-on learning, which requires flexible, adaptable space," said Alison Fleming, head of school for the private institution for students ages 2 to sixth grade.
The expansion's final piece — at least for the immediate future — is a 17,000-square-foot retail building at 7420-7426 Girard Ave. Purchased in 2013, this is where the school's attention is currently focused. Inside, walls are being knocked down behind windows covered in murals painted by Gillispie art teacher Susan Walters to backdrop recent school place.
"The added space will allow for more cross-curricular programming in science, engineering, performing arts and media literacy," Fleming said, describing her vision for it as "a sandbox where students and faculty can investigate, experiment, iterate, and create."
The expansion began in 2012, when Gillispie purchased three residential apartment units at 7430-7434 Girard Ave. — plus a shack, at 7430½ Girard Ave., out of which the We Love Tourists Segway tours operates — for $1.23 million.
"It was the closest thing we could find, as a place we could probably do some expansion," Fleming said.

Later that same year, however, closer parcels opened up. Gillispie paid a little more than $1 million for a 7,500 square-foot plot right next door, at 7411 Fay Ave., on which it constructed a sports field.
The next year, Gillespie snapped up two cottages directly north of the field. Inside the one with historic designation, at 7415 Fay Ave., students now conduct science experiments; outside, they grow Brussels sprouts and peaches and they compost. (A separate cottage at 7413 Fay Ave. serves as an art studio for Gillispie's youngest students.)
"We're not changing these buildings or knocking them down," Fleming said while guiding a tour of the property. "I'm tired of all the McMansions. It makes me very upset. I'm a native and I think we are losing our sense of who we are."
The Gillispie School began in 1933 as The Welfare Shop, a storefront at 1139 Wall St. that served hot meals to the underprivileged children of La Jolla's single mothers and working parents during the Great Depression. It was run by registered nurse Ada Gillispie and her pediatrician husband, Dr. Samuel Gillispie, a founding member of the Kiwanis Club of La Jolla. A year later, an adjoining cottage was added to educate preschool children and house orphans.
"They pretty quickly saw that what La Jolla needed was some child care for young children," said Fleming, who previously served for 19 years as an administrator at The Bishop's School.
After several relocations — to sites on Girard, Herschel and Eads avenues, what was called Gillispie Cottage settled into its current site at 7380 Girard Ave. in 1953 — although the building there now was constructed in 2003. (In 1971, the current preschool at 7379 Fay Ave. was added.)
Community impact

Real-estate expansion is often a disruptive force — even when conducted by a positive force such as a school. Gillispie's new building formerly housed the businesses Design Studio West, which relocated to 4250 Morena Blvd.; My Art Shed, which went mobile; and Sorella della Taverna, which closed.
Design Studio West co-owner Lee Austin said: "Our landlord told us a couple years ago to start planning on this, so nobody got surprised, it was all good. We love it over here and there are many other design businesses similar to ours, so it's working out great over here."
What will happen to that apartment building is unknown, Fleming said, until a master plan is decided upon in at least another few months.
"It could be incorporated as a school garden and nursery, sold, or continue as apartment housing," Fleming said. "Time will tell."
The Light interviewed one of the apartment building's tenants living in the apartments: a family of five sharing two bedrooms since last August.
"It's cozy but it's cheap," said Marianne Gary, who said she was initially upset when told by neighbors that their building was owned by Gillispie and could be knocked down. (The rental agency hadn't mentioned it.)
"But we hope to be in here one more year and then we want to buy our own place anyway," Gary said.
---
Get the La Jolla Light weekly in your inbox
News, features and sports about La Jolla, every Thursday.
You may occasionally receive promotional content from the La Jolla Light.