Huge fish farm might hatch offshore of San Diego; near La Jolla and Mission Beach areas
The first commercial offshore fish farm in the U.S. may open less than four miles off the coast of San Diego. Three miles, the legal definition of offshore, is where federal waters start and regulation by state and local municipalities ends.
The Hubbs-SeaWorld Research Institute (HSRI), a research non-profit partially funded by SeaWorld, is partnering with unidentified investors in the Pacific Ocean Aquafarms (POA) Project, a complex of open fish pens that could bring more than 10 million pounds of seafood to market every year.

HSRI claims no specific offshore location has been chosen yet. However, during an Aug. 20 briefing delivered by HSRI president/CEO Don Kent to the San Diego Fishermen's Working Group, a grassroots lobbying organization, a location was clearly identified in a slide as a half-mile north-to-south, and 1.5 miles east-to-west in an area 3.73 miles off Mission Beach.
Open-ocean aquafarms are industrial farms that engage in the mass rearing and harvesting of fish. The fish remain in nets, pods or cages submerged in the ocean — and dangling from floating rings or platforms and anchored to the ocean floor — for up to two years, from the time they are hatched until they attain their desired size and weight.
Aquafarms are typically promoted as environmental solutions by their operators, and POA is no exception.

"Whether we're producing white seabass and halibut for release into the wild, striped bass and yellowtail for the seafood market or butterflyfish and angelfish for aquariums, we are preserving and renewing wild stocks by providing supplemental sources of fish that are produced sustainably," reads the HSRI website. "Help us feed the world, replenish fish populations and provide economic value to American coastal communities."

A statement emailed to the Light by Kent read: "The U.S. is far behind other nations in the development of marine aquaculture and we rely on imports for over 90% of our seafood supply, over half of which is farmed. No matter how sustainably we fish our oceans, we cannot catch the needed protein, but we can farm it … Our goal for the offshore farm project is to ensure that as aquaculture continues to develop, it does so in a sustainable manner that respects the environment, provides fishermen with opportunities for job creation and ensures that we do not lose what is left of our vanishing working waterfronts."

The Port of San Diego (PSD) appears to be all-in on this new proposal. Spokesperson Brianne Page emailed the Light that it is "a long-time champion and catalyst of the region's blue economy with its shipbuilding, commercial fishing, marine research, cruise, and cargo business lines," and that, "in 2016, the Port established its Blue Economy Incubator to assist in the creation, development and scaling of new water-dependent business ventures on San Diego Bay focusing on sustainable aquaculture and blue technologies."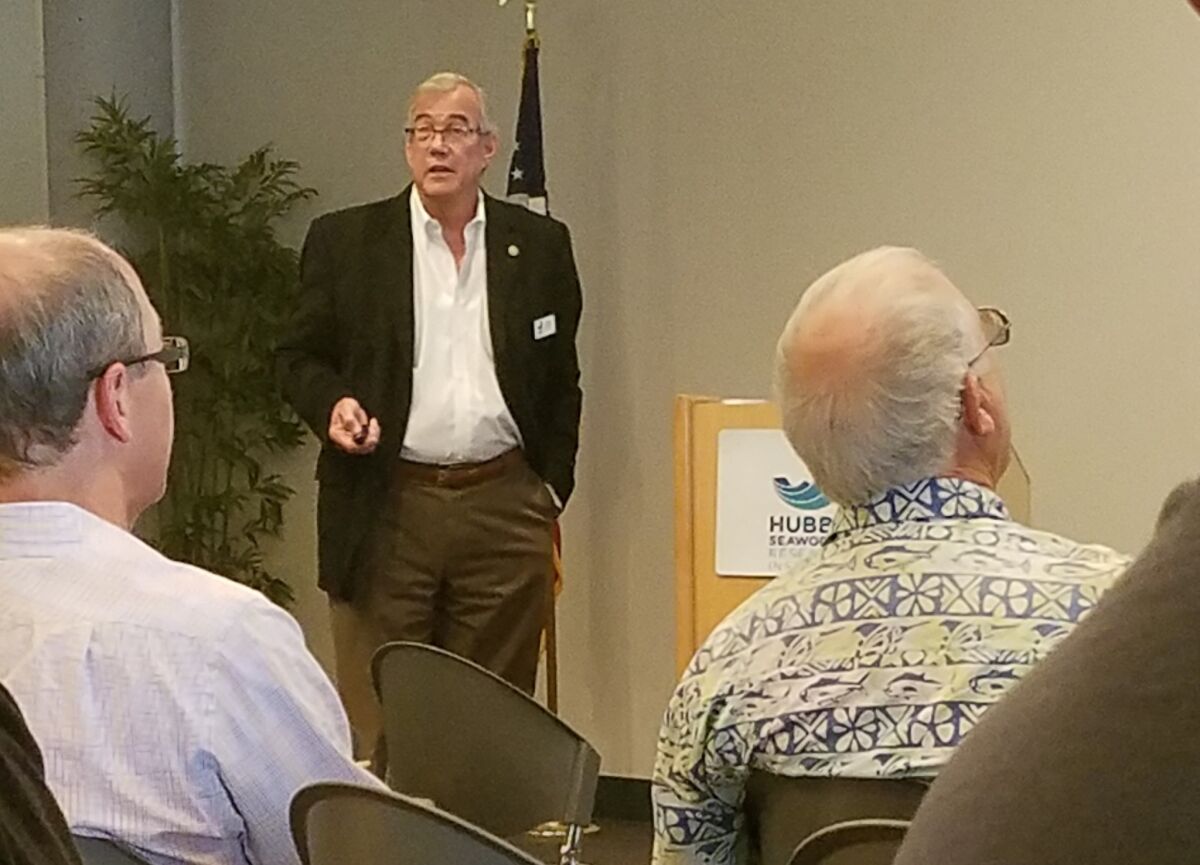 According to many environmental organizations, however, open-ocean aquafarms breed trouble as well as fish. The website for Food and Water Watch, a Washington-based non-profit, states that "uneaten fish feed, fish waste, and any antibiotics or chemicals used in fish farm operations flow through the cages directly into the ocean." It calls open-ocean aquafarms "generally big, dirty and dangerous, just like factory farming on land."
Escaped fish also concern the organization, because they could interbreed with or spread disease to wild fish. And factory fish farms also tend to grow top-of-the-food-chain fish, resulting in several pounds of wild fish required as food for every pound of farmed fish. "This undermines the wild marine food chain," Food and Water Watch's website reads.

There are also concerns that marine life will be lured to thousands of caged fish and entangle themselves in nets and ropes. In March 2017, a highly endangered Hawaiian monk seal was found dead, tangled in the nets of a Hawaii fish farm. A year earlier, nets entangled three humpback whales at industrial fish farms in Canada, killing two.
Friends of the Earth — a network of environmental organizations from 74 countries — made its position clear in a 2018 report on the industry: "Industrial ocean fish farms are inherently unsustainable and cause extreme harm in countless ways."

But fisherman John Law, part of the San Diego Fishermen's Working Group, objects mainly to the fish farm's supposed location: smack in the middle of where the Lemon Grove resident has earned his living fishing for rock fish and lobster since 1975. In fact, Law's navigational software is most heavily dotted with promising fishing sites in that location.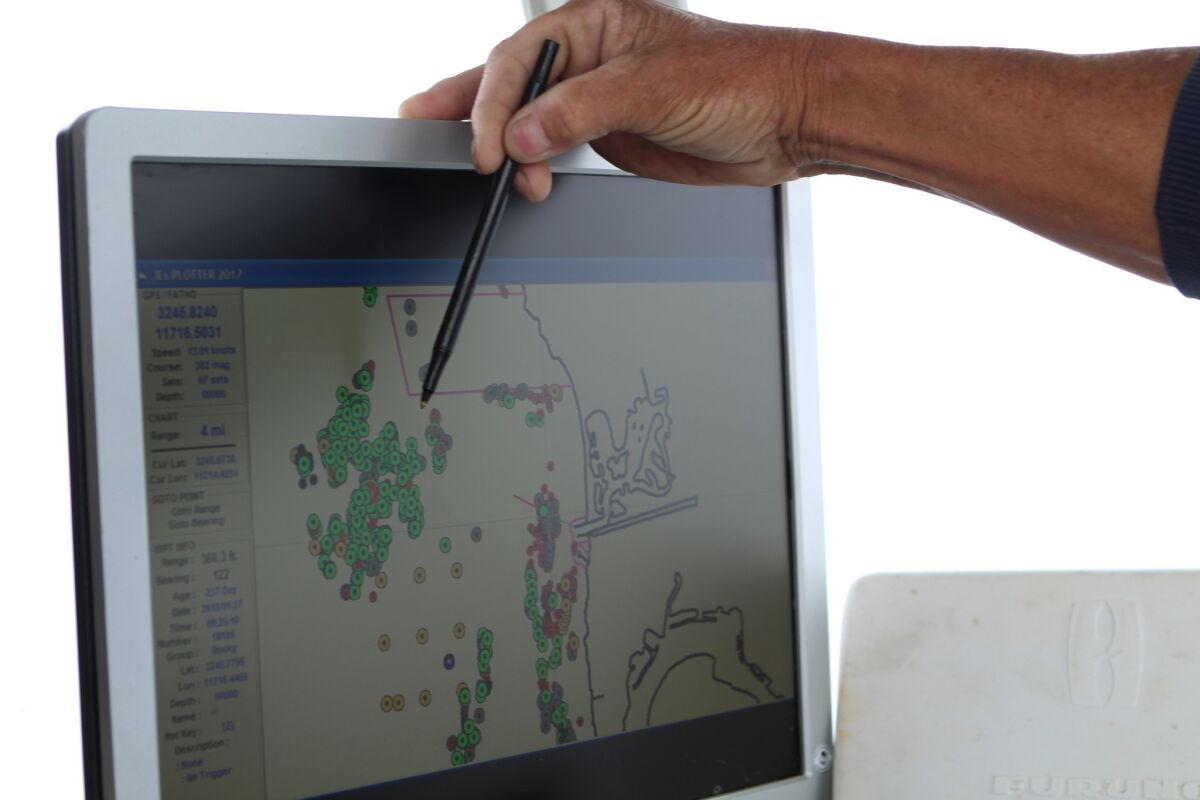 "I'm not against Don Kent and his farm," Law said. "My customers demand fish that is wild-caught, not farmed. I just want him to take it further out — seven miles or more."
Law is actually entering his 10th year of fighting fish-farm proposals by Kent. In 2009, it was a cage system Kent proposed off La Jolla; in 2012, the Rose Canyon Fisheries Sustainable Aquaculture Project, a partnership between HSRI and private equity firm Cuna Del Mar also located off Mission Beach. Neither project got off the ground.
"They're not great ideas for anyone except Kent and his investors," Law said.
And Law says he wants La Jolla residents to know that they have skin in this game, too. He took the Light out on his skiff, the Wild West, to make his point. Even through a moderate marine layer, individual houses in Bird Rock and La Jolla were clearly visible from 3.73 miles off Mission Beach.
"That's means the fish farm will be clearly visible to the people in those houses," Law said. "They will probably be able to smell it, too."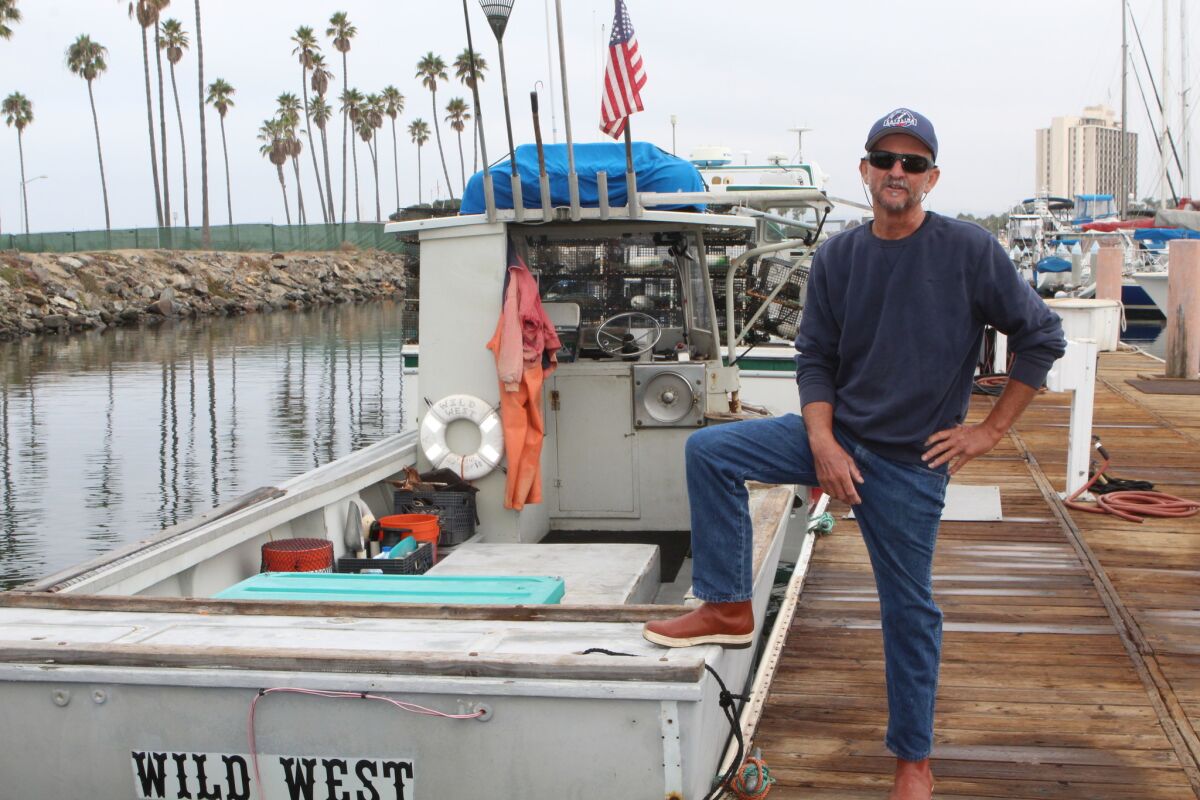 A done deal?

"Nothing is decided" regarding location," Kent wrote in his email. "We are looking along the entire Southern California coastline. When we find a site that meets our oceanographic criteria and minimizes impacts with other user groups, we will formally propose that site and begin a rather long and arduous NEPA (National Environmental Protection Act) review process in support of acquiring the needed permits."
According to Diane Windham, coordinator of West Coast aquaculture for the National Oceanic and Atmospheric Administration (NOAA), this project will require permits from the Army Corps of Engineers, the Environmental Protection Agency, the California Coastal Commission and NOAA — none of which have been applied for yet.
PSD's Page confirmed that Kent requested its assistance applying for those permits and navigating the NEPA review process. Port staff was scheduled to bring the proposed agreement to the Board of Port Commissioners on September 12, she said, but Port staff requested more time "to allow the details of POA's application for federal permits to develop, and for the process of review by federal agencies under NEPA to become more set."
In the 18 to 24 months it will take to garner approvals, Kent wrote in his email, "the public will be afforded extensive opportunity to comment on the proposed farm."
But Law disagreed with that assessment.

"Once it gets to that stage," he said, "it'll be a done deal."
---
Get the La Jolla Light weekly in your inbox
News, features and sports about La Jolla, every Thursday for free
You may occasionally receive promotional content from the La Jolla Light.