La Jolla Permitters open door for New Bird Rock gateway
Approval of the Coastal Development Permit (CDP) for a new gateway to Bird Rock was practically a done deal before the Aug. 21 La Jolla Development Permit Review (DPR) committee meeting. Assuming ratification by the La Jolla Community Planning Association, future motorists will see the mixed-use building first whenever they enter the community from the north on La Jolla Boulevard.
Architect David Keitel did such a good job addressing complaints from neighbors, the only ammunition they had left was citing the added stress that the proposed structure at 5785 La Jolla Blvd. would place on already-tough street parking. The most vocal objections came, as they did at the Aug. 14 meeting, from neighbor Philomene Offen.
"Is it totally out of the question not to screw people just because it's legal to do so?" Offen asked Keitel. "Adultery is legal, too, but is it advisable?"
Before the meeting, neighbors removed their previous request for Keitel to solve a traffic choke point at the La Jolla Bike Trail and Camino de la Costa, because they realized it was neither the architect's, nor the developer's, responsibility. Nor, for that matter, is street parking. (In fact, three onsite spaces were required by code, and Keitel's plan provides four.)
Trustee Mike Costello put it bluntly. While staring sympathetically at Offen, he said: "This is simply legal. We can protest all we want. It's the applicant's right to decide whether to max out retail or not. I believe this outfit has done everything they can do to please us."
The recommendation passed 4-2-1.
"I'm a great fan of the natural outdoors," DPR chair Brian Will added after the vote. "I like hiking on trails. But I think if this county is going to continue absorbing new people, we need more density. I think this is what we should see more of."
Things didn't go as well for Chris McKeller's bid for a CDP and a Vesting Tentative Map to demolish an existing structure and subdivide and construct a 22,430-square foot mixed-use condo at 850 Prospect St.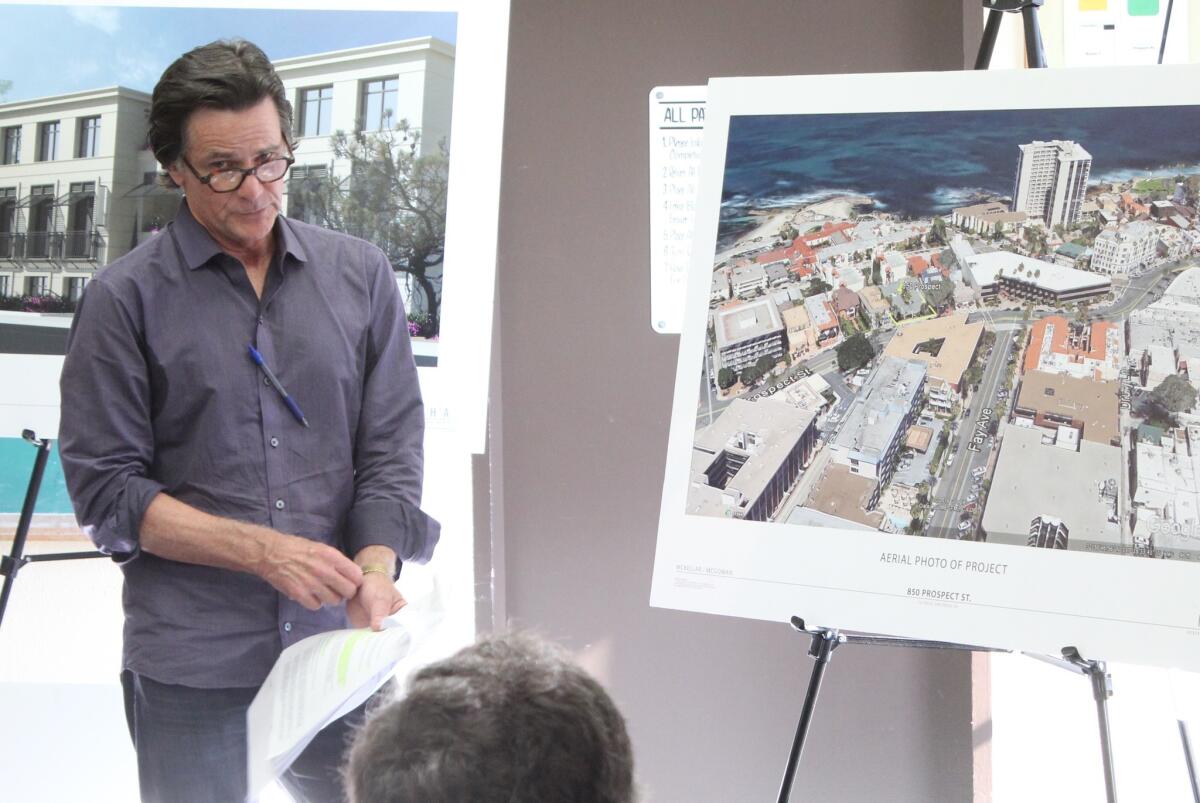 Although no members of the public attended to object, DPR unanimously voted that findings could not be made for the application because, according to its motion, the Americans with Disabilities Act requirement was questionable, the sunken retail is not conducive to retail traffic, the building is not properly separated to satisfy height requirements, the courtyard does not meet spirit of the Planned District Ordinance (PDO) because it's not pedestrian-oriented, and no space was available for future PDO-compliant retail signs.
As if that weren't enough, even though the City determined that the existing structure was not historically significant, trustee Diane Kane said that was only because "we couldn't get all of the evidence to city staff within the timeframe we wanted," and that both the La Jolla Historical Society and the Save Our Heritage Organisation disagreed with the City's determination.
Costello added: "You want something inviting. What I'm seeing here is, 'Patrons, stay away.' You don't have something that says, 'Come on in, this is a great place to be.'"
Surprisingly, McKeller responded: "I don't disagree. This is not a great space. I would love to be able to raise the building up five feet, but there isn't room."
A wide smile commandeered Tripp Bennett's face after the architect received unanimous DPR approval for a CDP to realize his plans for 1525 Buckingham Drive. Likewise, the committee couldn't be happier with the aerial and street photos they asked Bennett to return with at their last meeting. The new, two-story, single-dwelling unit will undergo a whopping 12,670 square feet of construction over a basement and detached garage and guest quarters.
DPR also unanimously passed a motion to solicit CPA's input into Mayor Faulconer's three-year budget to prepare an update to the City's Master Park Plan, which will scope park needs for the next 20-to-30 years.

— DPR next meets 4 p.m. Sept. 11 at the La Jolla Rec Center, 615 Prospect St.
Get the La Jolla Light weekly in your inbox
News, features and sports about La Jolla, every Thursday for free
You may occasionally receive promotional content from the La Jolla Light.