Royal Dog Whisperer visits La Jolla: Sea-lion selfie seekers need training
On Sunday, Sept. 9, Dr. Roger Mugford of London made what he estimates to be his 10th La Jolla trek. As he has every three or so years for the past 30, the renown animal psychologist checked up on the Children's Pool seals in the company of his favorite La Jollan, animal-rights activist Florence Lambert. (The two met through their mutual work with the UK's Born Free Foundation.)
"If there's a more beautiful environment in which to view animals than La Jolla, I can't think of it," Mugford said. "The wonderful thing about this place is that the animals are free. It is wildlife laid out before you, for no charge and in the middle of a big city."
Mugford is famous in Britain as the "Royal Dog Whisperer," having tamed Queen Elizabeth II's beloved Corgis after they bit the Queen Mother in the late '90s and then, in 2004, achieving repeat success with Princess Anne's Bull Terrier, Dotty, who nipped the royal maid and fatally mauled one of the Queen's aforementioned Corgis.
"The Queen really does love animals," Mugford said. "She's got a big, soft heart. And when she talks about her animals, she's not the stuffy sort of unhappy-looking person she's often portrayed as." (Mugford said the Queen delighted in telling him how she kept President Lyndon Johnson waiting 40 minutes, when he came to London to visit her, because he had posed for a photo on the White House lawn lifting one of his beagles by the ears in 1964.)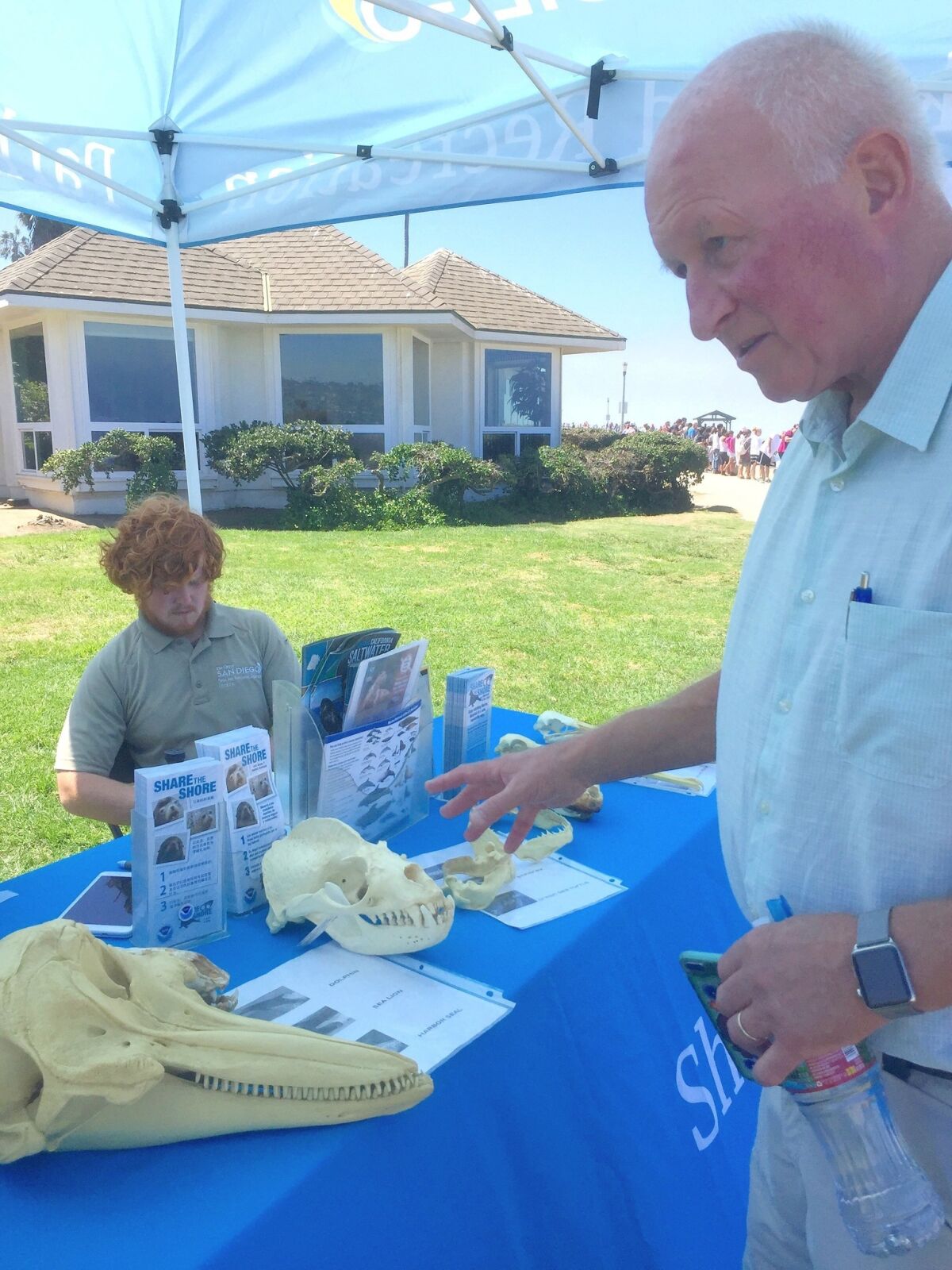 Mugford strolled through Scripps Park just as the sun broke through the morning marine layer, stopping to hobnob with locals and tourists and to investigate a replica of a seal skull displayed by two Department of Parks & Recreation interns in an education tent.

"Seals are very much like dogs," he educated them. "In evolutionary terms, they're well-separated, but they're remarkably similar in terms of their teeth, they live in packs and engage in group-hunting for fish, and they're unfortunately prone to some of the same diseases, including canine distemper virus."
Mugford reported being very pleased, once again, by the situation at the Children's Pool, where he smiled as he watched seals frolic in their protected environment.
"Fortunately, the population seems to be stable," he said. "They're not an endangered species. But equally, they're not increasing in numbers. There's about half a million of them worldwide, and how many humans are there? Five billion? I think we can find spaces for them like this."
The situation at Boomer Beach struck Mugford much differently, however. Though La Jollans have grown accustomed to how close tourists dare themselves to get to sea lions for a selfie on the rocks, this was the first La Jolla trip on which Mugford had witnessed this ritual.

"That's stupid, that," Mugford said, motioning toward a group of young people about five feet from a group of sea lions and inching closer with their cell phones out. "It endangers the mother-pup bond and it endangers those people.

"Sea lions are wildlife, just like grizzly bears or bison," he continued. "Obviously, having those signs warning people not to get close does no good if people ignore them. What we need is a few well-documented cases of sea lions biting people and then perhaps people would keep their distance more."

Mugford suggested either having Boomer Beach patrolled by an authority monitoring how close humans approach the sea lions, or closing off human access to it entirely.

"Humans have enough beaches to themselves already," he said.
Get the La Jolla Light weekly in your inbox
News, features and sports about La Jolla, every Thursday for free
You may occasionally receive promotional content from the La Jolla Light.