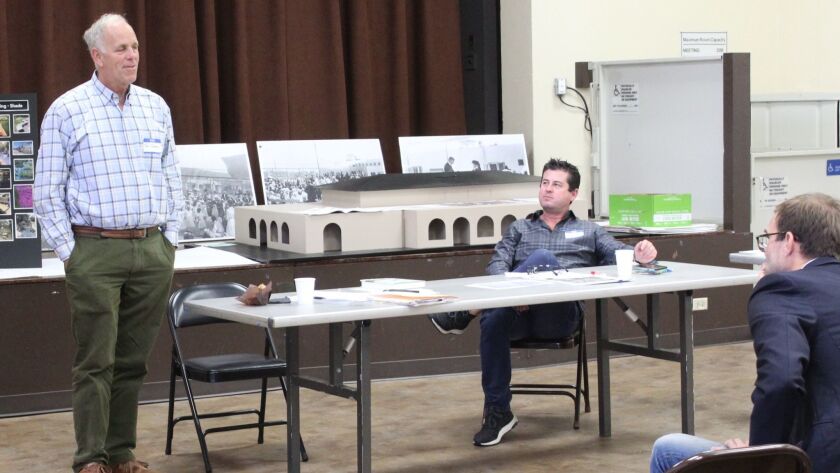 If you've ever wondered how communities decide to reshape themselves, the process was on display at the La Jolla Cultural Zone Charrette, held at the La Jolla Rec Center on three overcast mornings, May 22-24.
Convened by contractor Tom Grunow — whose resume includes renovating the St. James -by-the-Sea Episcopal Church and overseeing the renovation of Wisteria Cottage as the former president of the La Jolla Historical Society — the charrette was a working group designed to help architects Trace Wilson, Trip Bennett, Jim Alcorn and others draft the best possible renderings for a parking garage Grunow proposes to build underneath the Rec Center playground.
But the garage is only a piece of the puzzle, because Grunow sees this as an opportunity to remove street parking and green up the cultural zone, creating a town square that looks more like what Ellen Browning Scripps envisioned in 1915 than what exists now, yet that functions the way a town square will need to in 2020.
"I wanted to bring a good group of people together to come up with a plan that expresses in some detail what we can do to bring more life to this area, which was such an incredible gift," Grunow told the group on its second day.It felt appropriate for such a discussion to take place inside the Rec Center — which opened in 1915 across from Scripps' house, on land she donated to the City — in a room strewn with old photographs, architectural renderings and models of the building.
The charrette was not intended to be a public forum. Although members of the public would not have been excluded if they showed up and offered input, few knew about it because invitations were only extended to architects, designers, environmentalists, historians, urban planners and other community leaders at this early stage. (The charette averaged 20 attendees per day.)

Details such as the number of spaces in the garage, the type and spacing of new trees, and the look and location of a cultural zone entryway, were hashed out on Day 2 — both in collective Q&A sessions and in groups separated according to attendee area of expertise.
Before planners broke into smaller groups, landscape architect Martin Schmidt suggested "creating a new plant palate that complements some of what's existing and remains, but yet looks at longevity and the big coming issue, which is water use."
Schmidt said that grass shouldn't necessarily be off the table — at least grass, like that in front of the Rec Center, that is used by children and for physical exercise as opposed to by dogs on traffic medians. Schmidt noted that it is possible to capture water runoff from storm pipes that normally drain the ocean and use it for irrigation.
"Literally everybody in the City of Malibu has their own water catchment and treatment facility," Schmidt said. "If you ever wonder why Pepperdine has that huge lawn and irrigation always going, it's because they're trying to get rid of water."
Wilson spoke about potentially modelling the new cultural zone after Beverly Hills. Both areas, he said, "come from that same era of the urban garden plan." Yet, he explained: "Beverly Hills has a whole tree master plan. Every single street has a signature tree. I personally think that La Jolla can get there. We to know what we want, though."Following that meeting, Grunow said, architects took the ideas back to their offices and got to work sketching.
Timeline still holds

Grunow originally intended the garage to be constructed concurrently with the Rec Center's playground renovation, the event that inspired him to come up with the idea. That way, only one interruption of traffic and recreation would be necessary. (It would also perfectly dovetail with the 2020 reopening of the Museum of Contemporary Art San Diego across the street, which will have no parking of its own.)

That timeline is still a possibility, although the charrette speakers seemed to agree that the project's landscape elements should be tackled separately. As Andy Field, the City's assistant park and recreation director, told the Day 3 audience: "I encourage you to compartmentalize, separate and phase out all the elements to the maximum extent possible. Take the project and break it into bite-size chunks and, depending on how the funding goes, then you can have smaller phases and fund-raise appropriately."
Field advised a mix of private and public funds, with the public funds going strictly for transportation improvements. "Those things make better sense to be a public project," he said.

City Councilmember Barbara Bry, also speaking on Day 3, advised planners to steer completely clear of City dollars. She cited as examples the restrooms at Scripps Park and the debacle surrounding 101 Ash Street, a building renovation subject to delays and tens of millions of dollars in projected cost overruns due to bureaucratic problems.
"You want to do this with private money," Bry warned.

If the project goes forward, Bry said, she would first like to get Mayor Kevin Falcouner and City COO Kris Michell onboard, which she predicts would happen. Then, she said, she'd like to "get everybody in the City around a table who's going to be involved in making the decisions." She added: "This isn't something that is generally done, but it's what you do in the business world."
So what's next?

What comes immediately next, according to Grunow, is about six months of meeting with neighbors in the cultural zone, showing them the sketches and soliciting their input. Only once everyone is as happy as possible with the plan will funding be pursued.
So far, most neighbors seem to be on board. La Jolla Woman's Club president Tona Macken, for example, congratulated Grunow on his vision, saying that "having all these cars parked diagonally is an eyesore" and offering her club's arbors for any entranceway that is eventually decided upon.

No opposition was voiced by the invited guests during the charrette, although some bitterness bubbled up when community activist Joe La Cava reminded the group of a similar 1990 proposal drafted by the La Jolla Town Council.
"Let's not act like we don't have a plan," La Cava said on Day 2. "We have a plan. We just chose to ignore it." The City approved that plan, which includes streetscaping, trees, benches and the Belvedere Promenade — many of whose elements were included in the 2004 update to the La Jolla Community Plan — but which has never been enacted due to the lack of an estimated $2-to-$3 million in public funds for it.
La Jolla Historical Society executive director Heath Fox acknowledged La Cava's frustration, but called the charrette "a great start." Pointing out a recent aerial photograph of the cultural zone taped to the meeting room's mirror, Fox called it "striking how the landscape is dominated by landscape and concrete" and said that "it's definitely time to get moving on a bigger plan like this."
---