TANNENBUMMER: What happened to the huge La Jolla Rec Center Christmas tree?
For the second straight year, the Grinch who stole the big Christmas tree at the La Jolla Rec Center was a series of unfortunate events.
The Community Christmas tree, used since its dedication by the La Jolla Sunrise Rotary Club in 1984, has grown a foot a year to taller than 60 feet. So, from 2004 to 2016, decorating it meant renting a cherry picker, transforming the process that began with volunteers climbing ladders to hang lights and decorations into a $5,000 operation.
"It just became logistically impossible with that large tree," said La Jolla Christmas Parade & Holiday Festival chair Ann Kerr Bache.
Still, for most of the past 10 years, Kerr Bache said, she managed to foot the rising cost of tree-decorating with $2,500 in grant money from the La Jolla Rec Center Advisory Board, contributions from the La Jolla Sunrise Rotary Club and her own fundraising efforts. In addition, Pancho Dewhurst of DGC Construction traditionally donated two days of labor toward the project from his crew.
But, Kerr Bache said, Rec Center grant money is no longer available for this purpose. In addition, Dewhurst no longer has time to participate, according to the general manager of his company, DGC Construction. (Dewhurst was unreachable for comment as this article went to press.)
Another complication has been the repair of the Rec Center's century-old electrical wiring.
"That was started last Dec. 1 and is still going on," said Holiday Festival co-chair Gail Forbes. "It's so irritating."
City workers thought they were finished with the electrical fixes, Forbes explained, "and then they found out that the two electric light poles on the basketball court that were supposedly repaired don't work. It was an emergency repair to begin with, and now they're going to go back in and tear up the pavement again and run new lines or do something to reconnect the electricity."
Last year's La Jolla Rec Center tree-lighting ceremony was conducted by Kerr Bache on a store-bought Tannenbaum measuring six feet tall and requiring a long extension cord. This year, Sunrise Rotary donated an eight-foot tree with solar power, thereby circumnavigating the electrical issue.
"We're honored to follow in a long tradition of donating a tree to the La Jolla community," said Sunrise Rotary president Kilma Lattin. "A Christmas tree should be a part of every community. Any community would seem naked, in my opinion, without one."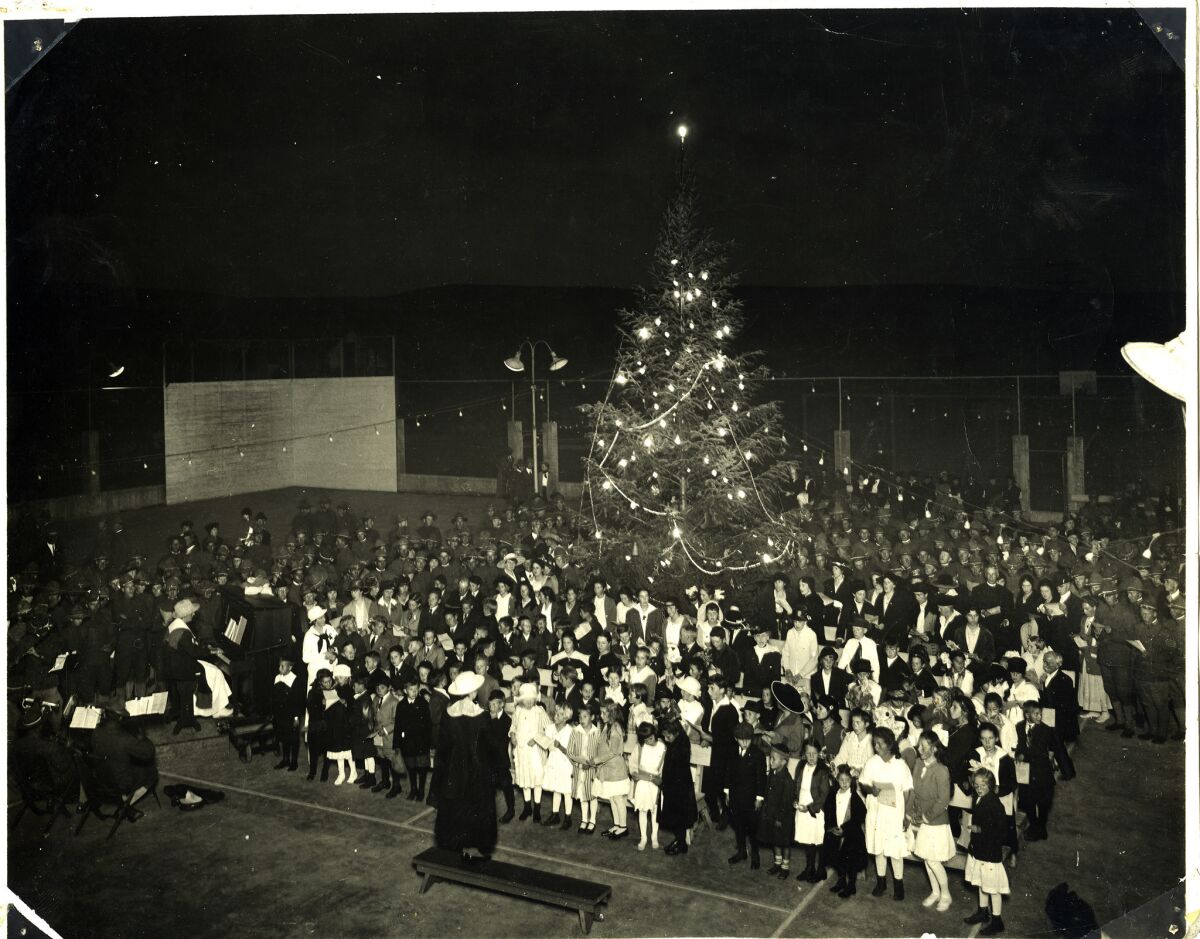 The first La Jolla Christmas tree was lit by Ellen Browning Scripps in 1912 at The Cove, according to Kerr Bache. "Then, when the Rec Center was dedicated in 1915, the community placed a huge tree out where the basketball courts are now. It was as big as the one at Rockefeller Center." (The famous midtown Manhattan holiday tree is usually a Norway spruce, 69 to 100 feet tall.)
According to Forbes, there will be a more permanent Rec Center tree in La Jolla's Christmas future. It's just a question of when.
"A long-term solution would be to plant a new tree or perhaps to replace the tree that's sagging in front of the Rec Center, donate that to another park, and place a tree that's shape-and-size appropriate to both growth and continuing the Christmas tradition," Forbes said. "But that's long-term and would require a right of entry permit, consultations and decisions to be made throughout next year."
Hopefully, Forbes said, that can be in place by next Christmas.
Get the La Jolla Light weekly in your inbox
News, features and sports about La Jolla, every Thursday for free
You may occasionally receive promotional content from the La Jolla Light.