Chabad of La Jolla ushers in Hanukkah at The LOT
Christmas may define December in the minds of most La Jollans. But on the patio outside The LOT at 5:20 p.m. on Sunday, Dec. 2 — just two hours after the La Jolla Christmas Parade marched to a close — Chabad of La Jolla offered a public reminder that it also belongs to Hanukkah. (At least it does except on the very rare occasion that it falls at the end of November.)
As around 100 celebrants looked on, Rabbi Baruch Ezagui ushered in the Jewish holiday just after sundown by lighting the first of eight candles on his congregation's grand menorah.
"Hanukkah is a holiday of quality over quantity," Ezagui announced. "We Jews have never been in the biggest numbers as far as population. Our number and our journey has always been challenged by exterior circumstances. But like a little flame in the darkness of night, we've never been deterred."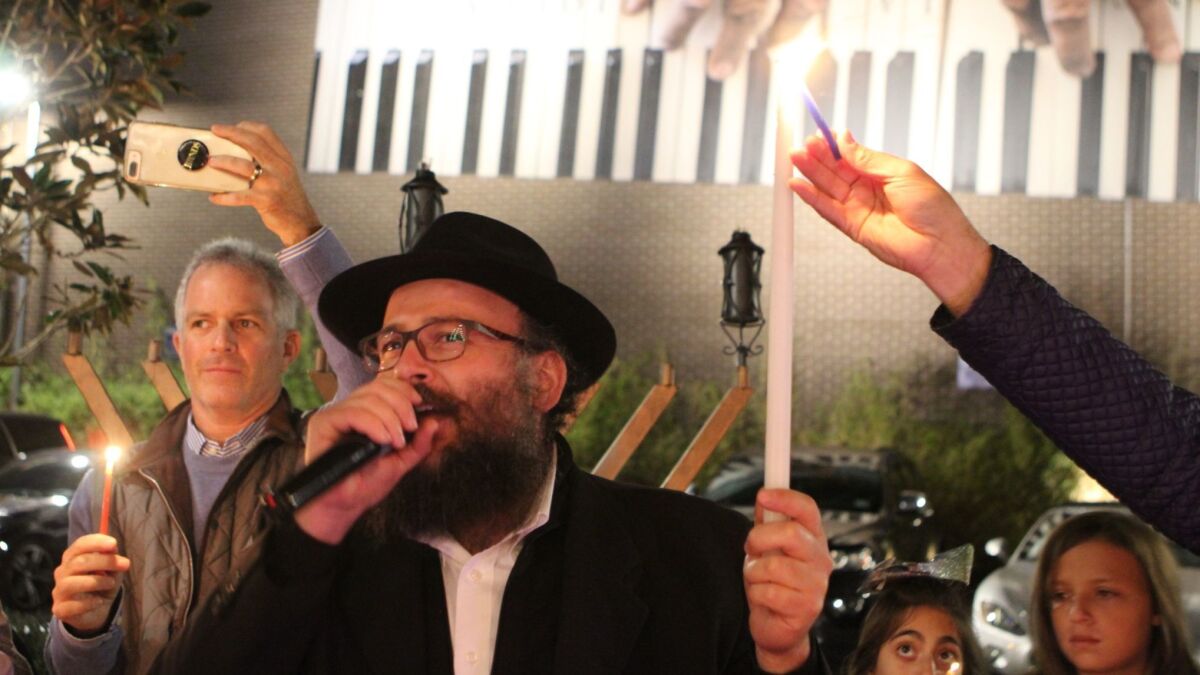 This is the third year that Chabad — the orthodox Hasidic movement formerly known as Lubavitch — has celebrated Hanukkah at The LOT. (The movie theater's owners, Adolfo Fastlicht and Carlos Wellman, are Jewish.) During the lighting, Ezagui said prayers in Hebrew celebrating what religious Jews believe was the miracle that occurred in the Jewish temple more than 2,000 years ago.
In 175 B.C., according to the story, the new Greco-Syrian Seleucid king Antiochus IV Epiphanes tried forcing all Jews to assimilate. He outlawed Judaism, captured the temple and built an altar to the Greek god Zeus inside. Jews who resisted were crucified or dismembered.
Judah the Maccabee, son of a Jewish priest, revolted and won back Jerusalem in 165 B.C., driving the Seleucids from Judea and rededicating the temple. (The word "hanukkah" means dedication.) The Seleucids left only one intact vial of oil, the story goes, enough to light the temple's candelabrum for one day. But it burned for eight days, which was the miracle.
Rabbi Ezagui, who originally hails from Canada, passed out candles and requested that celebrants light them on the gas fire pits encircling them on The LOT's patio. Then he informed them what happened just a few hours earlier in Berlin, Germany.
"My colleague, Rabbi (Yehudah) Teichtal, stood with the president of Germany (Frank-Walter Steinmeier), lighting tonight's first Hanukkah menorah candle under the Brandenburg Archway," Ezagui said. "Only 80 years ago until today, the anniversary of kristallnacht (the first night of the atrocities of the Holocaust), it lay dormant and dark. But, my friends, tonight, light triumphed over darkness. Tonight, a giant, 40-foot menorah was lit in that archway. One candle, the first flame on the menorah, illuminated and pierced through 80 years of darkness, bringing hope, joy, warmth and light into world."
Ezagui lit the center candle (the shamash), with which he lit a candle placed on the far right.
"You see this candle in front of you is only one flame, but its power is immense," he said. "Tonight, we light one candle because we are reminded about the power of one light, of one candle."
Get the La Jolla Light weekly in your inbox
News, features and sports about La Jolla, every Thursday for free
You may occasionally receive promotional content from the La Jolla Light.