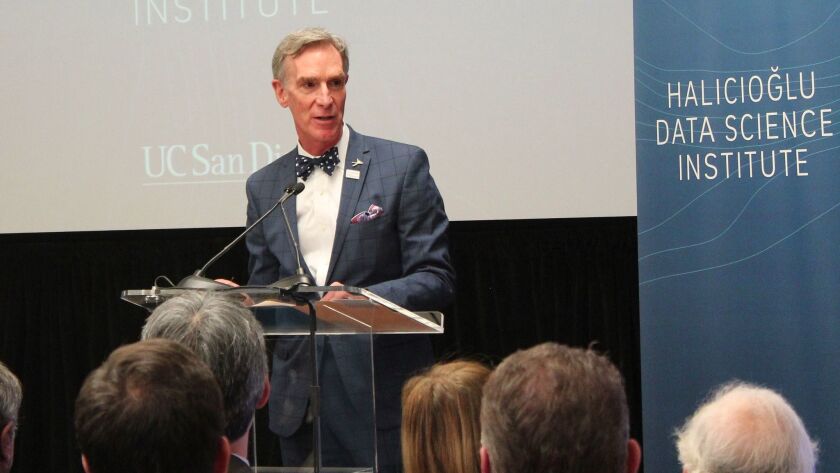 Bill Nye the Science Guy was on hand to help UC San Diego launch its Halicioğlu Data Science Institute on Friday, March 2. The interdisciplinary center will train data scientists and develop new methods and algorithms to make sense of the overwhelming amounts of data generated by today's scientific observations.
"This institute will enable students, researchers and student researchers to learn to handle more data in a day than Isaac Newton, Nicolaus Copernicus or Henrietta Leavitt could gather and process in a lifetime," Nye told a capacity crowd of 200 gathered inside a room in UCSD's Supercomputer Center. "This ability will lead to unforeseeable advances in cognitive science, math and computer science. We can be assured that the presence of the institute will influence every other scientific discipline as well: biology, chemistry, physics, sociology."
Nye, 62, currently hosts the Netflix series Bill Nye Saves the World and is chief executive officer of the the Planetary Society in Pasadena which, he joked to the audience, "is what happens when you're on a board of directors and you leave the room for a few minutes."
The new center was financed by a $75 million gift from Taner Halicioğlu (pronounced Haw-li-dji-o-loo), a UCSD computer-science alumnus who was among the first 20 employees at both Facebook and eBay.

"As you may know, I've spent quite a bit of time here on this campus over the years, doing various television shows," said Nye, clad in his trademark blue suit and bowtie. "It is a fantastic institution attracting outstanding faculty members and students from around the world. And today, Taner's gift is enabling an otherwise excellent university to become an amazing, outstanding, tremendously influential excellent university that will have global reach and influence."

An engineer by training, Nye is frequently criticized by internet trolls for never having been a real scientist. But he was roundly welcomed by UCSD's many very real scientists and researchers, some of whom snapped selfies with him before the presentation.
Bradley Voytek, a professor of cognitive science, told the Light that he "got into science" because of watching Nye's 1990s PBS television series, Bill Nye the Science Guy, as a kid. "Is he a scientist? Maybe not," Voytek said. "But is he an incredibly effective science communicator? Absolutely. And that's a skill that's very difficult — to communicate science effectively and clearly to people in a way that gets them excited."
Nye pointed out to the crowd that UCSD is not only a world-class university, it is "a world-class state university." He said: "Investment in public universities leads to economic growth, leads to prosperity, and increases the quality of life and health of our citizens. That this is obvious to me and you, and not to other people, is remarkable."
Before the presentation, when asked by the Light how UCSD ranks realistically against the country's very best science institutions, Nye came off more even-handed."Well, it's pretty good," Nye replied. "I mean, am I supposed to get in a fistfight with Caltech and MIT and, more importantly, Cornell?" (Cornell is where Nye received his bachelor of science degree in mechanical engineering.)
Nye continued: "For fluid mechanics, I'd still recommend Cornell. But as we get into these enormous data problems, like climate science and agriculture, where there are these enormous numbers of data to analyze, the Halicioğlu Data Science Institute is going to be a big deal."
---