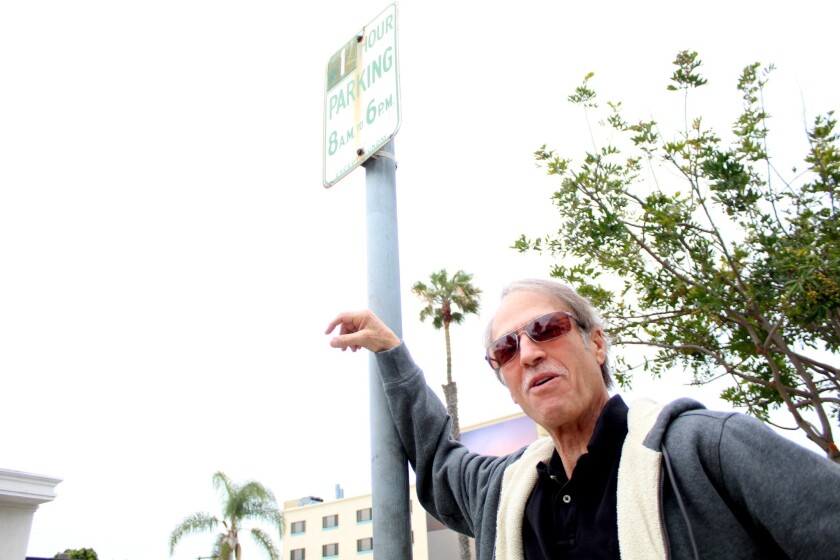 Jeff Wade thought his eyes were tricking him when he saw the yellow envelope tucked underneath his rental car's windshield.
"I was like, 'WHAT?!!'" the Ocean Beach resident recalls.
On Thursday, March 1 at 2:52 p.m., Wade and his wife parked on Fay Avenue, across from Cristina Q's hair salon between Silverado and Kline streets, where they had individual haircut appointments starting at 3 p.m.
Aware of the 60-minute parking limit, Wade moved the car after 50 minutes. He found a new spot on the opposite site of Fay, in front of the salon, and bought himself another hour.

Or so he thought.
At 4:02 p.m., only 20 minutes later, parking enforcement officer J. Komada issued a parking citation, for Code 111: Violation of Signs, in the amount of $52.50.
Instead of paying the ticket, Wade — a retired family-law attorney — chose to have an administrative review. He filed three declarations of fact online: from himself, his wife and their hair stylist, Kerry Welsh.
What he received in the mail was an unsigned piece of paper declaring "ADMINISTRATIVE REVIEW DECISION: LIABLE" and explaining that "it was the officer's observation that the area where the vehicle was cited is appropriately posted with signs giving notice of the time restrictions for the area."
Instructions for further contesting the fine with an administrative hearing — after paying the full amount of the fine to the City treasurer — were included in the envelope. Instead, Wade appealed his case to the Light. He (and we) thought that perhaps a chalk mark made by Officer Komada on Wade's tire hadn't rubbed off and ended up in the same exact position as it originally was — a poor and unlikely stroke of luck.
But the truth was even weirder, as we discovered when Parking Program manager Jonathan Carey replied to the Light's inquiry via email.
"The issuing officer took a photo of the tire that was marked and when reviewed, it appeared to be the original mark left untouched," Carey wrote. "Upon a second review, it appears that the tire tread was in a position that made it look like the mark. The Parking Program believes the tires on the vehicle are new, and the tread pattern, along with the orientation of the photo made it appear to be the mark across the width of the tire."

Translation: Oopsie!
Wade's ticket was dismissed, but not the entirety of his frustration with the process.
"It feels good," he said, "like a tiny little stroke for honesty and reality. On the other hand, it's too bad that it took the newspaper to get their attention. I never would have gotten it myself. There were other steps available, but what a pain in the ass.

"I'm a retired lawyer," Wade says. "But if I'm working, I'm going to say, 'To hell with it, I'll pay the 50 dollars.'"
---