La Jolla Schools: Cluster group discusses bullying, budget, school start time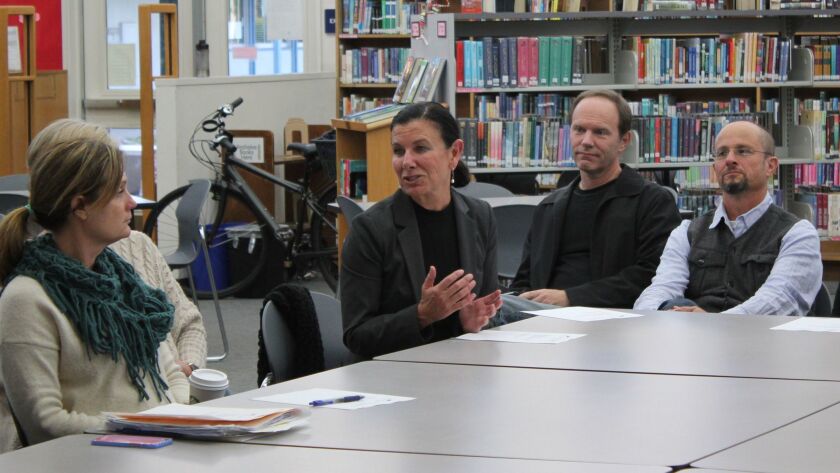 Educators shared the different strategies La Jolla's public schools are using to approach the topic of bullying, during the La Jolla Cluster Association (LJCA) meeting Jan. 19 at Muirlands Middle School. Parental concerns expressed at various school meetings prompted the discussion.
La Jolla Elementary School principal Donna Tripi reported that the creation of inclusive learning environments has led to less bullying reports. "Classrooms are like families and children are encouraged to talk to each other or their teachers if there are issues," she said, adding that since the incorporation of character strength work and collaborative conversations, the respect that students feel for one another has increased. "They value each other, they get that everybody has something to say," she said.
Torrey Pines Elementary principal Sarah Ott said the school's multicultural character has led to the creation of a diversity committee working to honor various cultures. "Teachers have created lessons exploring different cultures to learn more about their students because once we know more about people and are more in tune with them, we're not as into making fun of (them)," she said.
Muirlands Middle School principal Harlan Klein said his school will host a Peace Week later this year, where there will be information about altruistic initiatives, encouraging students to "care for one another." He explained that Muirlands has a consistent policy on bullying and last week teachers reviewed with the oldest students, some of the concepts that surround bullying. "Defining what the difference is between a 'bystander' (someone who witnesses bullying and doesn't get involved) and an 'upstander' (someone who knows that bullying is wrong and does something to make things right) and then going over with students the different ways they can submit or report bullying," Klein explained.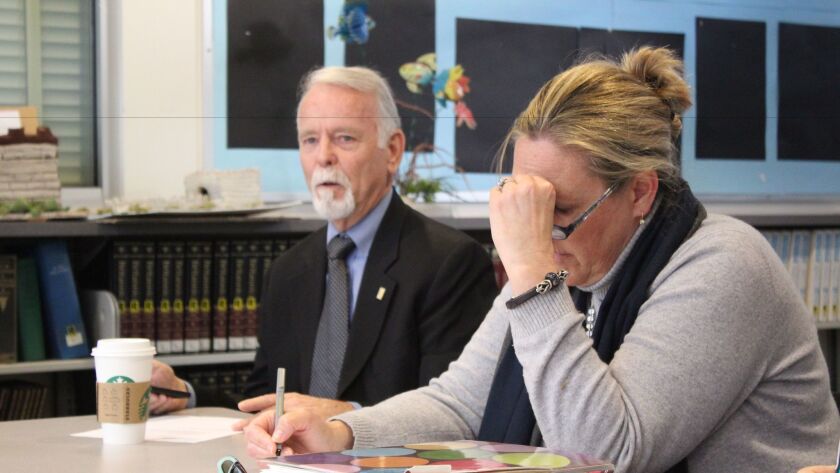 La Jolla High principal Chuck Podhorsky said he was happy to report the school is partnering with the Anti-Defamation League to make it a designated "No Place for Hate."
"What is fabulous from the high school perspective is that the cultural shift is in the students," he said. "The more they own it and lead it is when you're going to start to see the change." He added that the No Place for Hate banners would be hanging by the end of the year.
School start time
A discussion about the time school starts was joined by several Cluster Association members, who agreed that research shows a later start to school is beneficial for students' health. The La Jolla High and Muirlands Middle School principals reported that efforts to delay the class start time by 15 minutes were voted down internally. They explained the difficulties of changing the policy locally, implying the change must come from the San Diego Unified School District (SDUSD) Board.
SDUSD trustee Mike McQuary suggested that an agreement between all the clusters will more likely lead to a district-wide change of policy.
Budget
During McQuary's presentation, he reported the SDUSD Board's dissatisfaction with Gov. Jerry Brown's cut of $3.2 billion from the statewide education budget. "Those numbers are important for us," he said. MCQuary went on to explain that the budget for SDUSD is $1.3 billion a year, and 92.5 percent of it goes to pay salaries and personnel.
"We have 7.5 percent of our budget for the discretionary … to put that in context, if we buy a $10 item for every child in this district, that's a million dollars," he said, adding the district consists of 16 high schools, 25 middle schools and 120 elementary schools that are run by 16,000 employees, servicing 130,000 students.
— La Jolla Cluster Association next meets 4:15 p.m. Thursday, Feb. 16 at Muirlands Middle School, 1056 Nautilus St.
---
Get the La Jolla Light weekly in your inbox
News, features and sports about La Jolla, every Thursday for free
You may occasionally receive promotional content from the La Jolla Light.