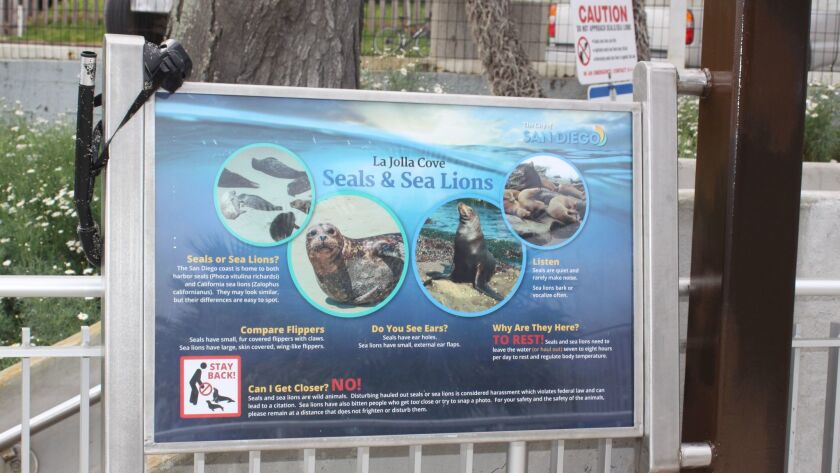 La Jolla Cove got yet another pinniped-related informational sign, March 24, when the City of San Diego hung a large poster sporting facts and pictures about seals and sea lions on the fence that surrounds the scenic overlook. In addition to ways to tell these sea mammals apart, the new sign encourages visitors to stay "at a distance" from them.
It reads: "Can I get closer? No! Seals and sea lions are wild animals. Disturbing hauled out seals or sea lions is considered harassment, which violates federal law and can lead to a citation. Sea lions have also bitten people who get too close or try to snap a photo. For your safety and the safety of the animals, please remain at a distance that does not frighten or disturb them."
It is one of at least seven other such signs already posted at The Cove. At both staircase entrances, there is a City sign posted. It reads: "Caution: Do not approach seals/sea lions. Seals/sea lions can bite. Agitated seals/sea lions may attack. Harassing seals/sea lions is against the law. In an emergency, contact 911."
It also features a graphic depicting a human hand and a pinniped with a red "no" symbol over it. That same City sign dots Coast Boulevard near the entrance to the bluffs (via a gate that was installed in January 2014).
One more sign, just a few feet away from the new one, is partially overgrown by vegetation.
Other signs on the other staircase entry cites City beach regulations, such as no alcohol and no disturbing noise, and regulations on dogs and beach fires. Another one, also posted at the western staircase, reads "Tidal pools are natural preserves. Look but don't touch. Help save marine life."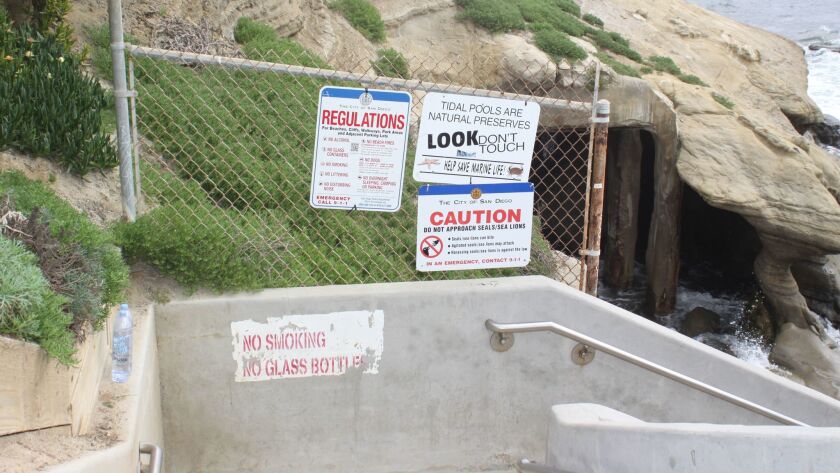 A very dated sign, affixed to the wall leading to the staircase, has several letters missing. At one time, it listed the rules in an Ecological Reserve.
At the March 27 La Jolla Parks & Beaches advisory group meeting, acting chair Bill Robbins (who chairs the LJP&B subcommittee on signs) said he "knows nothing of" the recent sign posting. "I heard a rumor that something was coming, but (the City) did not come to me and ask my input or ask to be put on the agenda. They just put it there. The City spent a lot of money to put up new signs at The Cove ... which proves the point that when they want to do something, they can find the money to do it." The price of the signs has not been disclosed.
The sign installation could be part of the proposed Coastal Management Plan, which has been in development since 2014. City of San Diego public information officer Tim Graham told La Jolla Light, "Using signage to inform the public about the seals and sea lions will be an element of the Coastal Management Plan ... (but) the final plan is still under review."
He added that the Coastal Management Plan will be a comprehensive document that will address "a number of coastal topics including seals, sea lions and birds," and that it was expected by early April. Marine mammal expert Doyle Hanan is assisting with writing the plan. He released the "Hanan Report" about the sea lions at La Jolla Cove in July 2016.
Contracted by the City in February 2015, Hanan's study was intended to "identify potential opportunities for changing the behavior or haul-out conditions of the sea lion colony now expanding along the La Jolla coastline." However, Hanan's research led to the conclusion that the sea lions "are not likely to abandon the area" and that "the City is in the position to develop strategies of how to best live with them and, hopefully, take advantage of their presence."
Addressing the already sign-laden beach at La Jolla Cove, Graham told La Jolla Light, "The new signs are designed to provide additional education about the sea lions and seals in an effort to help the public better identify each species, as well as provide recommendations to ensure the safety and well-being of the animals as well as the public. Having additional signs allows additional opportunities for the public to see and read the signs."
Graham added that the signs should not be interpreted as a direction of City policy that accepts the sea lions' presence at The Cove. He said, "Those plans will be detailed once the Coast Management Plan is released."
---