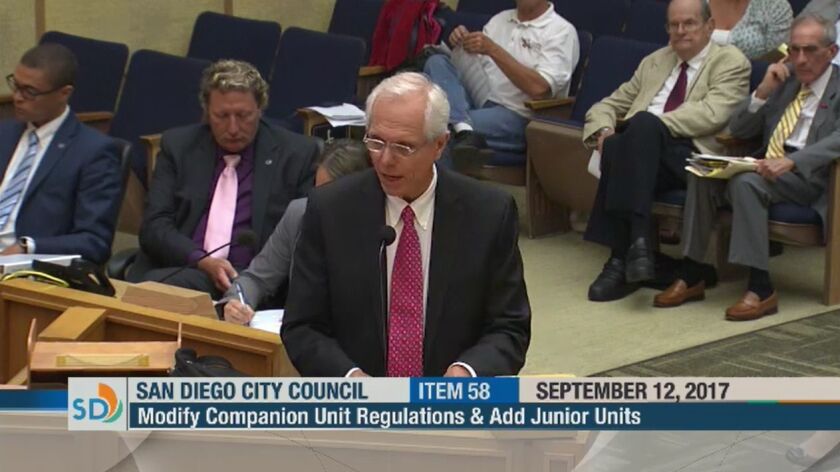 The City of San Diego passed its Accessory Unit Ordinance Sept. 12 without modification in Council Chambers, downtown. The ordinance loosens restrictions on building companion units of up to 1,200 square feet or junior units up to 500 square feet, on one's property.
It becomes law 30 days from the Sept. 12 vote.
The City ordinance is a modified version of a recently passed State ordinance, with the intent of creating more housing opportunities.
However, the La Jolla Community Planning Association (LJCPA) took umbrage with some of the City's changes to the ordinance, and drafted a letter to the City Council with its suggestions. LJCPA trustee Phil Merten spoke on behalf of the organization at the Council meeting.
Regarding issues such as parking, setbacks and building height, the ordinance conflicts with current local regulations. For example, current Development Code requires an accessory dwelling unit come with two parking spaces. Under the proposed ordinance, with a junior unit, creation of additional parking is not required. With a companion unit, the parking requirement has been reduced from one parking space per bedroom unit to half-a-parking space per unit with a minimum of one space.
"The LJCPA believes the extent of the proposed amendments will severely impact community character and quality of life in San Diego's single-family neighborhoods," Merten said, and suggested that "to maintain some degree of community character and some quality of life across all our neighborhoods, companion units and junior units should comply with all existing land development regulations."
He asked the City Council not enact any more than what is required by State law and suggested additional amendments could be added later, after a trial period.
La Jolla Shores resident Janie Emerson also spoke, noting that in the beach communities, the accessory units would not contribute to affordable housing because the units would be rented at market rates.
"The key thing is to preserve our wonderful, rich, diverse heritage in each of San Diego's neighborhoods … and make choices that enhance the diversity. I hope you will look at that," she said, adding that she opposes a one-size-fits-all approach.
After hearing public testimony, District 1 City Council member Barbara Bry posed questions to City staff managing the ordinance. Among them: Would a homeowner who wants to build an accessory unit in the coastal areas be required to apply for a Coastal Development Permit? and Would they would be asked by the City to present to applicable community planning groups for support?
City staff affirmed both.
Bry also noted the City Council added a provision that the units be rented for a minimum of 30 days to ensure they do not become short-term vacation rentals. The 30-day minimum is for companion units henceforth constructed, and would not apply to existing units.
"We have a housing shortage in San Diego at all levels and every neighborhood needs to do its part," Bry said. "These units could be lived in by teachers, police officers, fire fighters, etc. — people who live in the community where they work and walk to work. I think these units are appropriate in many neighborhoods in San Diego and I support this ordinance."
The motion to pass the ordinance without incorporating LJCPA suggestions passed 8-1 with City Council member Chris Cate in opposition.
Later, at the La Jolla Shores Association meeting, Emerson said she was "annoyed" at the outcome. "This ordinance is a game changer for this community and it has flown under the radar," she said. "It's a real disaster and it's going through under the guise of affordable housing. I think it's time for people in San Diego, especially the beach areas, to stand up and say this is not OK. It's not that we oppose affordable housing, we oppose a one-size-fits-all approach. What might work for Barrio Logan or Linda Vista is going to be different from what would work in Talmadge or City Heights."
Emerson concluded, "The only saving grace for us is that … those who want to build something have to get a Coastal Development Permit and their plans are supposed to go through community planning groups. That doesn't help any other communities, but it helps us."
---