Newly elected City Council member Barbara Bry outlines her priorities for La Jolla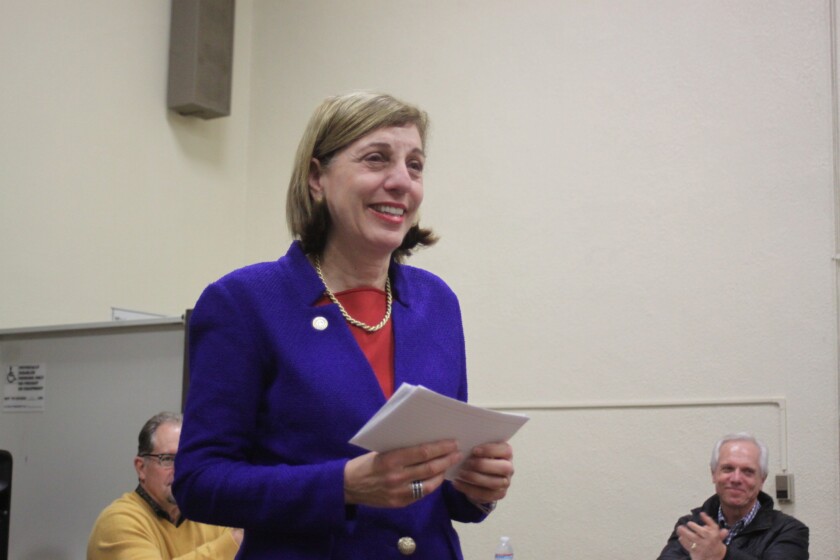 Barbara Bry spoke to the La Jolla Community Planning Association for the first time as a San Diego City Council member during its Jan. 5 meeting at La Jolla Rec Center, taking the opportunity to outline her priorities at City Hall and introduce her eight-member staff, aka "Team BB."
"As many of you know, the themes of my campaign were the importance of keeping our community safe, clean and prosperous, and so these will be my guiding principles in how I make decisions related to our district and the entire City," she said.
The District 1 representative added that her "first priorities" related to La Jolla would include focusing on the regulation of what she calls "mini-hotels" in residential neighborhoods (houses purchased so they can be rented short-term); finding a resolution to "the stench" at La Jolla Cove and other sea lion issues therein; ensuring the continuation of the Torrey Pines Road Corridor Projects; and monitoring public works projects like the infrastructure replacement on Avenida de la Playa in La Jolla Shores, which has been underway off-and-on for more than three years.
Citywide, Bry said she would focus on public safety and coordinate with the San Diego Police Department to recruit and retain officers. "I've heard crime is up in neighborhoods throughout the district and I want to make sure we work with the police, and I want to make sure the police department treats all of our residents with respect," she said.
Citizen Advisory Boards
To further this effort, Bry said she is launching volunteer advisory boards comprised of residents from across the district. One of the first will focus on public safety. She said, in the coming weeks, her staff would distribute information about how those interested can sign on and what their responsibilities will be. Other advisory boards will address small business, and senior and youth issues.
Community Coffees
"It's important to me to stay engaged in the community and not live in a bubble in City Hall, so I will continue to hold office hours once a month, starting in February, and community coffees, probably quarterly," she said. "I really want to hear from you when there is something on your mind (that we should be looking at).
"As a high-tech entrepreneur, I've learn the key to developing a successful company is the quality of the team. How we're going to be successful is if we are all part of Team BB." As for the official Team BB, Bry introduced each member of her staff and explained their background and the role they will serve.
Meet the Team
Chief of Staff Jamie Fox: "Jaime is a City Hall veteran and former chief of staff for council member now assembly member Todd Gloria. She could have followed him to Sacramento, but I'm very blessed she has stayed here to work with us. She knows her way in and out of every nook and cranny in City Hall. Her specialties are related to the police department, city attorney, boards and commissions, and overseeing the internal budget."
Policy Director Victoria Joes: "Vicky is a policy specialist who has worked for the San Diego Port and the Mayor's office. She has extensive experience in housing, homelessness, grants, public safety and workforce development, and she will be my lead policy advisor and serve as the committee consultant on the Budget and Government Efficiency Committee."
Communications Director Hilary Nemchik: "Hilary was my campaign manager and before managing my campaign, she was a field representative for Marty Block. Before that, she worked in New York City as a director of external affairs. She will be responsible for external communications and be our liaison to the Del Mar Mesa community."
Executive Assistant Venessa Jackson: (Not present) "Venessa is our executive assistant and office manager, if you call our office to schedule a meeting with me, you will most likely get to know Venessa, who is super friendly."
Council Representative Steve Hadley: "Steve is another City Hall veteran, and has worked with 18 different communities in Council Districts 1, 2, 4, 5 and 6 since 2000. So he also knows where everything is at City Hall. He is going to coordinate our offices' constituent and community services work, and will serve as our liaison for Torrey Hills and Carmel Valley."
Council Representative Mauricio Medina: "Mauricio grew up here. He went to La Jolla High School and UC Santa Barbara. He came back and interned on my campaign and eventually, we promoted him to Deputy Field Director, where he spearheaded our voter outreach and organized our high school and college fellowship program. Mauricio is going represent south La Jolla, Del Mar Heights and Torrey Pines.
Council Representative Bridger Langfur: (Not present) Bridger is going to represent University City and UC San Diego.
Council Representative Daniel Orloff: "Many of you may know Daniel because he grew up here, went to La Jolla High and UC Berkeley … he went to law school and passed the California Bar Exam. He's worked as a lifeguard every summer since he was 18, to put himself through college and law school, so you may have seen him at WindanSea, the Children's Pool and La Jolla Cove. He knows the coastline and the community. He lives in La Jolla. He will advise on policy matters and represent northern La Jolla from the Village to La Jolla Shores."
How to Contact the Bry Team
Barbara Bry: City Administration Building, 202 C Street, MS #10A, San Diego, CA 92101. (619) 236-6611. barbarabry@sandiego.gov or sandiego.gov/cd1
---
Get the La Jolla Light weekly in your inbox
News, features and sports about La Jolla, every Thursday for free
You may occasionally receive promotional content from the La Jolla Light.