La Jolla's Bird Rock neighborhood repair requests go unanswered by City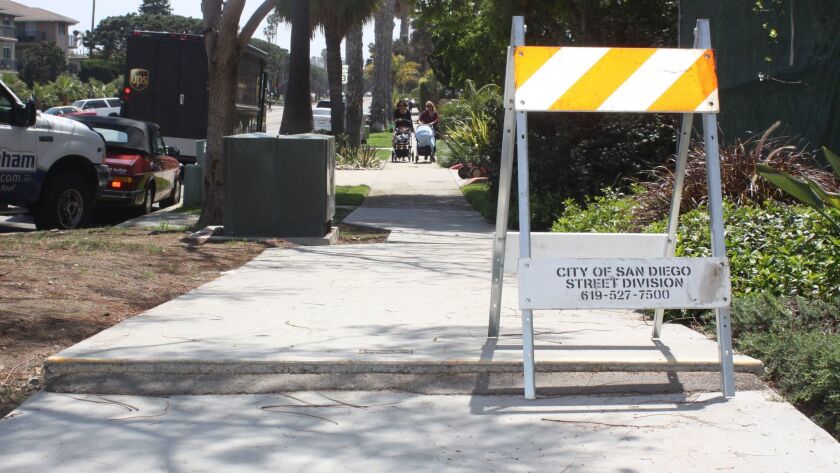 A handful of repairs in the Bird Rock area that have been reported to the City of San Diego for months, continue to be put on the backburner, it was announced at the May 2 Bird Rock Community Council (BRCC) meeting at Bird Rock Elementary School.
Chiefly, the orange netting surrounding the Midway Bluff overlook is still in place, there are street light outages and pedestrian crossing signal malfunctions, a sidewalk tripping hazard remains and there are missing bus stop benches.
As previously reported, BRCC requested the orange netting that was put in place as part of the Midway Bluff restoration project in 2015, to help the vegetation on site take root, be taken down.
"The plants are established now, and we've put in a couple of requests to have it removed, but have gotten no response," said BRCC treasurer Barbara Dunbar.
Dunbar added that she made progress in communicating with District 1 City Council member Barbara Bry's office, and would report again when more details are available.
Secondarily, street light outages "continue to be reported," she said, including ones on the west side median adjacent 5640 La Jolla Blvd., a lamp near 5622 La Jolla Blvd., and the corner light immediately fronting Starbucks coffee shop. There are also malfunctioning pedestrian crossing signals, particularly one on La Jolla Boulevard just south of Camino De La Costa.
"The City is following up on that and it will, hopefully, be fixed soon," Dunbar said. "It appears to have an electrical malfunction and a sticky button so if you push it, it stays on. It's got several issues."
Another pending repair is to a portion of sidewalk that has buckled to create a tripping hazard on La Jolla Boulevard at Colima Street. An A-frame sign has been placed across the uneven portion to alert pedestrians, and Dunbar said the Bird Rock Maintenance Assessment District would pay for the area to be painted orange "until the City can make repairs," she said. "That has been reported for quite some time now and has not yet been fixed."
Lastly, two MTS benches that were taken out as part of a City-wide project to replace bus stop benches, have yet to be re-instated. Dunbar said they have been reported.
However, one repair project was carried out in the days following the May 2 meeting — to replace guardrails damaged recently through a car accident. Dunbar said a hit-and-run driver "knocked the whole thing loose" and the repair would "improve pedestrian safety along La Jolla Boulevard."
In other BRCC news:
Summer safety tips: The BRCC Neighborhood Watch chair said while criminal activity has been quiet in recent months, thefts and burglaries tend to increase in warmer weather. "Most burglaries happen through unlocked doors and windows (which are left open during the summer). Thieves look for things they can just grab — jewelry, cash, small electronics and guns," she said.
Police Community Relations Officer Larry Hesselgesser advised, "People like to leave their windows open and can get a little careless, so make sure you keep doors, windows and side gates closed. And keep an eye out for each other."
Also in attendance, Police Lt. Erwin Manansala added, "The same goes for vehicles. Do not leave valuables in plain sight. It makes you an easy target." He said report suspicious activity to the Neighborhood Watch Captain, post the news on nextdoor.com and contact the police through the non-emergency line: (619) 531-2000 or sandiego.gov/police/services/nonemergencies
Aircraft noise: BRCC president Andrew Ward said there would likely be a discussion about perceived increases in airplane noise at the next meeting — 6 p.m. Tuesday, June 6 at a Bird Rock venue to be announced. birdrockcc.org
---
Get the La Jolla Light weekly in your inbox
News, features and sports about La Jolla, every Thursday for free
You may occasionally receive promotional content from the La Jolla Light.