Birch Aqaurium at Scripps in La Jolla to host 'sea sounds' by UCSD musicians, April 9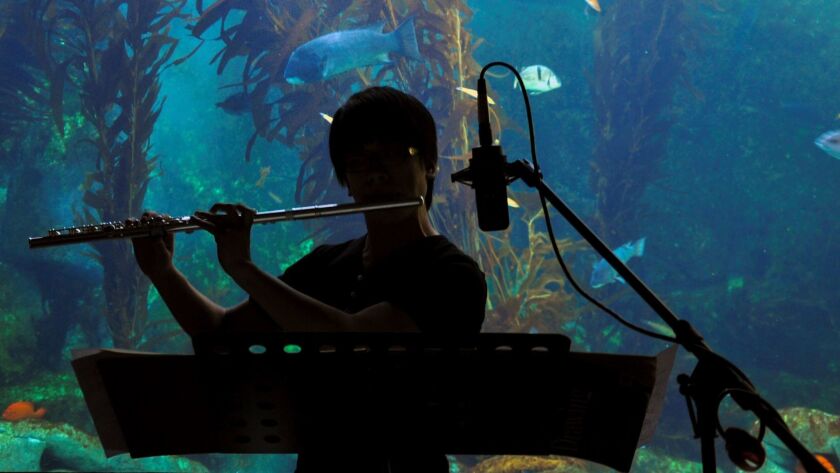 Each year, Birch Aquarium at Scripps and grad students at UC San Diego's Department of Music team up for Springfest, which encourages composers, performers and sound producers to launch daring projects. Springest 2017, set for 6-8 p.m. Sunday, April 9 with the fifth annual "Immersion" event, will take guests through the aquarium's galleries for musical experiences inspired by the sea and our rapidly changing planet.
"Birch Aquarium at Scripps' new direction includes exploring the exciting intersection between science, art and technology," said Harry Helling, the aquarium's executive director. "With several projects on the horizon — the 'Immersion' event with UCSD's Department of Music, the opening of the Infinity Cube: Language of Light installation, and the Video Triptych in the Expeditions at Sea: R/V Sally Ride Gallery — we are engaging audiences in new ways and inspiring an appreciation of, and desire to protect, our ocean planet."
Performances will include:
1) Voices of Our City Choir, giving a voice to San Diego's homeless, in the Galleria.
2) Jacob Sundstrom's ambient electronic music and video that changes in harmony with the sunset on Tidepool Plaza.
3) Lyndsay Bloom's triptych film "Axalapazcos," featuring 16mm footage of rapidly evaporating volcanic crater lakes in Central Mexico, in the Expedition at Sea: R/V Sally Ride Gallery.
4) Barbara Byers leading a choir of Ukranian folk songs in the Galleria.
5) Double bassist and singer-songwriter Jordon Morton singing folksy, resonant songs with her bass at the Giant Kelp Tank.
6) Daniel Fishkin and guest instrument-builder Pete Blasser leading a choir of handheld tocante "touch-synthesizers."
7) Madison Greenstone, Sean Dowgray and James Beauton playing the ethereal music of Morton Feldman, Jurg Frey and Martin Rane Bauck in front of the Giant Kelp Tank.
8) Cellist Jen Bewerse with a special curved bow in "Tide," by James Weeks.
9) Bassist Kyle Motl improvising with jellies and wolf eels in the Hall of Fishes.
10) Michael Matsuno and Matt Kline hosting the "sea symphony" instrument-building workshop and performance for children.
IF YOU GO: Admission is $12 for the public, $9 for Aquarium members and UCSD students and faculty (with ID). Pre-purchase is recommended at aquarium.ucsd.edu and Splash Café by The French Gourmet will be open and snacks or a light dinner will be available for purchase. For more details, visit ucsdmusic.blogspot.com
---
Get the La Jolla Light weekly in your inbox
News, features and sports about La Jolla, every Thursday for free
You may occasionally receive promotional content from the La Jolla Light.