Bike to Work Day: La Jolla cyclists talk biking around town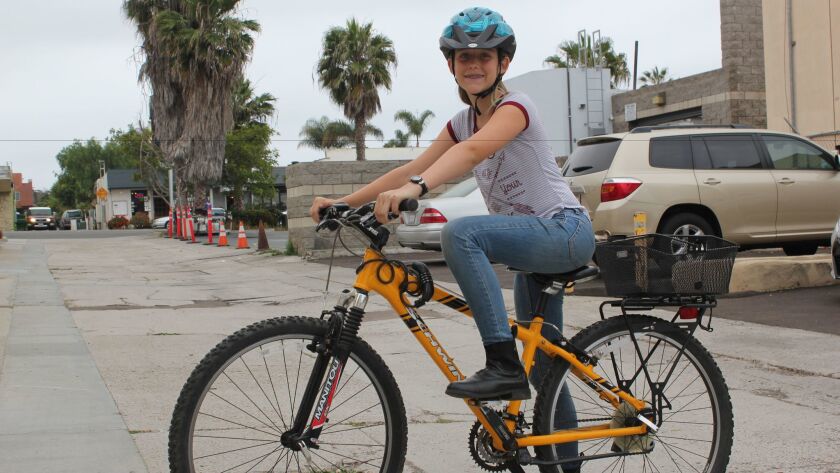 11-year-old Charlotte Norton of La Jolla was biking home from school at 3 p.m. Thursday, April 20 when she got hit by a car at the intersection of Pearl Street and the alley where she lives, south of Draper Avenue. "I was about to turn and all of a sudden the car just rear-ended me. I fell over, scratched my leg a little bit and bruised my knee. … I couldn't see the license plate at all, and I'm not sure if they just sped off or U-turned, but they drove away without doing anything," she told La Jolla Light.
Charlotte is one of many cyclists who responded to a Light call for testimony on the safety and convenience of navigating the 92037 ZIP code on a two-wheeler. After her accident, Charlotte said since she didn't suffer any major injuries, she continues to bike to and from school each day.
However, her parents set a rule: Avoid Pearl Street as much as possible, even though she must cross the thoroughfare to get to the apartment complex where she lives.
Local cyclist Trent Wagenseller, who bikes to work from Bird Rock to Prospect Street, told the Light that one of the pending tasks should be "to get cyclists off Pearl Street. It's got four lanes of traffic and no room for bikes. We need to find another street," he said. He pointed out that tourists and cyclists who don't know the area, often find themselves riding on it. "The City should have Safe Route indicators, or something that identifies to tourists that these are streets you want to be careful on."
Many cyclists who are afraid of sharing the roads with motorists, ride on the sidewalks, instead.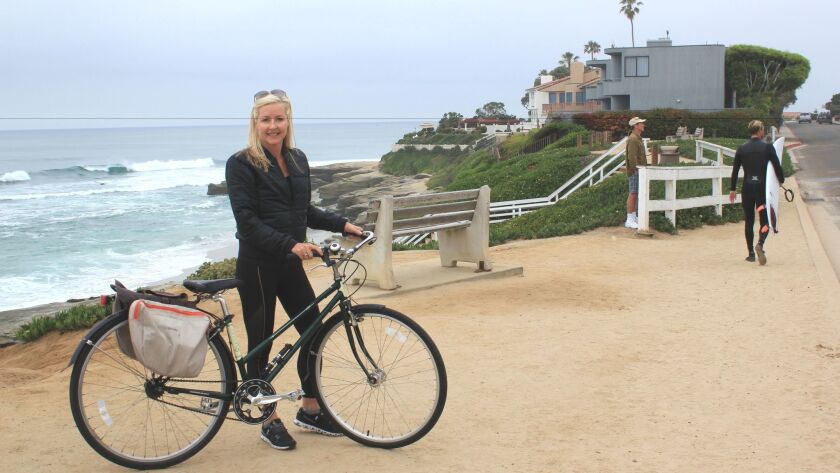 Charlotte said that since her accident, she rides mostly on sidewalks, which she knows is wrong. "I don't want to take the risk (of riding on the street) again," she said.
Ardath Road resident Nancy Lo agreed. She said she bicycled to work at Southwest Fisheries Science Center (8901 La Jolla Shores Drive) every day for 20 years, and did so riding the sidewalks. "I really feel bad when I ride on the sidewalk," she said, "But I do because I feel a uneasy riding on the roads with cars. Every time I see a pedestrian coming toward me I say, 'I'm sorry, I hope you understand.' Sometimes they move to the side and let me go past."
Since she retired two years ago, one of Lo's frequent rides takes her to Scripps Memorial Hospital, but she said it's difficult to cross the I-5 on a bicycle. "Sometimes when I have to go to Scripps, I go to (UC San Diego) campus and then take Gilman Drive and somehow get onto the road that leads to the hospital."
In the area, two bike lanes are in the City plans for future construction, a one-mile stretch of Villa La Jolla Drive (between its two intersections with Gilman Drive) and a 1.2-mile bike lane at La Jolla Village Drive (between Gilman Drive and Regents Road). But on a scale of "medium," "high" or "higher," these projects ranked "medium" in priority urgency, even though La Jolla Village Drive was identified by City staff as one of the City's most dangerous intersections in a March 6 City Council-accepted report.
Lo said she also finds it "scary" to ride on one of the few streets sporting a painted bike lane — Torrey Pines Road (also the most-used access to La Jolla from the east).
Wagenseller agreed that it's one of the worst roads to ride in La Jolla, and a third cyclist, 70-year-old Rocky Booth, insisted Torrey Pines Road is "the most dangerous part."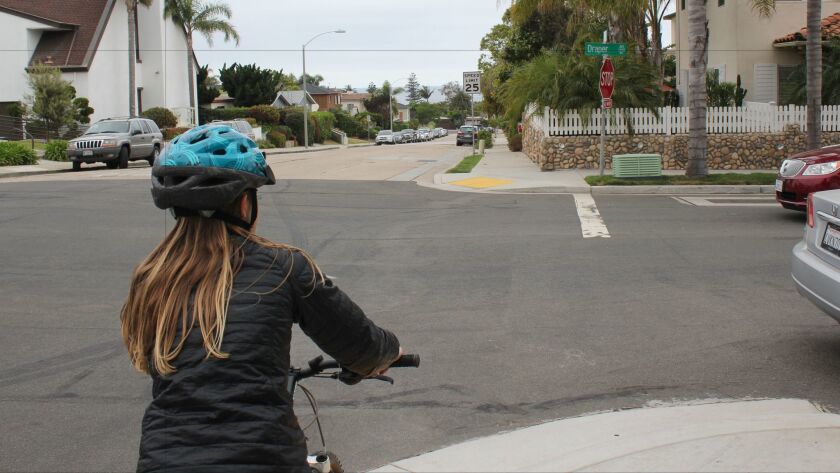 "That bike lane sometimes gets overgrown and it's poorly maintained," Booth reported. "There tends to be potholes. So you're going downhill, you have a lot of traffic, you're looking for a break to turn left (into The Shores), and then you have to worry about hitting a pothole or a giant crack."
The Phase 2 of Torrey Pines Road Corridor Project, to start this fall, will "create continuity" of its bike lanes, which will be buffered from traffic by lines painted on the concrete, not physical barriers. Project plans also intend to slow traffic and install light-enforced crossings to augment pedestrian — and cyclist — safety.
La Jolla resident Jessica Weinas, a native of Sweden, said she mainly rides her bike around The Village to run errands or go to restaurants. For her, the most dangerous part is riding at night on the poorly lit streets.
"We have the little front and back bike lights, and sometimes a little headlamp, but then you don't really see the street, so it's an adventure!" Weinas explained.
She took this Light reporter on a bike ride from La Jolla Boulevard (at Nautilus) to The Cove and back. She pointed to the many cracks and potholes along the bike-designated route (bikes share the road and drivers are made aware of that with vertical signs, but no signage on the road) and said "it's downright dangerous."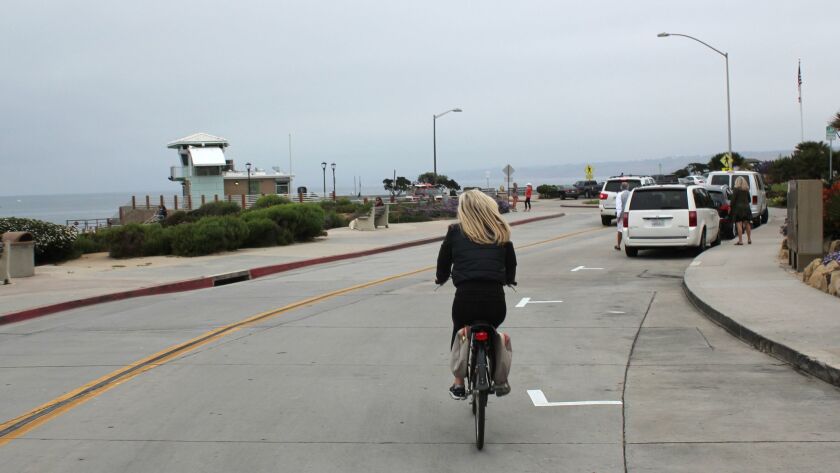 The Bicyclists' Wish List
All the cyclists who contacted the Light for this report have one thing in common: They love riding their bikes in La Jolla. They said they enjoy the weather, the natural beauty, the exercise and not having to look for a parking space. La Jolla bikers have their grievances, but they want to make sure there's a future for two-wheeled transportation town. Here's how, they offered:
1) More and Better Bike Lanes. "Without safe bike lanes, people are stuck in car traffic with no option for enjoying this perfect climate," wrote Kate Eliot, via e-mail. Jennifer Phelps wrote: "It is imperative that we make bike lanes safe. Ideally, these would be separated from traffic (and pedestrians) on heavily-used streets, as they've been incorporating in San Francisco."
Weinas cited Sweden as an example of good practices for encouraging bike commutes. She described long-distance bike lanes with under- and over-passes separated from traffic that take people who live outside the City to work centers. "In European countries, the bike infrastructure is thought out, planned out and safe," she said.
2) Try an Electric Bike. To conquer the challenges of La Jolla's terrain and plentiful in hills, Booth found a solution in electric bikes. He said he and his wife, who formerly didn't want to ride uphill, own one. "It's a kind of bike that's very sophisticated; you can tell it how much of the work you want the bike to do," he explained. "My wife sets it low, so by the time she's up the hill, she has gotten a workout (but she's not burned out). These bikes are very popular; some friends of ours tried them and immediately went out to buy them."
3) Avoid the Main Streets. Booth, who commutes from La Jolla to Mission Valley, said he changed his route (through Mission Boulevard) to Soledad Mountain. "The street conditions were so poor when I would ride I would be looking for traffic, potholes, cracks on the road. Now, I go over Mount Soledad. It's a prettier ride, I try to use to the streets that aren't heavily traveled."
4) Know Road Etiquette. According to the California Driver Handbook, drivers must allow at least a 3-foot distance when passing cyclists.
5) Welcome DecoBike. The possibility of the bike-sharing company adding stations in La Jolla, has been repeatedly rejected by community groups, but for Wagenseller, bike-sharing should "absolutely" come to La Jolla. "We need to be encouraging (as opposed to discouraging) people to bike," he said. Wrote Eliot, "Bike rental kiosks benefit locals and tourists. In Paris, we rented bikes from a kiosk and joined people of all ages enjoying safe biking. Quality of life for all ages should be a priority."
6) Maintain Bike Lanes. Keep La Jolla's few bike lanes free of potholes, cracks and overgrown vegetation.
Bike to Work Day
Thursday, May 18 is Bike to Work Day in San Diego and these are the pit stops to support bike riders and commuting, open 6-9 a.m. in the La Jolla area:
-Surfrider Foundation San Diego County Chapter: 9399 La Jolla Shores Drive, find water, lemonade, coffee, giveaways and a custom Wheel of Fortune game for a chance to win Surfrider Foundation T-shirts or reusable utensils.
-UC San Diego: Town Square Plaza at University Center (one block north of Gilman drive, off Myers Drive at Rupertus Lane), find breakfast buffet of bagels, muffins, fruit, coffee, juice and water, bicycle safety prizes and giveaways and onsite minor bike repairs.
-Scripps Memorial Hospital: Voight Drive (near 9500 Gilman Drive), find handouts, helmets, additional promo items and refreshments.
-Alexandria Real Estate Equities: 10931 North Torrey Pines Road, find a multi-tenant effort with upbeat music, volunteers to cheer riders, snacks, water, coffee, little supplies and high fives.
---
Get the La Jolla Light weekly in your inbox
News, features and sports about La Jolla, every Thursday for free
You may occasionally receive promotional content from the La Jolla Light.