Study shows La Jolla beaches may disappear in a century
University of Illinois Engineering professor Sean Vitousek, author of the research paper, "A model integrating longshore and cross-shore processes for predicting long-term shoreline response to climate change," told La Jolla Light the computer model he developed for the study shows La Jolla's sandy beaches will likely disappear in the coming years.
"A lot of the beaches in La Jolla Shores and going north to Torrey Pines Reserve tend to disappear from erosion in 50 to 100 years, meaning that the shoreline is water all the way up to the cliff or the infrastructure in the area," he said.
The study, developed throughout the three years Vitousek was a post-doctoral student at the U.S. Geological Survey (USGS), presents a model predicting shoreline erosion with limited human intervention in Southern California. According to the obtained data, 31 to 67 percent of area beaches may be completely eroded by the year 2100 under scenarios of 3 to 6.5 feet of sea-level rise.
La Jolla Shores may be one of the most affected beaches in San Diego County, he said, "(Because it) already experiences really big seasonal changes; in the winter time with big waves it gets very eroded, and in the summer it recovers and accretes sand when the waves are smaller to a much wider beach position. But when you add sea-level rise on top of this seasonal cycle, (you get) a shoreline that continuously erodes."
Other factors that endanger The Shores are the relative narrowness of the beach and the closeness of development to the shoreline. During El Niño years, most of the sand gets deposited deeper on the ocean's floor (see bit.ly/SandLaJolla), and the King Tides regularly flood the boardwalk and nearby beach infrastructure.
For Vitousek, the King Tides are a representation of what may come in. "The scary thing is if you get 3 to 6.5 feet of sea-level rise, your King Tide becomes your main sea level. Everything on top of that is going to flood the infrastructure," he said.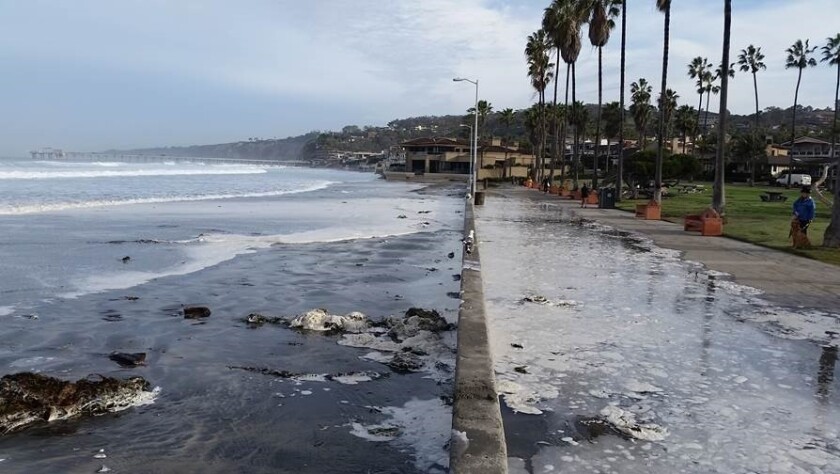 Cliff erosion
Vitousek's colleague at USGS, Patrick Limber, studied the erosion of cliffs in Southern California, and his cliff retreat projections are being reviewed for publication. Using some of Limber's data, Vitousek updated the Light on the latest predictions for the La Jolla area.
"Around Seal Rock (La Jolla Cove), the cliffs have been historically retreating 7.8 inches per year on average," he said, adding that the more resistant materials of the bluffs (starting at The Cove and going south), slow down coastal retreat. "Whereas the cliffs around Torrey Pines (and Black's Beach) are softer, and erode at 11.8 inches on average."
Cliffs don't retreat the same every year, because "the nature of cliffs is that sometimes you have sudden failures, so it's not always a continuous retreat. Events like El Niño can cause the cliff to erode several meters (in one year)," Vitousek explained.
When the effects of sea-level rise are entered in the equation, the bluff retreat rate surges. "Based on Limber's projection, he's seen about a doubling of cliff retreat in both La Jolla and Torrey Pines — so in the future, we'll lose maybe 15.7 inches around La Jolla and 23.6 inches at Torrey Pines," he said.
In an all-natural environment, the cliff erosion would infill the nearby beaches with sand. However, sea walls, retaining walls and other human-made beach infrastructure prevent the natural process from taking place. For Vitousek, "The future cliff erosion does not affect the shoreline position. Some of the areas around Torrey Pines and Black's Beach will probably have some small beach there because of the continuous cliff erosion, but in other areas where there's no cliffs or they are armored against erosion, the beaches may disappear in a few decades," he said.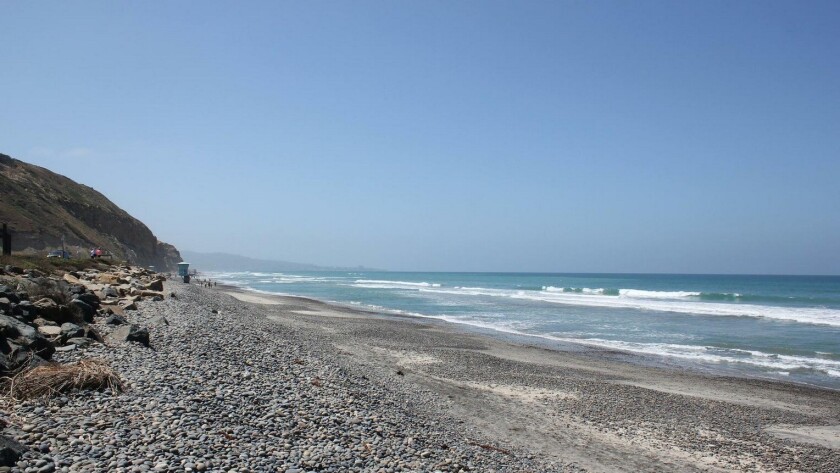 Beach nourishment
The sand acts as a protective layer for the beach infrastructure developments in Southern California. Without the sand, Vitousek said, sea-level rise becomes a much greater threat for flooding areas. "We wanted to do this model to see how our susceptibility to flooding would increase," he added.
A proven solution to the retreat of sandy beaches has been the costly process of beach nourishment, which involves adding large amounts of sand to the eroding beaches. Vitousek did a comparative analysis of beach erosion in beaches that receive nourishment versus others that don't, and concluded that the ones that received extra sand eroded less.
"I would predict that in areas currently experiencing problems — like La Jolla — beach nourishment, although expensive, would help combat the erosion problem," he said. Other approaches, like building sea walls may prevent flooding, "but it may cause the beach from disappearing and not coming back."
However, La Jolla Shores is a Marine Protected Area, where beach nourishment is not permitted and would have severe effects on the underwater ecosystem. "That issue is going to be critical in terms of the state of beaches going forward," Vitousek stated.
"In areas that are not Marine-Protected, a solution is: continue to receive the nourishment, spend the money to have the recreation and tourism benefits, and have the protection against flooding. But for areas like The Shores, I believe that it may come to a point where we find a way we can nourish these beaches within the Marine Protected Area and minimize the effects," he explained.
A follow-up project for Vitousek and Limber is to pool their efforts and analyze the combined behavior of sandy shorelines and nearby cliffs. "Because the material eroded from Torrey Pines cliffs is distributed along the coastline, maybe in that case we could nourish the beach on an area that's not protected, and the natural movement of the sand may replenish the beach in the Marine Protected Area," he said.
Beach nourishment is not permanent, Vitousek said, "It may last for a few years, maybe 10 ... but it's effective at building a shoreline."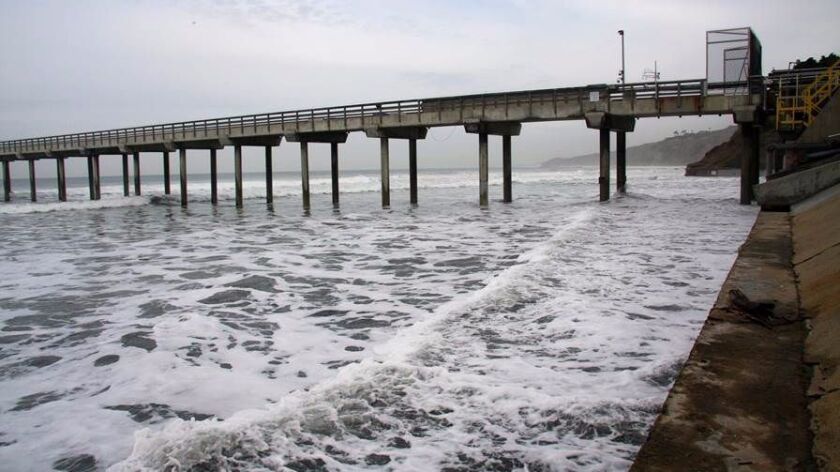 How it's calculated
Many scientists have calculated the effects of coastal erosion, wave action and sea-level rise before. What makes this model different is it combines the three disciplines and applies a "data assimilation" technique for better results.
"Data assimilation is a method wherein we take historical shoreline position data to train the model so it can learn about the behavior based on observation, and adjust to come up with a more accurate modeling, based on historical data. After that model is trained, we apply future conditions and sea-level rise to predict what's going to happen. This is a new approach, but it takes existing models developed in the area," Vitousek explained.
He added the study benefited from many models developed in the past, such as M. Yates "Equilibrium shoreline response: Observations and modeling" or André Doria's "Observations and modeling of San Diego beaches during El Niño."
---
Get the La Jolla Light weekly in your inbox
News, features and sports about La Jolla, every Thursday for free
You may occasionally receive promotional content from the La Jolla Light.