Bye Bye Barbara: Barbarella owner sells La Jolla Shores restaurant to launch charity 'I Love You So So Much'
For almost 20 years, Barbarella restaurant has been a fixture in La Jolla Shores with its elaborate holiday decorations, participation in community events, stability during the challenging road construction period, and as a host for celebrations big and small.
But on Sept. 11, beloved proprietor Barbara Beltaire will hand the restaurant over to new owners, the Hamerslag family. (Prudently waiting for the ink to dry on the contract, the family declined to comment on what will change and what will remain, stating only that Barbarella's will continue to operate as a restaurant.)
"It's just time to move on," Beltaire told the Light. "I've been on that street for years. I love and will always love it. I've loved being part of the community ... and, I'm thankful for the success of the business. The community has been great to me."
From its very beginning, the restaurant at 2171 Avenida de la Playa was all about having fun.
"When I started Barbarella, I wanted it to be a community spot with good, healthful food that brought people together. I wanted it to spread love and kindness, and to be a 'day maker' for people. That was my whole objective," she said.
Beltaire studied culinary arts in France and Italy and, as head chef, focused her menu around seasonal ingredients. "I have a passion for food. I live and breathe it. Seriously. I get excited for the tomatoes and corn of summer, and the root vegetables of the winter. It has been my passion my whole life and will continue to be," she enthused.
But soon, the varied holiday decorations on the outside drew just as much attention as the dishes on the inside.
Beltaire explained: "All my life, my mom was passionate about having fun, and when I opened the restaurant, she would send me decorations. I put them up and soon the customers would get into it and they would send me decorations. I could see it was fun and that people enjoyed it, so we really went overboard with it."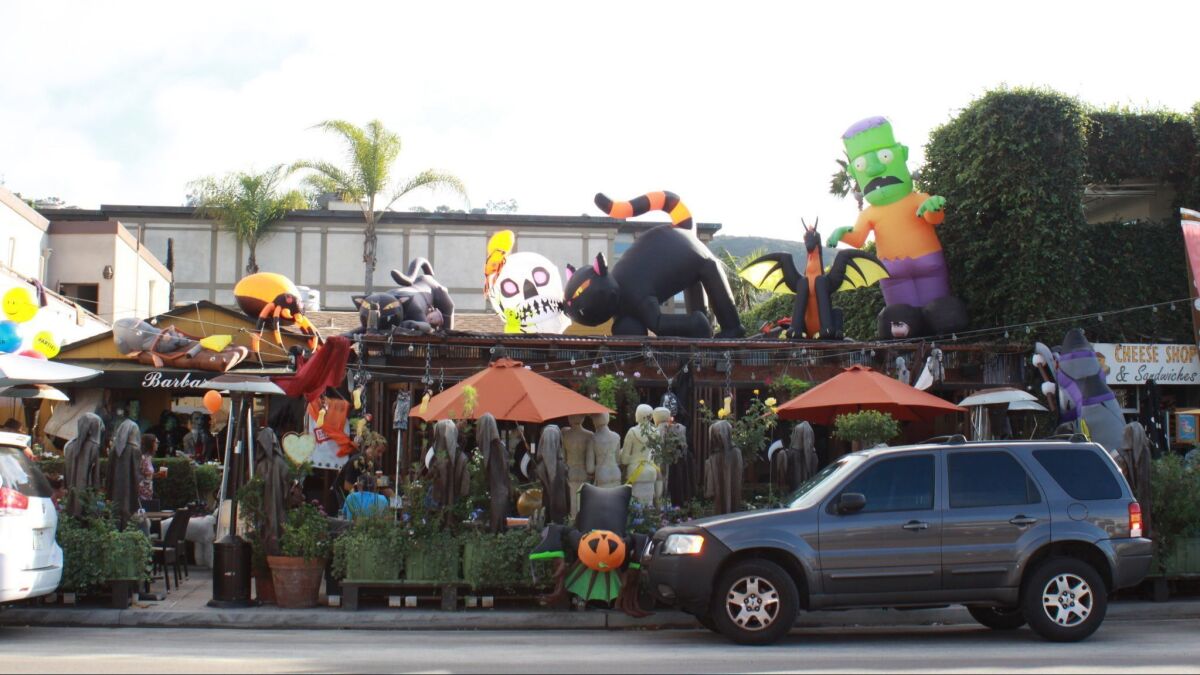 Since then, the eatery has been a fixture for celebrations of all sizes.
"I've had people get engaged and married in my restaurant," Beltaire said. "I just had someone bring in photos from her child's birthday party, which was held here every year for 17 years."
The restaurant also hosts an annual St. Barbara's Day Party on Dec. 4 for women named Barbara, who bring along toys to be distributed to children in need.
These traditions, she hopes, will continue.
"It's not a corporation buying this restaurant, it's a local family," Beltaire said. "And they are really nice people and I'm excited for what they will do with it. I think the place will continue to be a strong community fixture. The new owners will bring their own style to it, but, hopefully, they will uphold the traditions I've created."
Beltaire said she was stepping away to start a new children's charity called I Love You So So Much, named for a phrase her granddaughter always says: "I love you so so much."
"I named it for her," Beltaire explained, adding that all its funding will be used to buy necessities for children in need. "If you are a kid at an orphanage and need a new pair of shoes, this will help cover that ... or if you're in the hospital and just want a teddy bear ... philanthropy is a wonderful thing."
(Learn more about this new 501c3 non-profit at iloveyousosomuch.com)
When asked about the patrons she leaves behind, Beltaire chokes up and admits: "I am quite emotional (about this decision), but I am forever grateful for the love and the kindness the community has given me."
And the feeling appears mutual.
Angie Preisendorfer, president of the La Jolla Shores Business Association, stated: "Barbara has been my friend for more than 26 years. I met her when we opened our store, Rusty Boardhouse. She patrolled my employees to make sure they were not doing any shenanigans. We've traveled together and supported each other during good times and sad times. She is a fixture in The Shores and will be missed, but mostly she is my friend."
Get the La Jolla Light weekly in your inbox
News, features and sports about La Jolla, every Thursday for free
You may occasionally receive promotional content from the La Jolla Light.