Reflections on the Past 100 Days: New City Council member Bry talks to home crowd in La Jolla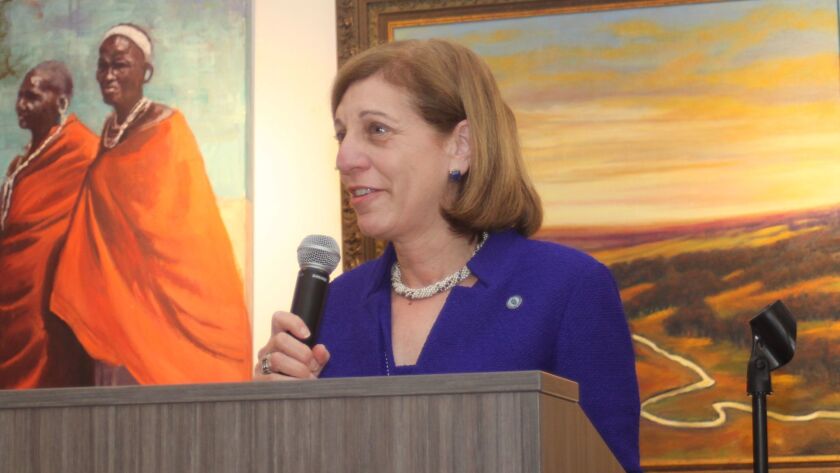 A hair past her 100th day in office, District 1 City Council member and La Jolla resident, Barbara Bry, spoke to guests at La Jolla Community Center, March 29, as part of its Distinguished Speaker series. Bry was sworn in Dec. 12, 2016.
At the Community Center, Bry discussed her life, her priorities at City Hall, what she has accomplished thus far, and what La Jollans can expect in the coming weeks and months.
"It's going to be a challenge to do everything we want to do when we want to do it," she said. "How can we do more with what looks like less? It's going to take a business mind and it is my mission to bring that entrepreneurial mind to City Hall so we can get things done for the community, and to expand what is do-able for the betterment of my district and the entire City of San Diego."
Making good on her campaign promise to look into regulations for short-term vacation rentals, Bry asked in her first 100 days, for a legal opinion — in writing — from City Attorney Mara Elliott about whether the practice of renting out one's home short-term is allowed under the San Diego Municipal Code. On March 15, Elliott issued that opinion.
"She put out a memo saying that short-term vacation rentals are illegal," Bry reported. "We have a permissible zoning code, which means unless something is specifically listed, it is illegal. This opinion is a very important first step toward effective regulation of the industry."
In the next few months, Bry added, the San Diego City Council will be presented with recommendations to regulate rentals in residential neighborhoods, and she encouraged community involvement in the form of writing letters and making phone calls to City Hall with residents' concerns.
Bry's position on short-term rentals, she said, is, "I'm fine if you rent out your primary residence when you go on vacation, I support renting a granny flat if it is on the same site as your primary residence and I support renting a room if you are on site. What I'm against is absentee investors buying up single-family homes in residential neighborhoods and turning them into what I call mini-Marriott's."
Another issue in La Jolla on which Bry will focus is the continuation of the Torrey Pines Road Corridor Project, for which she's discovered there is money available in the 2018 and 2019 fiscal year budgets. She said she has a meeting scheduled to discuss the specific next steps. The Corridor Project's completed Phase 1 made the north side of Torrey Pines Road more pedestrian-friendly with the construction of a sidewalk on the south side between Calle Juela and Roseland Drive that has curb ramps on each end. The yet-to-begin Phase 2 would see the installation of a pedestrian-activated crosswalk across Torrey Pines Road mid-block between Amalfi Street and Princess Street, and the installation of an asphalt concrete overlay, a buffered bike lane and a non-raised, decorative median.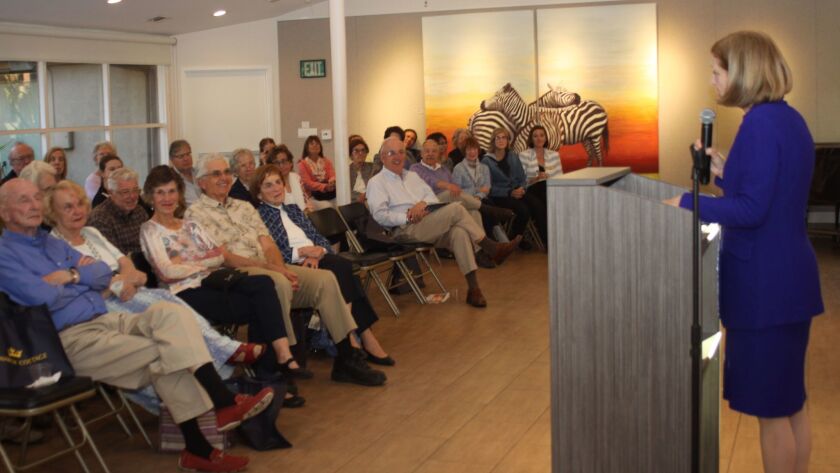 Bry also pledged to continue working to resolve the "stench" at La Jolla Cove, and said a Coastal Management Plan was being developed that would hopefully offer a solution soon.
"I've already had several meetings with the Mayor about this plan, the importance of completing this plan and getting it out to the community," she said. "I'm hopeful that something will be released in the next few weeks. I've seen a draft of the plan, but it is not final yet, so I cannot say more tonight." Bry was asked several times after about seal and sea lion issues, but continued to say the answer lies in the Coastal Management Plan.
Citywide budget
Offering some insight into the City's budget process, she said her next major project would be tackling the budget.
"We're going into budget season right now … the Mayor has asked each City department to develop a budget that is 3.5 percent less than they spent last year," she said, adding her budget priorities are assuring adequate funds for public safety. "I want to make sure we have the funds to fill the approximate 180 police officer vacancies, and (additionally) there is a new piece of legislation that requires police officers across the state collect certain data when they stop people, and I want to make sure we have the technology, probably an app, to implement this effectively."
Next year, when San Diego Police Chief Shelley Zimmerman retires (as part of the City's Deferred Retirement Option Plan, which states she must retire by March 2018, per the City's pension system), Bry said she would like there to be funding for a nationwide search for a new chief.
On April 14, Bry said San Diego Mayor Kevin Faulconer will present a budget for the City Council's independent budget analyst to review. In early May, the City Council starts two weeks of budget hearings, including one in the local communities, where the public can comment. "This is the time to let us know what's on your mind," she said, adding that the final budget is issued in June.
Although more than half of Bry's talk was dedicated to hearing from constituents, the response from the audience was mixed, with some saying they would have liked to hear more answers than just offer their thoughts.
Richard Wolf said, "We have problems with the seals, with the roads, with police protection, just about everything you can think of … I thought it was great that she came, but she evaded every issue."
However, another attendee said it was, "wonderful that she spoke" and "I think it's great that she listens."
District 1 City Council member Barbara Bry can be reached at (619) 236-6611 or barbarabry@sandiego.gov
---
Get the La Jolla Light weekly in your inbox
News, features and sports about La Jolla, every Thursday for free
You may occasionally receive promotional content from the La Jolla Light.