My First Year: La Jollan Barbara Bry talks about 2017 at City Hall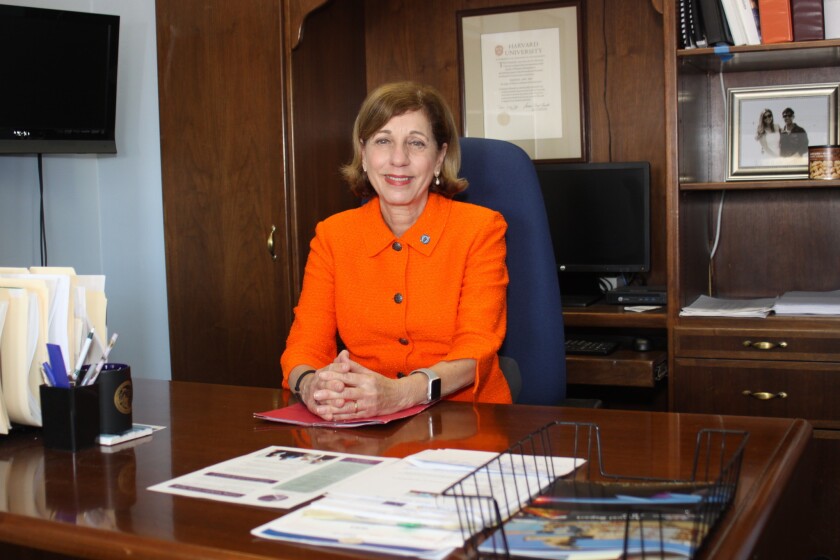 Although the City Hall Chambers are quiet during winter recess, District 1 City Council member Barbara Bry of La Jolla still reports to her office downtown. On Dec. 28, with the San Diego sun shining through her window and the blare of trolleys below her, Bry sat down with La Jolla Light to look back on her first full year in office. She was sworn in on Dec. 13, 2016.
Q: What were the big surprises?
A: Soccer City. I never expected something like that was going to happen. I believed it was a rip-off for taxpayers and that anything we do on that Mission Valley land had to include San Diego State University in a meaningful way. I was pleased to see that an organization separate from SDSU has an initiative called SDSU West, which they've collected signatures for, and I understand they will be turning those signatures in, and will, hopefully, qualify for the November 2018 ballot along with Soccer City (so the public can decide the issue).
Q: What were your biggest accomplishments?
A: One of them is the opposition to Soccer City (laughs), second would be opposing the Mayor Kevin Faulconer's idea for a special election, which saved taxpayers $5 million. The Mayor wanted a special election for his convention center expansion initiative and I do support expanding the convention center, however, I believed his proposal wasn't fully baked.
I chaired the budget committee and it was a challenging year because we had a higher pension payment than expected, but we passed a responsible budget. I advocated for increased funding for the arts, the Mayor had slashed it a lot in his proposal, and we ended up with a little less than the year before.
I advocated for a national search for a police chief, which was not in the original budget. We're doing that now and there may be good candidates internally, but it's important we conduct a nationwide search.
I've been the leader of passing an ordinance called Section 225 of the City Charter. The City passed a ballot measure years ago that required entities that do business with the City disclose their ownership. When private companies do business, they can have a name such as the ABC Corporation, and we don't know who owns the ABC Corporation. This ballot measure wasn't written quite correctly, so it's never really been enforced. Section 225 will deal with how we handle this disclosure now and the goal is to put something on the ballot in 2018.
I supported reasonable regulation of the marijuana supply chain. That is going to bring in some revenue to the City, we won't know how much until March. We did it in a responsible way in limiting the number of outlets, where they can go, where cultivation can go, distribution, etc. There is one dispensary in District 1 right now, up in Sorrento Valley. There's not going to be anything in The Village.
Q: What do you like most (and least) about being a Council member?
A: My whole life, I've been a person who likes to get tangible things done, and that's what I like most about the job (I can get things done). What I like least is how long it takes to get things done. Intellectually, I knew government takes longer than the private sector, and there is good reason. I think transparency is important to get all points of view, so there are reasons some things should take longer. But then there are some things that shouldn't take as long as they do.
Q: How have your job expectations compared with the reality?
A: It's been pretty close. I knew a lot of elected officials before I got here. I attended City Council meetings and watched them on TV, so I understood the job. I knew (former District 1 Council member) Sherri Lightner for years because one of my daughters and her daughter went to school together. I had talked to many Council members; Toni Atkins and Chris Kehoe are good friends, so I understood what the job entailed and that was good preparation.
Q: How do you feel about the short-term rental outcome?
A: I know we didn't reach an agreement at the December special City Council meeting, but we focused the conversation on where it should be, which is housing. A year ago, it was about bad actors, but to me the core issue is preservation of housing stock and that really was the focus of the conversation.
Some people after the meeting said it showed the City Council is dysfunctional and I disagree strongly. It's hard with complex legal issues to get things done on the spot. We consider it a victory that the other proposal did not pass. I'm optimistic we will get to some sort of an ordinance in 2018 ... that we will bring something back that will get five votes.
Q: What is your reaction to Judge Randa Trapp's decision earlier this month against the La Jolla Maintenance Assessment District (MAD)?
A: I did support the foundation of the MAD … right now, it is a legal issue and that's all I'm able to say.
Q: What grade would you give yourself for your first year in office?
A: The community can grade me, I won't grade myself. But I have a great team and in life, it's not about what you can do yourself, it's about having a great team. I have a lot of help. I feel my team has been responsive to the needs of all the parts of the District I represent. That's what I'm most proud of.
Q: What are your priorities for 2018?
A: I advocated for Community Choice Energy and will continue to do that next year. It's a partnership between SDG&E and a non-profit entity that the City sets up. SDG&E continues to do the billing and manage the grid, the new entity can enter into long-term agreements with renewable energy companies to buy renewable energy. This will help us reach our goals of getting to 100 percent renewables faster and cutting emissions more quickly.
Last year, I was vice-chair of public safety and I am again this year. I advocated for increased compensation for our police officers and I'm pleased it passed. Next year is going to be focused on having our new police chief come and get him or her into their job, and stepping up our recruiting efforts to fill the unfilled positions.
I'm also going to focus on STEAM efforts by encouraging companies to offer internships for high school and college students. As a council member, you sit on outside boards, so I sit on the San Diego Work Force Partnership … and they have great internship programs. That's going to be key in developing the workforce of the future.
Housing is another big issue. I supported the Granny Flat Initiative, which I know some people in La Jolla did not. I want to look at housing affordability. How are we going to provide housing to a family? I'm going to work on initiatives that look at how we accomplish that.
Q: Is the perception that the City rolls its eyes at La Jolla issues accurate?
A: Our interaction with the City staff has been terrific. We've found City staff to be very responsive. La Jolla is a great treasure for San Diego. I've had no negative interaction when I say I represent La Jolla.
For example, we got a lot of feedback from the residents (about) the trash cans in The Village. We worked with environmental services to make sure they were emptied on a regular basis and that they were repaired and repainted. That was a way they were responsive to the community and City staff got it done. But I don't direct City staff, only the Mayor does. I can only ask for help.
Q: What are your La Jolla accomplishments?
A: We helped start eight Neighborhood Work groups in La Jolla and provided each with a new sign that we paid for. Airport noise has been a big issue, so we wrote a letter requesting the Airport Authority ask the FAA do a study, and my understanding is that they are going to do that.
I also hear a lot about utility undergrounding, and now there is a new system in place. When I got here, I let City staff know the current process needed to be streamlined, so they came up with a better way. It used to be you would plug your address in this website and might find you are going to be undergrounded in 2045, which is ridiculous. Now they have a new process they're starting to unveil that will do things in five-year chunks, and you are only going to know if you are in the next five-year chunk.
Q: What does your average day entail?
A: It depends on whether the Council is in session. We have a Council meetings Monday afternoons and Tuesday mornings and afternoons. Wednesdays and Thursdays, I usually have committee meetings. Then I am on two outside boards, and sometimes they meet on Fridays. That's 40 weeks a year, and the rest of the year we are out of session. I try to be out in the community a lot, especially in the evenings and on weekends. I do that throughout the district, not just La Jolla.
Q: How often do you interact with the Mayor?
A: Each Council member gets a monthly meeting with him. You get your half hour and I always have a list of things, of priorities.
Q: What's the view from your Council office?
A: I had a slight view from my office in La Jolla Shores, but now I can see the Coronado Bridge, and it's exciting to see the construction downtown. We hear it and we see it. I like being downtown. It's a vibrant place and having a vibrant downtown is important to a healthy region.
Q: Where you do park?
A: In the Parkade next to City Hall. I get a reserved parking space, which is one of the perks of the job. (Pro tip: For larger and more plentiful spaces, go up to the top floors.)
Q: What do you do for lunch?
A: I usually eat at my desk. We have a Tender Greens really close to City Hall and I used to eat there all the time. But after a year here, I needed a break. So now I bring a sandwich or a salad. Mondays and Tuesdays especially, I might only have an hour to eat. A lot of times, I'd rather walk during the day to get some fresh air, even if it is just 20-30 minutes.
Q: Did you make a New Year's Resolution?
A: It's not to lose weight, I can tell you that! I tend to have goals all the time … but it's just to make sure I have balance in my life. I have a wonderful husband, two daughters, two sons-in-law, two grandkids. I'm leaving a little bit early today and then I'm going to see my grandkids. It's important to have a whole life.
Q: How do you accomplish that?
A: Very little sleep (laughs). I exercise regularly, my husband and I do yoga together a few times a week. I walk a lot with him. Exercise keeps my brain fresh. Over the holidays, I got to read books. I read "Forged in Crisis," and a few good mysteries.
---
Get the La Jolla Light weekly in your inbox
News, features and sports about La Jolla, every Thursday.
You may occasionally receive promotional content from the La Jolla Light.